Remote Maintenance & Industrial Ethernet
Keep track and save resources with remote maintenance. Errors are reliably detected remotely and can be corrected immediately depending on the application. All remotely and without expensive and time-consuming travel back and forth.
In order to make the data available in real time, the appropriate cable connection and signal transmission is required on site. Industrial Ethernet is required for many applications. This differs from conventional Ethernet in its higher transmission speed, enhanced communication at the line, control and sensor level. In addition, the components are more robust and less prone to contamination.
Remote access and remote maintenance
Ewon solutions offer multi-layered security applications, are ISO 27001 certified, NVISO tested and have fully integrated IT security standards.

Due to travel restrictions during a coronavirus pandemic, remote management solutions are becoming more important than ever not only for machine builders but also for plant operators.
With Ewon's efficient and sustainable remote management solution, you can establish a simple and secure VPN connection at any PLC - whenever and wherever you want. This gives machine builders and their users quick access to status information as well as visibility into their machines. With a few clicks, you can recall real-time data from the PLC or HMI so that errors can be corrected quickly and without being on-site.
Important key indicators of your stands and equipment can be monitored and analyzed so that you can react proactively and perform predictive maintenance, for example. Through a local cloud-based dashboard, you can access a range of useful key indicators to make even more informed decisions. Alarm messages are issued if intervention is required.
Industrial data communication from LAPP
Ewon solutions offer multi-layered security applications, are ISO 27001 certified, NVISO tested and have fully integrated IT security standards.
The right solution for every application
Digitalisation is already leading to a continuous increase in the volume of data on the shop floor.
As a result, Ethernet, which has already become a standard in the office environment, is also gaining importance in the industrial sector. The challenge for industrial data lines is how to guarantee reliable, yet increasingly high data flows in a harsh industrial environment.
Lines are often bent millions of times in drag chains or exposed to aggressive media or high temperatures.
By engaging with our customers' automation processes, we are constantly challenged to find innovative approaches to solve their most important future challenges. That's why we offer our customers a large selection of components and system solutions for factory, building and process automation.
LAPP's automation technology solutions include complete wiring and connectivity systems for networking at the sensor, actuator and control level, right up to the flow control system.
Reliable data transfer
Interconnection of industrial equipment components is present in almost all market segments. The goal is to reliably, simply and efficiently implement data communication and configuration of automation components from the field level to the line level.

Weidmüller components are the perfect interconnect solution for data communication between devices that communicate via Ethernet. They have various features and certifications, making them optimally suited for a wide range of industrial applications.
EcoLine Unmanaged Switches
EcoLine Unmanaged Switches are characterized by their high variability and high cost-effectiveness. They can be used in a wide temperature range from -40 °C to +75 °C, allowing operation both within production facilities and in the field.
Space-saving thanks to their compact size
Flexible and forward-looking thanks to SFP slots
Reliable and robust design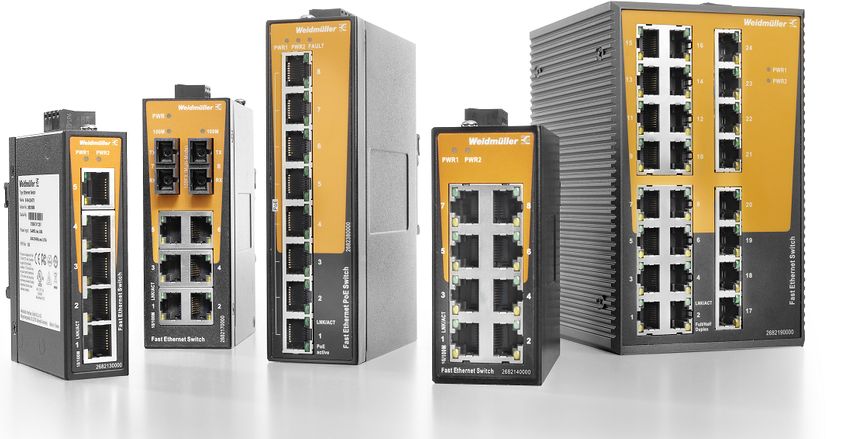 FrontCom® Service Interface & Outlets
Ethernet interconnect technology provides the optimal solution for your machine or plant infrastructure. It covers the entire spectrum of applications: RJ45 & USB connectors, carrier rails or service interfaces, all from a single source.
The FrontCom® Micro service interface is ideal for accessing data via RJ45 or USB, the FrontCom® Vario integrates several functions in one system. The appropriate combination is simply selected from a variety of data, signal and power supply modules.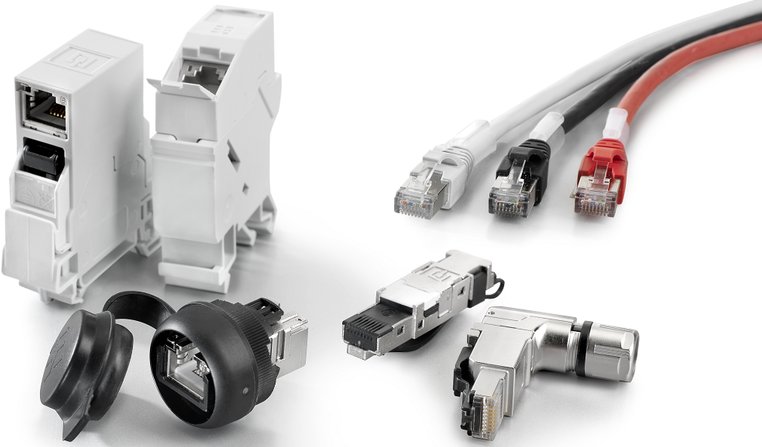 Stay on the pulse of time - More interesting topics from the world of automation technology & pneumatics