This text is machine translated.
3D printing: A step toward digitization
Why 3D pressure?

Advantages and disadvantages of 3D printing technology

Application possibilities of 3D printing in companies

3D printing in educational institutions

Various 3D pressure procedures

3D Print service in Conrad branches
Production of prototypes, small series or spare parts: With 3D printing, also 3D printing, many processes in companies can be accelerated and designed more cost-effectively. Because companies today need to react flexibly and quickly to keep up with the development of their industry. For example, in the design of new products or in complex production processes, where a broken machine would immediately lead to a higher financial risk.
Chuck Hull already developed a way in 1983 to convert photopolymers from their liquid state into a solid mass by means of a selective UV irradiation. This so-called stereolithography was the basis for the development of 3D pressure, which began in the same year.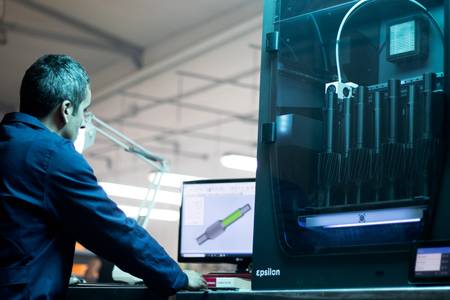 Since the first application of 3D printing, a lot has been done. The choice of printable materials has increased. In addition to plastic materials, concrete, paper, metal or organic fabrics can now be used. The various manufacturing processes such as selective laser sintering or fused deposition modeling make this possible.
The quality and results of the 3D printers are also improving. Since 2014, it has been possible to combine several liquid materials in one print. In addition, the models have less weight as lightweight construction than objects from classic manufacturing methods such as the injection molding process.
This rapid development aroused the interest of the economy. First, the automotive industry started manufacturing prototypes. This procedure quickly extended to other industries. 3D Printing is now one of the standards in prototype manufacturing, as it shortens the time required to plan, develop and manufacture a new product (rapid prototyping).
3D printing is also suitable for the production of small series, individual parts or spare parts. Especially if industrial production would be too expensive and expensive, the 3D pressure is a good alternative. In addition, different series or parts can be produced directly after each other. It is not necessary to replace molds, for example.
Another area in which the process has proved its worth is tool and mold making. Instead of relying on external suppliers, a tool or form, such as a die-cast form, can be produced in a short time and within the company.
Advantages and disadvantages of 3D printing technology
The use of this technology has some advantages for companies. These are particularly due to the reduction of errors as well as the reduction of material and labor costs. This results in faster, more cost-effective production.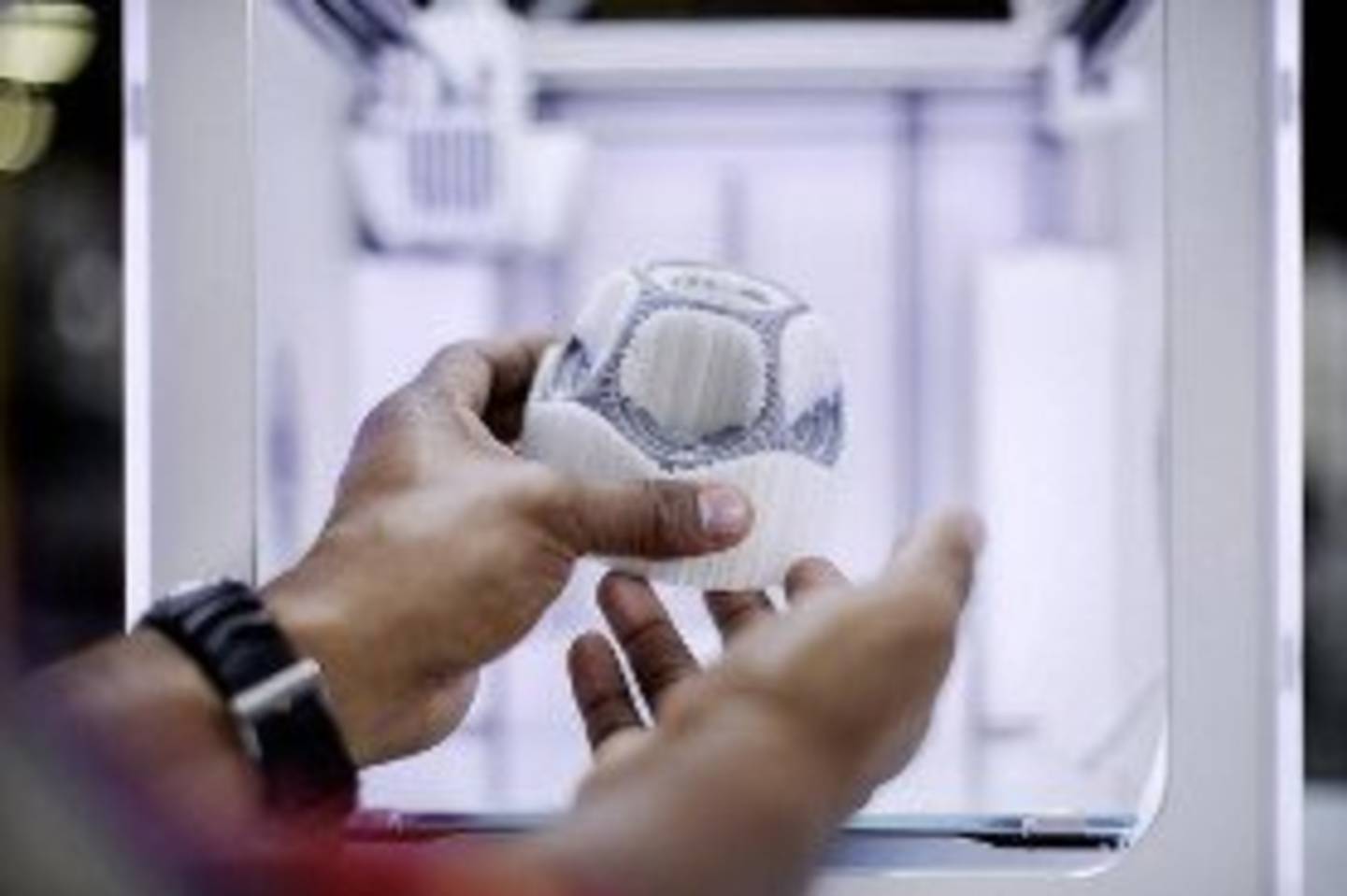 Avoid errors
Especially during the development phase of new products, errors in design and function are normal. The 3D models can be used in the short term and already in the early stages of development. In this way, errors can be detected and eliminated earlier than in the production of objects by hand or molds. Because these traditional approaches are time-consuming, prototypes are often deployed at a later stage, so errors only come to mind after work and time have been invested. The same applies to the other options for using 3D printing. Thus, the production of a small number of parts can be stopped and improved in between and not only at the end of the production.
The higher the quality of a 3D printer, the more precise and true to original the produced part is. For example, it is possible to produce objects from different materials and to reproduce the properties of the product. No matter whether multicolor or transparent, rubber-like or fixed, with moving parts or without. Thermoplastics, photopolymers and composites are capable of providing almost any material property. Post-processing processes such as painting or polishing can withstand them without any problems. In this way, models in contrast to digital designs on the computer in their optics and haptics correspond to the final product. Tests with the objects reveal errors that would result in a high cost and time for improvement in the final product. This means that prototypes can be printed and errors eliminated at an early stage of development.
In addition, the models created once on the computer can be changed and reproduced as required. If the initial design of the prototype shows errors or if something is to be improved on the design, only the most necessary changes must be made. The printers can then immediately produce the next generation of the prototype.
Reduce material consumption
The exact manufacture of the desired shape reduces the material consumption. The 3D printer builds the models in the required size and shape. This is an essential difference to the parts whose initial shapes are only given their final shape by cutting, grinding or drilling. Due to the low material consumption and the lower use of energy and work, production is more cost-effective.
Reduce the workload
The work effort can be reduced in different places. On the one hand, the cost and time required during development are reduced, as prototypes are tested early on. In production, the construction of molds and their replacement are eliminated as soon as a new product series begins. The printed parts are finished, the post-processing is completed within a short period of time or is not necessary. In addition, the costs are independant of the printed quantity and free from economies of scale. This means that the production of small quantities of 3D printing is no more expensive than that of large quantities. In classical production, production costs are generally reduced as production volumes increase.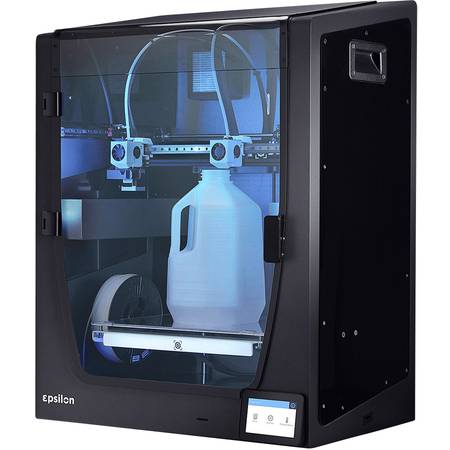 Acceleration of production
The short-term and flexible use of 3D pressure leads to an acceleration of production at the end. This includes reducing development effort and effort. This is especially true for the production of spare parts. Without 3D Printing, the generation must rest in the worst case until a spare part is delivered. On the other hand, a 3D printer produces the required parts on site according to the just-in-time principle.
Environmentally friendly process
In addition, the 3D pressure is more environmentally friendly in many areas than conventional procurement channels. On the one hand, the material consumption is lower, so that less waste is produced. On the other hand, transport routes are minimized or completely eliminated, since the required parts can be printed directly on site. This makes a contribution to saving CO2.
Disadvantages of 3D pressure
The design of a printable template requires specific knowledge and experience.
Printing takes several hours or days, depending on the complexity of the object.
Mass production is not yet possible, as classic production is cheaper from a certain quantity.
Application possibilities of 3D printing in companies
Medicine and research
Prostheses and orthoses
Models for practical preparation of operations
Implants such as knee joints or jaw implants
First experiments in the pressure of organs and body parts
Mechanical engineering and manufacturing
Printing of spare parts and special parts on demand
Improvement of own product range, e.g. less weight, integrated cooling
Tool-free production of products for which molds were previously required
Consumer goods industry
Manufacture of clothing and jewelry
Pressure of household items
Production of individual toys
Architecture
Pressure from bridges and single story buildings
Detailed models of buildings and building complexes
Aerospace
Production of aircraft components to reduce the weight of the aircraft and fuel consumption
Pressure from drones
Food industry
Manufacture of noodles
Print sweets such as rubber animals, biscuits
Now, the 3D printer makes it possible to do so much, both in the home and in the business environment. In the future, this technology will continue to evolve, and some even expect a profound influence in business models, production processes, and value chains.
3D printing in educational institutions
Not only companies have recognized the benefits of the 3D printers. They are used in educational institutions to facilitate learning and research for students and students.
Schools use technology in MINT subjects (mathematics, computer science, natural sciences and technology) to bring their students closer to science, technology and design.
In mathematics lessons, geometric forms become tangible, the creation of CAD models is part of the computer science lesson and the complex technical production process becomes understandable when creating a 3D model. In the scientific field, the 3D printer also helps. Thus, various things, such as the human body cell, can be visualized.
At universities, 3D Printing is used in many areas, for example in technical courses of study or in research. Medical students can practice surgery with 3D objects in a practical way.
In this way, students will be able to learn about the innovative 3D printing process that can help them in their careers.
Manual 3D printing for lessons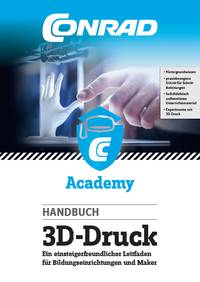 3D printing is an innovative and constantly growing area, representing an excellent opportunity to illustrate many aspects of digitization by means of a 3D printer.
Our free "3D Printing textbook supports this: It is intended as a step-by-step guide of how to best make this exciting topic part of the syllabus of schools, colleges, professional training providers and other educational institutions.
Example from practice
RWTH Aachen developed a collaborative platform in cooperation with Conrad, which enables the networking of production resources and customer orders. To illustrate the approaches, a simulation of production sites was created. Using 3D printers, this simulation can distribute print jobs over a network to locations and initiate production.
In addition to the Renkforce RF500 3D printer we recommend, the Conrad Electronic Technology Center also recommended using the Renkforce 3D Astroprint box. This enables the printer to be controlled via a programming interface and the associated option to send print jobs over the network via the existing platform using a server-client architecture.
Various procedures in 3D printing
The numerous application possibilities, which bring with them the diverse materials and forms, also make different manufacturing paths necessary. The most common printing variant are additive processes, also generative production, in which an object is created by adding, applying and storing material. The template for this is a digital model. These include:
| Additive printing process | Suitable materials for printing |
| --- | --- |
| Selective laser melting (SLM) and electron beam melting | Metals |
| Selective laser sintering (SLS) | Polymers, ceramics, metals |
| Stereolithography (SLA) and Digital Light Processing (DLP) | Liquid synthetic resins |
| PolyJet Modeling and Fused Deposition Modeling (FDM, also Fused Filament Fabrication, FFF) | Plastics, synthetic resins |
Other, less used options are forming processes in which the product is shaped by mechanical or thermal methods such as bending, pressing and casting. Subtractive approaches work on raw material by milling, turning, drilling and electrical methods to obtain the desired object. Printers that combine multiple processes fall under the hybrid approach.
If you do not want to buy your own 3D printer, Conrad's 3D Print Service is recommended for individual pieces and series products. With our cooperation partner we offer you the complete spectrum of 3D printing. You can choose between different printing technology processes and materials. For example, components, injection mold inserts and prototypes are made of metal, aluminum, plastic and much more.
Benefits:
No extra charge for very small quantities
Extensive design freedom
Wide range of materials and colors
Short production and delivery times
Surface finishing and assembly on request
3D print service at the Conrad branch
Scanning, printing, taking away: The 3D print hubs work in the Conrad branch office on this principle. Test it yourself!
This text is machine translated. 3D printing: A step toward digitization  Why 3D pressure?   Advantages and disadvantages of 3D printing technology Application possibilities of 3D printing in companies 3D printing i...