Useful information about alarm systems: Burglary protection for house and apartment
Alarm systems are a modern extension of the mechanical building security. The modern security system of an alarm system protects your company and your property from burglary and other dangers. The intrusion detection systems are flexible, cost-effective, also work wirelessly, making them easy to install.
Alarm system for the secure feeling around the clock

How does an alarm system work?

What is the distinguishing feature of a good alarm system?

This is how you find the right alarm system

Wired alarm system or wireless alarm system?

Everything in it: Alarm sets for beginners

What about the damage class of an alarm system?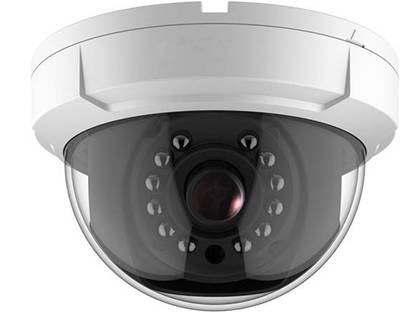 Alarm system for the secure feeling around the clock
Burglars are unscrupulous and do not take any consideration. The thieves manage to break into unsecured offices in less than ten seconds and leave a nightmare scenario. The consequences of a break-in are manifold and hit you hard: The loss of valuable objects and important company documents is the damage to doors and windows – and something that often hurts much more than the purely financial damage: The loss of security feeling. It's a traumatic experience when strangers invade your company premises and roolde everything.
As a housekeeper or company owner, you don't have to be dismused by the fact that burglaries take place. With an electronic alarm system – the term intrusion detection system (EMA) – you can effectively deter burglars.
With 116,540 housing collapses in 2017, police also recommend installing alarm systems in combination with mechanical intrusion protection on windows and doors. Modern alarm systems provide protection at any time of the day or night – during your absence and even when you and other company members are present. The intelligent technology protects the weak points of your Hau­ses or your company . Thanks to effective alarm signaling, it is often only possible to make an intrusion attempt. In the event of a burglary, you will be informed by SMS, mail or voice message and can intervene quickly. Latest generation alarm systems use powerful sensors and are easy to install, easy to use and flexible to expand .
There are even models without mounting, which are ready to use in a few minutes. So security and intrusion protection for your home are easier than you might think!
How does an alarm system work?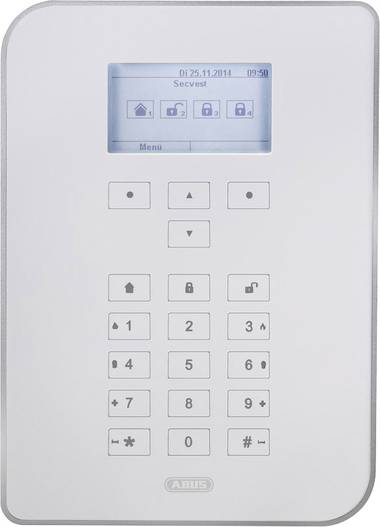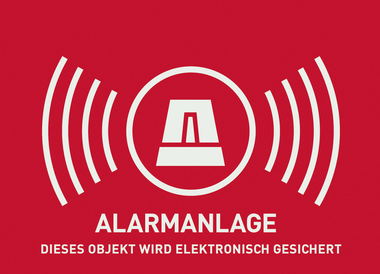 With an alarm system as a supplement to the basic mechanical fuse, you make it heavy to break-in. The alarm system centrally monitors your building, detects changes and triggers an alarm in the event of an intrusion or attempted burglary. The message is sent to the user of the alarm system, to neighbors in the area or to a security and security company.
The electronic all-round protection consists of several components. Usually, a central alarm unit serves as a base station in which the signals of the sensors converge at one point. The connection to the individual sensors such as door/window contacts and motion detectors can be wired or wireless. Wireless alarm systems are in trend, which you can install without modification, without laying cables and without dirt and can even take with you, if you move once.
What is the distinguishing feature of a good alarm system?
Alarm systems can detect numerous hazards depending on their equipment. The main function of an alarm system is to quickly report breakdowns and the associated deterrent function through an increased risk of detection for offenders . Many alarm systems not only report breakdowns, but also show you the status of windows and doors and send messages to your smartphone, tablet or computer. So you always know whether everything is in order at home, whether all entrances are closed or whether a window is still open. In combination with emergency buttons, smoke detectors and fire detectors, a comprehensive safety solution is created.
Some alarm systems are smart home alarm systems. These devices can also be used as smart home systems and can control lamps, sockets, shutters and thermostats.
Depending on the model, the alarm system must be connected to the Internet via the WLAN router and/or equipped with the SIM card of a mobile phone provider of your choice . Through the connection, the devices can communicate with the outside world, send notifications and can partly be remote controlled via the app.
Among the most famous manufacturers of alarm systems are Abus, Blaupunkt, Burg Wächter, Denver, Engardia, Ezviz, Gigaset, HAS, Honeywell, iSmartAlarm, Lexchange, Panasonic, Olympia, Renkforce, Smanos, Somfy, Stabo and Sygonix.
This is how you find the right alarm system
Every house and every company building is different. Alarm systems must be adapted to their technical capabilities to the respective location. Therefore, alarm systems are available in many different variants. Which areas you should secure with alarm systems depends on the construction conditions. In general, doors, windows, cellar entrances, garages and balconies are the biggest security holes in houses and apartments. Two monitoring concepts are available: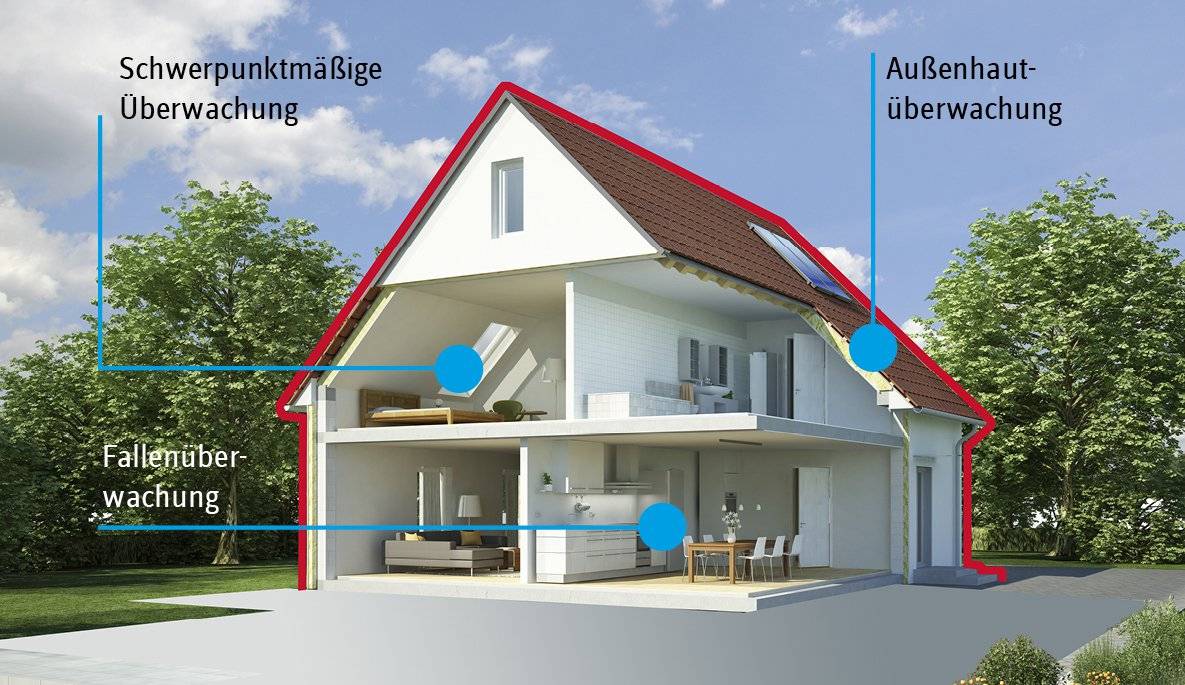 Indoor monitoring
(technical term: Case monitoring)
An alarm system with internal monitoring or fall monitoring only triggers when an intruder is inside the protected rooms. In this way, stairways, corridors and cellar rooms can be secured in a meaningful way. The advantage of trap monitoring is the small number of sensors required for monitoring. This makes the purchase cheaper and means less installation effort. The disadvantage is that the strike is only done when the penetration is successful.
As part of the external skin monitoring, the sensors of the alarm systems primarily monitor the doors, windows, cellar and garage entrances. The alarm system detects any attempt to penetrate the object from the outside. The big advantage of external skin monitoring is that the alarm is triggered early, even before the thief can enter the building. And: Only by monitoring the outer skin is building protection possible even if people are in the building.
Wired alarm system or wireless alarm system?
Alarm systems can be wired as well as wirelessly networked. In a hard-wired system, the alarm control center, the control panel, the sensors on doors and windows, motion detectors, sirens and flashing lights communicate with each other via cable lines. Wired alarm systems are particularly suitable for new buildings or for renovations, if cable laying is possible without any problem. Wired systems are also suitable for outdoor use.
Wireless alarm systems are optimal for an existing property or for rental properties. These systems operate via radio transmission. Detectors and controls communicate wirelessly, so there is less or no need to lay cables when they are installed. Wireless motion detectors and other sensors are usually battery-operated and feature a long battery life. The batteries have to be replaced from time to time, the alarm system gives advance notice. Pay attention to the indicated radio range inside buildings when purchasing.
Good to know: There is no reason to fear that your new wireless alarm system will be impaired by other wireless alarm systems in the vicinity. The coding of the plant components makes it possible to uniquely identify each individual detector. The system thus only recognizes the sensors and buttons taught in at its own central unit.
Alternatives to alarm signaling via siren
Normally, intrusion detection systems display an alarm by sounding a siren, which is widely audible (external alarm). Instead of or in addition to the acoustic signaling, an optical alarm is also possible, for example by activating the outdoor lighting and garden lighting or by means of a light siren. In addition, many alarm systems also control silent alarms (silent alarms) . In case of this alarm signal, which cannot be detected on site, either an authorized security service or – primarily for business premises – the police will notify. It is also possible that the alarming unit automatically activates a video system with IP cameras for video surveillance, which records the events in the living rooms.
Often, multiple alarm types can – and should – be combined. Thus, an acoustic and visual signal can scare the intruder and force him to escape, while a silent alarm notifies the guard, who can then see on the spot to the right.
Everything in it: Alarm sets for beginners
Alarm sets are ideal for beginners and include basic equipment for protecting your own home . For your safety, the basic unit is supplied, which enables a central control of all linked alarm transmitters. Alarm system sets also contain several alarm transmitters for different applications and usually also a remote control and batteries.
What about the damage class of an alarm system?
The manufacturers of intrusion detection systems can have their systems tested and certified in accordance with the requirements of VdS Loss Prevention , a company belonging to the German Insurance Industry Association. After that, alarm systems are divided into three VdS classes and for further fine-tuning into twelve security classes, which are based on the level of the risk of burglary. Class A intrusion detection systems use medium sensitivity detectors and provide easy protection against overdraft detection in sharp and blurred conditions. Class B alarm systems are located in the middle field and Class C systems offer increased protection against overdraft tests in sharp and blurred condition and work with detectors that have an increased response sensitivity.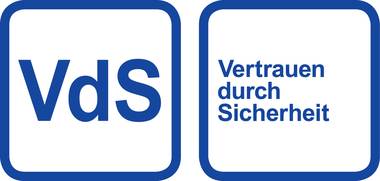 The VdS fuse classes differentiate based on the insurance value and the operating mode. In addition, there are intrusion detection systems that comply with certain DIN regulations such as DIN EN 50130, 50131 and 50136. The certifications and test marks for safety technology give you as a buyer the certainty of a specific quality standard and minimum safety level . You can also act as proof of your insurance policy, for example to benefit from premium discounts.
KfW support for burglary protection
With intrusion protection measures, you can make your home safer. You benefit from state subsidies for safety technology. KfW (Credit Institute for Reconstruction) grants aid to private owners and tenants for the subsequent protection of burglary to Bestands­gebäuden. Up to 1,600 euros per apartment unit is available for mechanical building equipment such as burglary-resistant doors and windows as well as for the installation of an intrusion detection system. The corresponding funding program is called "Age-appropriate conversion – investment subsidy – burglary protection" (product 455-E). The grant for security systems depends on the amount of the investment costs. Information about your grant and the corresponding online form can be found on the KfW website.
  Useful information about alarm systems: Burglary protection for house and apartment Alarm systems are a modern extension of the mechanical building security. The modern security system of an alarm system protects your company and ...