This text is machine translated.
What was cable protection?

What types of cable protection are there?

FAQ - frequently asked questions about cable protection
What was cable protection?
Cable protection is an additional feature that protects cables of different types and uses from electrical, thermal, mechanical and chemical influences in addition to the actual cable insulation. To do this, the cables to be protected are surrounded by an additional element that meets the application requirements. In addition to the protection function, some of the cable protection elements fulfill an esthetic function by covering the cables in such a way that the protection fits visually into the installation environment. In addition, there is a proper function, since cables can be grouped together within an installation, but can also be separated.
What types of cable protection are there?
The actual design of the cable protection is adapted to the application environment. The following categories are distinguished in the field of cable protection: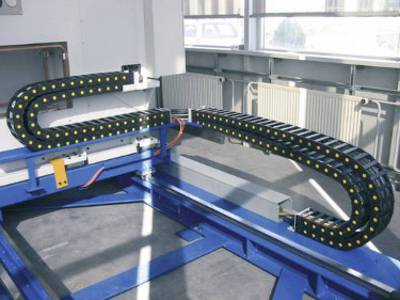 Power Chains
Power chains are used to supply power to moving modules. They ensure that the supply cable moves along a defined path and remains secured against excessive bending and crushing. The chains can be extended with connection/termination elements and are mounted between fixed and moving parts. At the same time, they ensure strain relief for the live cable. Energy chains are classified according to the approved motion velocity and acceleration. The chains have a mechanical solution for the integration of the cable to be carried in the chain core or on its surface. In addition, there are multi-dimensional moving energy chains that enable a high degree of flexibility in complex movements. Some suppliers also have special, subsequently installable heat protection coats in the program.
The energy chains you find at Conrad are available in the inner heights of 10.5 to 35 millimeters, the inner widths of 10 to 103 millimeters and lengths of 17 to 1,035 millimeters. The length refers to the individual basic element, which can be extended in part with other identical chain parts.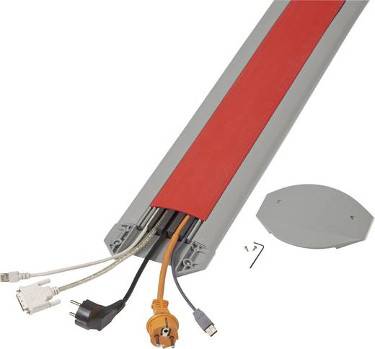 Insulation Tubing
This form of cable protection serves for the additional insulation of existing cables and wires against strong heat, extreme cold and very large temperature fluctuations. Many products in this category are also largely resistant to chemical influences. These products are all available by the meter.

Cable Bridges
Cable bridges are used to protect cables of any kind from damage caused by entering or driving. Often they have to be retrofitted at existing workplaces: Cable bridges are used to bridge the running paths, which also represent a trip protection. For this purpose, the cable bridge has beveled, non-slip sides and has one or more cable ducts. EMC equipment on some models ensures that data and voltage cables can be routed separately to prevent signal interference.
Some cable bridges have additional safety features: Yellow-black markings, luminescent signal strips on the long sides for dusk and darkness. Cable bridges can be shortened with tools and extended with coupling pieces. There are loose, self-adhesive and screw-mounted solutions. Matching end pieces provide an attractive finish.
Cable sleeves
A cable sleeve is used for the uninterrupted connection of two cables or cable harnesses and also fulfills insulation and protection tasks. For this purpose, the sleeve is firmly connected to the cable and encloses the actual electrical connection point. Areas of application are street, garden and pool lighting, device connections for the outdoor area (pumps, filters, loudspeakers), cable connections on trays and in channels as well as the protection of small electrical components.
At Conrad you will find:
Cast-resin sleeve : the connection point is enclosed in this with more-component cast resin and thus withstands high thermal, chemical and mechanical loads permanently.
Gel sleeves are one-component solutions in which the gel takes over the insulation and is already inserted into the cup shells. When the sleeve is closed, the gel seals reliably to the outside.
Mechanical sleeves with high degrees of protection up to IP68
Shrink sleeves are available as cable repair sleeves.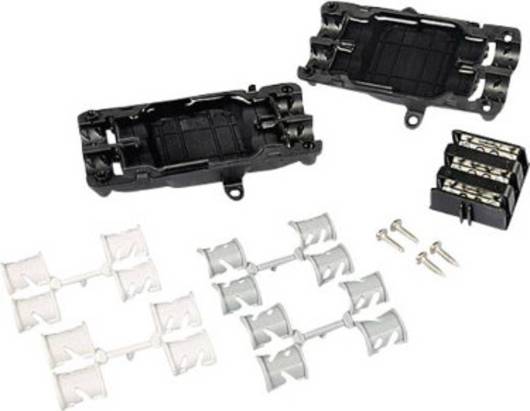 Cable Tubes
The cable hoses category includes solutions that represent a special form of flexible cable guides including protection. These include hoses that connect, for example, height-adjustable desks to floor-to-ceiling containers and other spiral solutions that bundle cables and allow necessary connections to be made at any point. Some of these hoses are designed for industrial applications. The choice of material ensures abrasion resistance and resistance to many chemicals as well as frequent re-use.

Protective hose accessories
In this category you will find special tools, hose glands, hose holders, end caps, mounting clamps, stainless steel protection and strain reliefs as well as adapter pieces between sleeves and cable, in order to be able to use your cable protection reliably.
The production of cable protection elements must comply with limit values for substances hazardous to health and polluting the environment (Directive 2011/65/EU). Under "RoHS", this is offered at Conrad as a selection criterion in the shop.
FAQ – Frequently Asked Questions about Cable Protection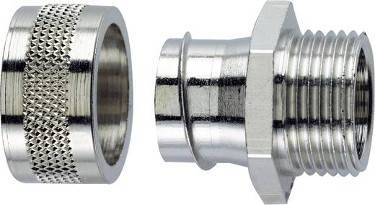 What was to be observed when using cable protection?
The user is responsible for the way in which cable protection is used.
In order to find the right cable protection for the respective application, the manufacturers offer extensive documentation about their products.
For energy chains, it should be noted that space reserves are planned for all electrical, pneumatic and media lines to compensate forces by relative movements.
Cables must be installed with sufficient clearance.
When using cable bridges on public roads or sidewalks, additional markings or hazard warnings or permits may be required. To select the correct cable bridge for your requirements, refer to the load capacities in the data sheets. The load capacity is only achieved on a firm and level ground. Stress tests are recommended for uneven or soft surfaces.
When using gasting resins and gels, the relevant health and safety regulations must be observed. This applies in particular to skin and eye protection as well as ventilation for multi-component materials, if they are processed in rooms. Uncured components can pose a threat to the environment. If irritation occurs, seek immediate medical advice.
How long does cable protection last?
The service life of cable protection mainly concerns movable protective devices. For example, there are energy chains that have been tested with up to 30 million strokes.
When it comes to sleeves – especially the two-component solutions – extremely long durability is required, which exceeds the lifetime of a human being.
This text is machine translated. About cable protection What was cable protection? What types of cable protection are there? FAQ - frequently asked questions about cable protection   What was cable protection? Cable p...