Capacitors are one of the most important components in electrical engineering and electronics. Because their specific characteristics cannot be easily replaced by other components, virtually no electronic circuit will work without them. You can find out what capacitors are, what types of capacitors are available and what you need to pay attention to when purchasing them in our guide.
What types and types of capacitors are there?

Buying Criteria for Capacitors - What's it all about?
Conclusion: How to buy the right capacitor

Our practical tip: Discharge capacitors

FAQ - Frequently Asked Questions about Capacitors
A capacitor is a passive electrical component. As an energy storage device, it has the ability to store energy in an electrical field, which is why it is also referred to as electrical charging. The (memory) capacitance is expressed as F (Farad) capacitance, where an F is the capacitance of a capacitor when it is charged within one second at a current of one ampere to an electrical voltage of one volt.
From a physical point of view, a capacitor consists in principle of two electrically conductive surfaces , called electrodes, and an electrical insulator in between, the dielectric. Capacitance and dielectric strength depend on the effective electrode surface, its distance to each other and the material properties of the dielectric.
If a DC voltage is applied to a capacitor, an electric current flows until the capacitor is fully charged and its voltage value corresponds to that of the voltage source. From this point on, no significant current flows, the resistance then tends toward infinity. At the same time, charge and energy remain stored in the capacitor. In the case of alternating voltages, on the other hand, there is a continuous transfer of charge , which is why capacitors pass through alternating currents . Capacitors (capacitances) behave exactly the opposite way to inductances, their electrical resistance decreases as the frequency increases.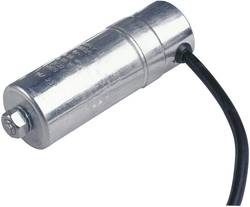 Capacitors are used, among other things, to smooth the residual ripple in rectifier circuits, as support capacitors for bridging short-term dips in the supply voltage through the stored charge, in filter circuits as high or low-pass, for radio interference suppression, As DC link capacitors in switched-mode power supplies, for reactive power compensation in energy technology and as energy storage, for example, to ignite flash light devices or to trigger the shock pulse in medical defibrillators.
What types and types of capacitors are there?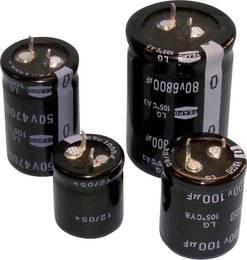 Capacitors are available in a variety of different types to meet the different requirements of the respective application area.
Electrolytic capacitors, simply called electrolytic capacitors, are polarized capacitors with a very high capacity in terms of their construction volume. A wafer-thin aluminum foil is used as anode material. The dielectric consists of aluminum oxide, the electrolyte itself is gel or liquid. Electrolytic capacitors must always be connected in the correct polarity, reverse polarity or operation on alternating voltage acknowledge them with their rapid failure.
Bipolar capacitors are similar in design to electrolytic capacitors. They also have a high capacity with a small design, but can also be operated on AC voltage, as they are not polarity sensitive, in contrast to electrolytic capacitors. They are used, for example, in crossover filters and as coupling capacitors in amplifier circuits.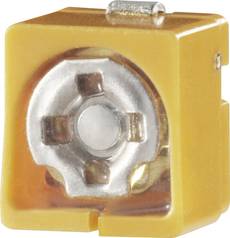 Rotary capacitors, also known as capacitor trimmers, trim capacitors or Drekos, have a variable capacity which can be set within certain limits. They consist of a fixed and a rotating disk package (called stator and rotor), which can be turned into each other. The larger the covering of the plates and thus the effective electrode surface, the more the capacity increases. Variable capacitors are used primarily for tuning and balancing purposes and for adjusting the impedance in electronic circuits.
Foil capacitors consist of metalized plastic foil or a combination of metal and plastic foil, which are rolled up into a coil and together form electrodes and dielectric. Film capacitors are suitable for DC and AC voltage applications and are relatively inexpensive. The ratio of size to capacity is good, in addition, some models have self-healing properties if a dielectric should be runaway. They are often used as interference suppression capacitors, for audio applications and in the automotive sector.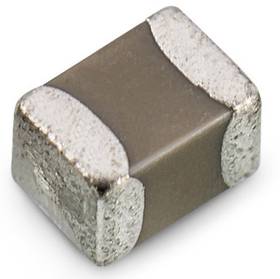 Ceramic capacitors, common abbreviation Kerko, are made of thin oxide ceramic layers, which is why they are also called ceramic multilayer capacitors or MLCC (multi-layer ceramic capacitor). They are available in a wide capacity range from a few pF up to the current approx. 47 µF and for operating voltages of 6.3 Volt up to several thousand Volt. Ceramic capacitors in SMD design are particularly compact – at high possible capacities. Ceramic capacitors are also non-polarized and therefore suitable for AC voltage applications.
Tantalum capacitors are similar to electrolytic capacitors and have a polarity that must be observed. they score points due to high reliability and very high capacities in small designs. SMD-types are also very shock- and vibration-insensitive, which is why they are also gladly used in the car-electrics. Tantalum oxide is used as a dielectric.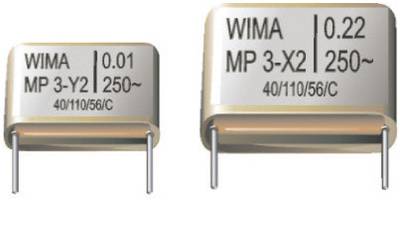 Interference suppression capacitors, also known as radio interference suppression capacitors or safety capacitors, are specially designed to suppress unwanted interference signals. In electrical or electronic devices, they either short-circuit high-frequency interference signals or conduct them against ground (earth). Depending on the type, they must meet increased safety requirements in order to avoid dangerous operating states and contact voltages in the event of a fault.
Supercaps or supercapacitors are passive components that are very similar to ordinary capacitors, but have significantly higher capacities combined with low operating voltages. They have a low internal resistance, so they can tolerate relatively high currents during charging and discharging. Supercaps are polarized and therefore only suitable for direct voltage. They keep their charge for a relatively long time, which is why they are also used instead of backup batteries.
Buying Criteria for Capacitors – What's it all about?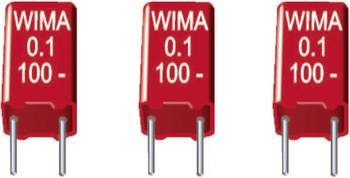 Some capacitor types are available for conventional (THT) mounting as well as SMD technology. In principle, SMD capacitors have advantages in terms of shock and vibration resistance. Not all types are suitable for DC and AC voltage. This must be observed to avoid failures and damage.
There are also differences in life expectancy. A possible loss of capacity due to aging should also be taken into account in the circuit design by an appropriate safety surcharge of the capacity. Some foil capacitors have self-healing properties: A short-term overload, for example through voltage peaks, does not necessarily lead to a complete failure here.
Conclusion: How to buy the right capacitor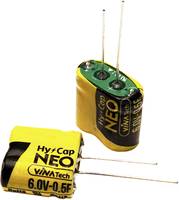 Pay attention to the maximum permissible operating voltage . It must never be exceeded, even for a short period of time. Special interference suppression capacitors with the corresponding test marks must be used for safety-relevant applications in the line voltage range.
Supercaps store a large charge, but only with a few volts. A series connection of several identical types can be a solution here. If defective capacitors are replaced, the electrical values of the new parts must be identical.
Our practical tip: Discharge capacitors
When handling capacitors, it should be noted that, depending on their capacity and voltage, considerable and potentially dangerous charges may be stored. To prevent damage to circuits and accidents, capacitors should always be discharged before working with them. To do this, a suitable consumer load (discharge resistance) must be selected. Short-circuiting of the poles is to be avoided, as very high currents can flow especially with high-capacitance capacitors, which can lead to sparking, component damage and welding of the contacts.
FAQ – Frequently Asked Questions about Capacitors
Why are ceramic capacitors less suitable for audio applications and amplifier circuits?
The so-called piezo effect causes a low self-voltage in case of mechanical vibrations or vibrations of the capacitor, which can cause disturbing voltage pulses.
  About Capacitors Capacitors are one of the most important components in electrical engineering and electronics. Because their specific characteristics cannot be easily replaced by other components, virtually no electronic circuit will ...