This text is machine translated.
Which technical data are relevant for car loudspeakers?

Which car speakers are available from Conrad?

FAQ – Frequently asked questions about car speakers
Speakers in cars must be designed for some extreme compromises. In a car, for example, all persons are seated at defined positions, which are retained while driving. The positioning, the radiation behavior and the sound intensity of the loudspeakers must be adjusted accordingly.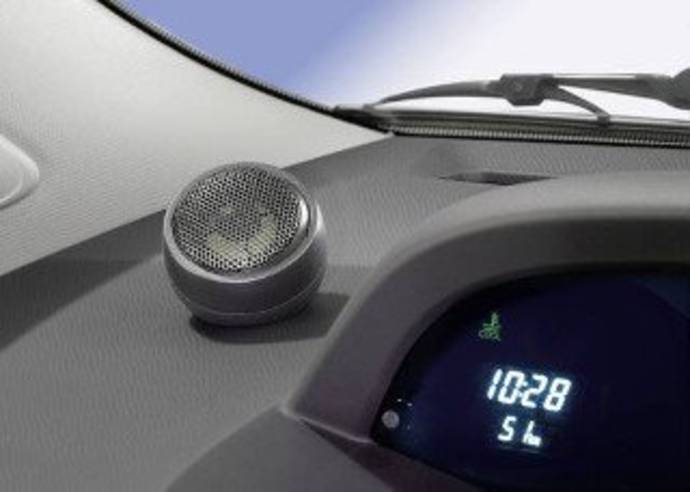 In addition, the hearing experience in the car is impaired by the car's own noises and other ambient noise. In addition, road safety must always be ensured, especially the driver must remain focused despite sound from loudspeakers and be able to perceive, for example, warning signals such as sirens of emergency vehicles. In addition, the loudspeakers are subjected to mechanical stress due to vibrations and shocks in and through the vehicle itself These must be observed when attaching the loudspeaker chassis, as well as when mounting the loudspeaker diaphragm in the chassis itself The use of resonance volumes depends on the space in the car. With all restrictions and factors to be taken into account, a good sound reproduction in the car is sought, which is as close as possible to the acoustic conditions when using the loudspeakers in the home living room.
It is not to be underestimated that in vehicles, the temperature and (air) humidity vary much more than in closed rooms in buildings. These fluctuations place high demands on the choice of materials and the design of the car loudspeakers. High-quality, resistant materials such as glass-fiber reinforced plastic, high-tech fabrics and carbon inserts as well as non-magnetic chassis and multi-coated paper membranes have become established. The materials used influence pricing. Some speaker models have voice coil ventilation to prevent heat loss.
The car loudspeakers available from Conrad are intended for retrofitting in vehicles – either as an addition to existing components or as initial equipment. The electrical connections are designed as automotive connectors.
Which technical data are relevant for car loudspeakers?
In addition to the dimensions and shapes, electrical parameters must be taken into account when using the car loudspeakers. These include:
Maximum music capacity in watts
Please note that the music output is a non-standardized indication of the performance of a loudspeaker or audio amplifier.
RMS load capacity
The RMS power is the average power over a specified frequency band. The signal is a pink noise within the frequency band. Pink noise decreases as the frequency increases. The abbreviation RMS stands for Root Mean Square.
Impedance
Impedance, also known as AC resistance, indicates the ratio of electrical voltage to the current consumed by a consumer.
Which car speakers are available from Conrad?
In-car speaker assembly
These models with RMS power of 10 to 75 watts are subsequently usually mounted on the rear shelf or on large dashboard boards or on the inside of the vehicle roof. They are available as broadband and multiway speakers. Special products are also available for motorcycles and scooters. Car surface-mounted loudspeakers are often offered in a set with cables.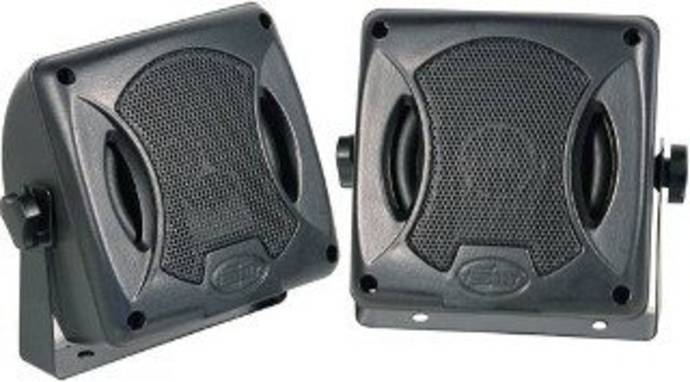 In-car speakers
In this category, you can select from numerous models with RMS power from 20 to 175 watts, so that you can react professionally to every installation situation and every customer requirement. Often, car loudspeakers are sets with installation materials, cable sets, adapter rings, drilling templates and partly with crossover filters.

Car tweeter
Here you can choose from brand products with RMS power from 45 to 120 watts, partly with crossover filters. Car tweeters are used to improve the brilliance of car audio reproduction. Some models are designed to swivel (after installation).

Car subwoofer (chassis)
The offered subwoofer chassis cover the RMS power range from 50 to 400 watts. They extend the frequency spectrum of existing loudspeakers in the deep range and provide for rich bass playback. Some suitable amplifier modules with integrated frequency switches are offered. The amplifiers can be switched on and off simultaneously with the on-board voltage. The mounting is usually done in the hat shelf or in existing housings.

Car subwoofer (enclosure)
These are active and passive loudspeakers with an RMS power range of 75 to 1,000 watts. In addition, empty housings in square and round design are offered, with which you can fulfill individual customer requirements. Some models of the subwoofer housings are equipped with LEDs for additional optical effects while enjoying music.
FAQ – Frequently asked questions about car speakers
What safety instructions must be observed when handling car speakers?
The installation of additional loudspeakers in cars should be carried out by an installation specialist. Professional installation and connection is the prerequisite for warranty service. Always follow the installation instructions. Improperly mounted speakers can damage the products themselves and the vehicle.
Do not remove any metal components from the car body, as these may be load-bearing and safety-relevant elements.
When using surface-mounted loudspeakers, make sure that there are no visual restrictions.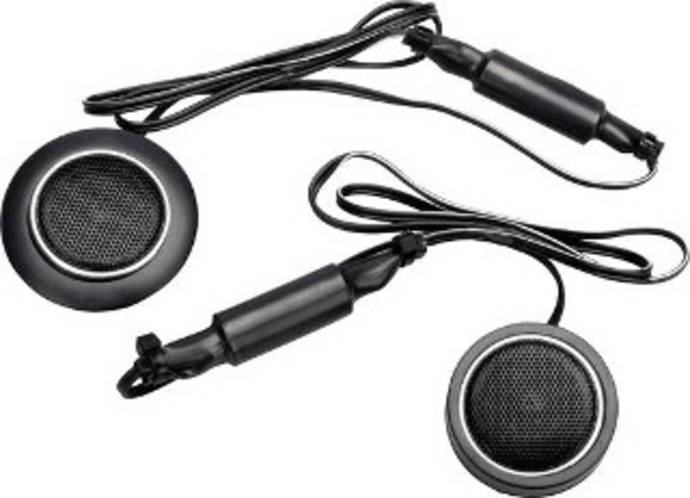 After installation, perform a short functional test of the system at low volume.
Ensure a protected and secure laying of the loudspeaker cables as well as a solid attachment of frequency switches or separate amplifier modules. Use suitable bushings for sharp car body edges that can damage cables and other car components.
All cables must be attached to the loudspeaker without mechanical load and with sufficient length.
Use the frequently included drilling templates or mounting holes to mark drill holes and ensure that no cables or vehicle parts are damaged when drilling the mounting holes.
For interference resistance, loudspeaker cables must be laid at a sufficient distance from cable harnesses.
When disconnecting the car battery, car components may be affected, which must be activated by code after being switched on again. Have this information ready before starting work.
Failure to properly design electrical connections in vehicles can result in significant hazards. This applies specifically to safety-relevant modules.
Avoid contact of audio components with oil, chemical substances and corrosion gas.
Dispose of car loudspeakers that are no longer usable as electrical waste in public collection points. They do not belong in the household waste.
How do defective car speakers become noticeable?
Mechanical action can damage membranes, was the result of distorted, snarling playback.
Due to corrosion, increased contact contact resistance can occur, so that the connected loudspeakers no longer provide the usual playback performance.
Loose screw connections, not exactly fitted grillee and loose cables can cause unpleasant accompanying noises. The same applies to loud, low frequencies for the swinging of belt attachments or objects in shelves.
Short-circuits on speaker cables that are not installed correctly will lead to a total loss of the loudspeaker and, under certain circumstances, to the destruction of separate amplifier modules.
This text is machine translated.    About car speakers What is a car speaker Which technical data are relevant for car loudspeakers? Which car speakers are available from Conrad? FAQ – Frequently asked questions ...