This text is machine translated.
Coffee machines for connoisseurs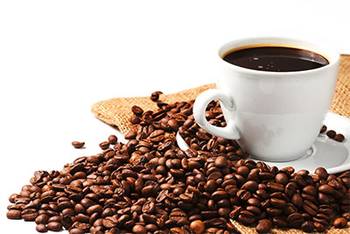 The days of the legendary filter coffee machine in the break rooms and tea kitchens seem to have long been counted. Professional coffee machines are increasingly conquering the offices and offer aromatic coffee enjoyment at the push of a button – without having to cook your coffee with a coffee pot and a classic filter bag. In the past, if one had only the choice between filter coffee black, with milk and/or sugar, one can cook any coffee specialty today.
The latest generation of coffee machines, however, offer not only versatile enjoyment and are easy to use. They also handle the meal, filter and brewing processes fully automatically. In addition, they remind the user in good time to clean the appliance again, to refill coffee beans or to change the filter. Or, depending on the model, they can do the cleaning and descaling process themselves
Even a completely individual coffee making process for the different people working in the office is already possible with many devices. A good, modern coffee machine knows the special preferences of all employees. Coffee enjoyment has never been so easy!
Watchmaker for connoisseurs

Which machine is suitable for me?

Coffee machines at a glance: Who is brewing like?

An interview with coffee experts

Useful aids for brewing coffee
Watchmaker for connoisseurs
Real enthusiasts will be living in Germany of the early 19th century. Probably don't want to introduce the century. After all, it was only when industrialization began in about 1850 that coffee became a popular beverage here in Germany and increasingly affordable for everyone. If at best wealthy citizens were able to afford the aromatic bean to drink, life without this drink would simply not be conceivable for most Germans nowadays.
On average, about 150 liters of coffee are consumed per capita by the German citizens – and thus more than water or beer. Internationally, we are thus in the top group of the multi-drinker ranking. Finland is the world's best, however – with 12 kg/year, coffee consumption is almost twice as high as in Germany (6.4 kg), the world champion country of decaffeination.
The figures on coffee consumption do not surprise us: Caffeine has proven to give us a creative kick and increases the ability to concentrate and the "feel-good hormone" serotonin in our blood. As a result, German companies are also likely to be able to maintain a consistently high caffeine level among employees every day: According to studies conducted in German offices, coffee tastes particularly good between 8 and 10 a.m. Another peak of the day – between 3 and 5 p.m. – is likely to be due to the "holding cage" for the day-end sprint. One piece of cake is sure to be used by one or the other to overcome the midday meal with sugar and caffeine.

Which machine is suitable for me?
| | Filter coffee machines | Capsule Coffee Makers | Pod machines | Fully automatic | Espresso/sieve-girders |
| --- | --- | --- | --- | --- | --- |
| Acquisition price | Low | medium | medium | High | medium |
| Cost per cup | From about 4 cents | From about 30 cents | From about 10 cents | From about 8 cents | From about 8 cents |
| Suitable for | hohem coffee consumption or large amounts of coffee | Low coffee consumption | Low coffee consumption | hohem coffee | hohem coffee |
| Preparation of | Filter coffee | Coffee, milk coffee, espresso | Coffee, milk coffee, tea, cocoa | Coffee, Caffè crema, milk coffee, espresso | Espresso, milk coffee |
| Advantages: | It is possible to make many cups at the same time | Very fast and clean preparation; wide variety of varieties | Convenient, simple and fast coffee enjoyment; wide variety of varieties | Very high operating comfort; many setting options; large variety variety variety | Full espresso enjoyment with the best possible aroma; milk frother provides variety (cappuchino, latte) |
| Disadvantages: | Few setting options, a few minutes waiting time | Capsule type must match machine; comparatively high follow-up costs; high environmental impact due to aluminum | Pads must be compatible with the machine type; relatively high follow-up costs | Medium to high cleaning requirements; high purchase price | More preparation effort; average cleaning requirements |
Coffee machines at a glance: Who is brewing like?
But which machine is best suited to your own needs? Which brewing system is recommended for which types of connoisseurs? The most popular modern coffee machines at a glance:
Fully automated coffee machines – the first choice for (office) families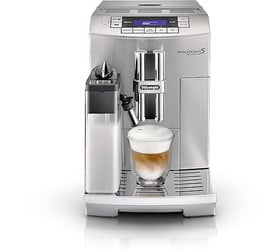 As the name suggests, the full-size coffee machines take care of everything – they grind the coffee beans from their storage container and brew the drink in the desired way as well as the desired quantity at the push of a button – the right mixture is there for every taste. These multi-talents are almost ideal for offices or at home for larger families. They play out their advantages above all when it is hectic – like in the morning in the home kitchen or before a meeting.
Whether it Caffè crema, latte macchiato or espresso, this is where every connoisseur comes to his personal favorite watchmaker in a matter of seconds. And the automatic frothing mechanism leaves no wishes unfulfilled even for real milk frothing lovers.
Capsule coffee machines – perfect for low coffee consumption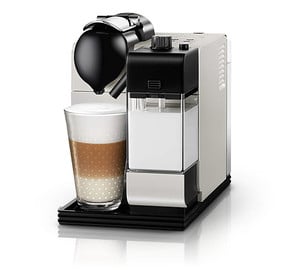 For espresso machines with capsule system, the coffee powder no longer needs to be filled in itself, but is available pre-portioned in aluminum capsules protected from aroma. The hot water is pressed through the coffee capsules with hohem pressure, which are only perforated shortly before the brewing process. The powder thus retains its original freshness and does not lose any of its aroma.
The popularity of the capsule machines is growing, because for an occasional cup of espresso, Caffè crema or a variety of milk coffees (up to four cups a day), which want to or have to get to the point quickly, there is no better invention besides the coffee pod system. With the motto "Insert capsule – press – enjoy" nothing stands in the way of fast espresso enjoyment. One must also be for all espresso fans in one and two-man offices.
Coffee pods – small portions in a bag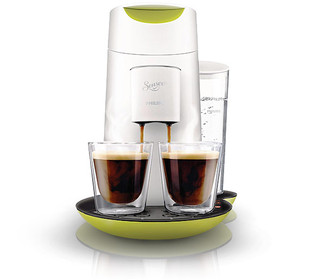 Coffee enjoyment by pad is no less popular in German households and offices. A coffee pod (similar to a tea filter bag) contains coffee powder sufficient to make a cup of coffee. Coffee pods are brewed with appropriate coffee pod machines. Just like the coffee capsule preparation, one regularly prepares one to two cups.
Despite the relatively low purchase price for the machine, the system is less suitable for multi-drinkers due to the higher follow-up costs. For occasional and one-cup drinkers on the other hand very recommendable.
Espresso machines or portafilter machines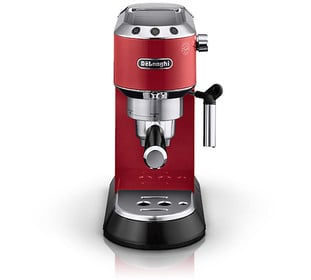 Espresso like the Italian on the corner? With portafilter machines, this is not a witch's work. However, in order to enjoy the full "authentic" enjoyment, the coffee lover is required to do a little more by hand: This appliance requires a metal sieve with coarse ground coffee and screwed under the water intake of the semi-automatic.
Before that, it is said: Grind whole beans, squeeze the coffee flour and dispose of it again after the brewing process. However, if this procedure is not too complicated, then it is rewarded with incomparable enjoyment and "real" espresso aroma.
Our practical tip: Cold Brew Coffee
Trendy and tasty on hot summer days: Pour over 100 grams of coffee powder with a liter of cold water and leave to be pulled in the fridge overnight. Then drain the powder using a coffee filter and enjoy with ice throws, vanilla ice cream or a shot of milk.
An interview with coffee experts
What was the A and O of coffee cooking? How should you store coffee properly? In which machines does the best aroma unfold? Coffee Master Mr. Schwarzenberg and Sales Manager Mr. Maier of Heimbs Kaffee GmbH & Co. KG in Braunschweig answer the most important questions in the video interview and give valuable expert advice on the topic.
Arabica
The Arabica coffee, which is popular because of its good taste, accounts for about 60 percent of the world's production and comes from Costa Rica, for example. The caffeine content is only half of the Robusta bean. The Arabica bean is characterized by its wavy incision.
Robusta
Robusta coffee is the second most popular coffee variety, accounting for about 36 percent of the world's coffee production. This grade has a straight cut.
Stenophylla
This variety, which is grown in West Africa, is used to produce the well-known Highland Coffee. The whole beans of the especially small-leaf plant are round and large, the fruits become black when maturing.
Maragogype
This is a mutation from the Arabica bean or from an intersection of Arabica and Liberica bean. The variety is grown mainly in Mexico and Nicaragua. The maragogype beans are one third larger than other coffee beans and have a lower caffeine content than for example Arabica beans.
Kopi Luwak
This Indonesian coffee variety is one of the rarest and most expensive in the world. The special feature: Creaky cats eat coffee cherries and separate the whole beans, whose taste characteristics have changed as a result of fermentation in the animal's intestines and thus become a specialty.
Useful aids for brewing coffee
Coffee accessories
For your coffee to succeed, it needs more than just a good coffee maker. Accessories such as milk frother, water filter and coffee mills: We have everything you need to make a perfect cup of coffee. was it a great way to make a cup of coffee?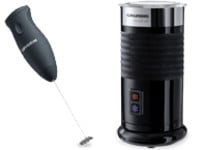 Cappuccino, latte macchiato and so on are indispensable for many – no problem with our milk frother! They produce fast and easy creamy milk froth for your favorite coffee creation.
Water filter & cartridges

The quality of the water also plays a role in the success of the coffee at the end. Therefore, the water should always be filtered and the filters should be changed regularly.
Regular cleaning and descaling are important to ensure that your coffee or espresso machine functions properly. Different products are used for this, depending on the machine type.
This text is machine translated. Coffee machines for connoisseurs The days of the legendary filter coffee machine in the break rooms and tea kitchens seem to have long been counted. Professional coffee machines are increasingly conquering the o...