Teksten forneden er maskineoversat fra den tyske originaltekst.
What are D-SUB connectors?

What types of D-SUB connectors are available?

Standards and guidelines for D-SUB connectors

Selection of D-subs and accessories

FAQ - Frequently Asked Questions about D-SUB Connectors
What are D-SUB connectors?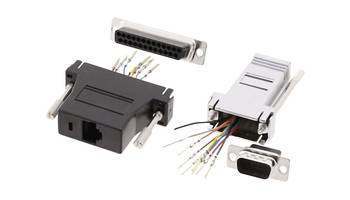 In the D-shaped housing of male connectors there are pins as electrical contacts. The female counterpart has matching sockets for the poles. The connector housing covers the cables of the individual lines .
By the way: In the introduction of this type of plug by the US company Cannon in 1952, the design was progressively small by then conditions, hence the original addition as D-sub-miniature .
Due to the one, two or three-row arrangement of the trapezoidal plug connection, the electrical cables are arranged and secured against twisting.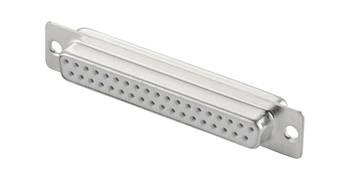 This standardized arrangement also enables the quick finding of a suitable mating plug. The following standard specifications for the arrangement of D-sub plug connections can be generalized:
The pins (pins) have a diameter of 1 mm.
Next to each other, the distance between two pins is 2.77 mm with a deviation tolerance of ± 0.1 mm.
Overlapping pins have a distance of 2.84 mm to each other.
The pin rows are offset by half of the distance between the pins. (The arrangement of sub-plug sockets logically follows the same arrangement)
Our practical tip: Attention at intervals
Especially for high-current contacts and integrated coaxial connections, deviations from the standardized distances between the contact pins are more frequent on the manufacturer and design-specific basis!
What types of D-SUB connectors are available?
Size designation
Standard D-Sub

HD D-SUB
Rows
Number of pins:
Rows
Number of pins:
A
2
15
3
26
B
2
25
3
44
C
2
37
3
62
D
3
50
4
78
E
2
9
3
15
F
-
-
5
104
D-Sub connectors are available in many variants. Plug connectors with 9 to 50 poles are common for a standard D-Sub. Newer models for transmitting signals with HD quality have in some cases significantly more poles . The table provides an overview of common sizes for D-SUB connector types and their letter code: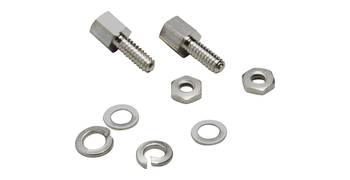 * There are many other explanations.
Tip: Often the plug connection is fixed by an additional screw connection. Not only the D-Sub plug and socket, but also the screw threads must fit on top of each other.
By the way: Industrial D-sub connectors are often used as universal connectors for PCB mounting. The PCB itself is not standardized, but is compatible with other systems by means of the D-Sub connector fitted.
Standards and guidelines for D-SUB connectors
The D-SUB connector system is used internationally. The D-Sub standard is regulated across countries in the IEC 807-2 directive. In addition, specifications for individual variants of the D subs are defined in their own ISO standards. In Germany, the DIN standard 41652-1 is used for D-sub connections.
Selection of D-subs and accessories
In our online shop you will find ready-made connectors and accessories in the following categories: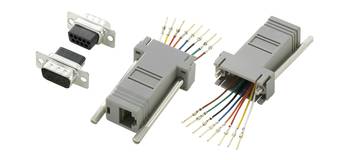 D-SUB Adapters & Cables
Adapters with connection cables enable the individual pin assignment for professional users and hobbyists. Attention during installation!
With regard to the assignment of the individual contacts, there is always a misunderstanding in the numbering, because some users describe the arrangement from the solder perspective, others use the top view on a finished plug connector to describe the position of the individual contacts.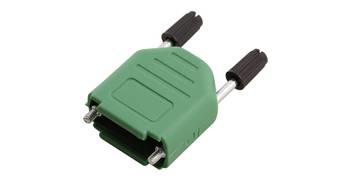 D-SUB housing
D-Sub housing enclose finished D-Sub connectors or self-made adapters. They facilitate the securing of the connection point between plug and socket by standardized screw connections.
The color scheme of some D-Sub housings is useful to keep track of many cables at the same time.
D-SUB contacts
under "D-Sub contacts" you will find various pin and socket contacts for installation in connectors.
D-SUB connectors
the category D-Sub connectors include female connectors, male connectors and hybrid connectors in trapezoidal arrangement.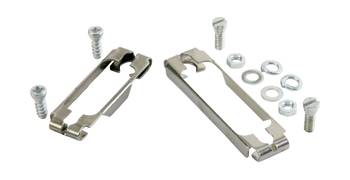 Accessories for D-SUB connectors
The accessories for D-SUB connectors are varied. It includes, but is not limited to:
Mounting material
With caps
Hand-held pliers
Positioning sleeves
Cable grommets
Crimp sleeves
FAQ - Frequently Asked Questions about D-SUB Connectors
What do I do if there is not enough space for a D-Sub connector that is plugged into the front, for example in a computer case or in front of a wall?
For the standard D-Subs version, the connector angle is 180°. Sometimes it is enough to turn a plug 90° and still mount it horizontally or vertically for straight insertion. For more complicated cases, there are D-subs with different connection angles. In the filter connection angle you will find different options if you do not have the full length of the plug in the horizontal and you therefore want to 'insert diagonally'. There are also different directions for routing the central cable at the back of the plug.
How can I attach the cables to the D-Sub adapter?
In the filter connection, select the desired fastening method. There are different variants for this. The self-assembly mounting works, for example, through soldering, crimping, printing, insulation displacement terminals, screws or tension springs.
How many rows and poles should I plan for self-assigning a D-Sub?
There are no specifications for this. It is especially important that the plug and socket have the same number of rows and poles so that they fit on each other later. How you assign the individual pin contacts is irrelevant.
Teksten forneden er maskineoversat fra den tyske originaltekst.      About D-SUB connectors What are D-SUB connectors? What types of D-SUB connectors are available? Standards and guidelines for D-SUB connectors ...