This text is machine translated.
About Displays & Displays
Displays are required to allow information from inside electronic devices to be transmitted to the user. This can be scarce information such as the calculation result of a calculator or the measurement result of a multimeter or complex information such as the moving, colored pictures of a music video, which are also coupled with an audio playback. Modern electronics are not conceivable without displays, displays, monitors and screens of all kinds.
What types of displays are there?

Display techniques for displays

These displays and accessories are available
Displays are used for the visual transmission of changing information. Another name is Display. Larger displays are also called screen. They belong to the interfaces between operator (human) and machine (technology) and are found as:
Control elements on devices and machines,
TV screen or computer monitor,
On mobile devices such as smartphones, tablets or notebooks,
On navigation devices
And in many other applications.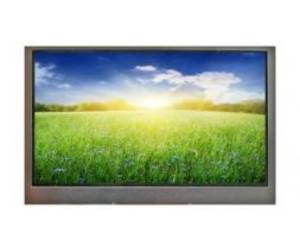 What types of displays are there?
On the one hand, there are numeric or digital displays, which are usually realized as line or matrix displays. They are particularly useful when only brief information needs to be transmitted.
Line displays are simple matrix displays with two to four rows consisting of individual pixels in a matrix of horizontal rows and vertical columns. The individual pixels are uniquely defined by specifying a row number and a column number.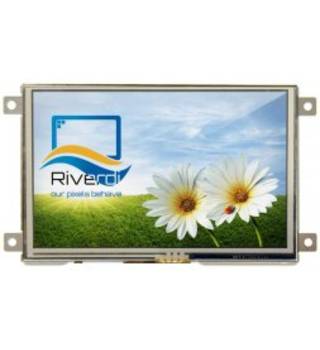 Depending on the display technology used, such as LCD (liquid crystal display) or LED (light emitting diode), one pixel can accept two or more shades of gray and colors. In the simplest version, an image point within the display area is visible or invisible, i.e. black or white. Depending on how finely the display is rasterized, i.e. the pixels are arranged, graphic patterns or characters can be combined by controlling several points from adjacent pixels of the matrix.
Matrix displays, which are only intended to display simple letter or digit sequences, for example for measured values (e.g. temperature displays), are often implemented as a seven-segment display. It consists of seven segments in matched form, which allow the representation of numbers and simply designed letters. A well-known example of this is the display of calculators with linear segments. Matrix displays can be programd in 4- or 8-bit mode with a few lines of bit code via a serial interface. Because of this simplicity, they are still used for operating and monitoring process parameters in machines, plants and buildings.
A screen is a display instrument that can be used universally, which can be controlled as a brown tube vector- and grid-oriented. Liquid crystal displays (LCD displays) are controlled as matrices in a raster form.
With LCDs and OLEDs, a distinction is made between two types of control technology: Passive matrix displays and active matrix displays (TFT displays). An activation circuit, which is usually implemented as an integrated circuit (IC, integrated circuit), controls the individual pixels of the matrix. In addition to controlling the individual pixels, a character generator is also part of this control circuit.
Display techniques for displays
Displays use different display techniques. These include:
Field emission displays (FED)
Liquid Crystal Displays (LCD) and Thin Film Transistor Display (TFT LCD)
Cathode ray tube displays (CRT)
Plasma screens
Organic light emitting diodes (OLED)
Surface-Conduction-Electron-Emission-Displays (SED)
Of these, liquid crystal displays (LCD, liquid crystal display) and organic light emitting diode displays (OLED) are currently playing a major role.
Liquid crystal displays (LCD displays)
Their operating principle is that liquid crystals influence the polarization direction of light when a certain amount of electrical voltage is applied. LCD screens are made up of segments that can change their transparency independantly of each other. By the arrangement of transparent and not or less transparent segments, optically recognizable patterns and signs can be formed. For this purpose, the alignment of the liquid crystals in each segment is controlled by means of electrical voltage and thus their permeability for polarized light is changed. Polarization filters on the display produce polarized light. For reflective displays, this light is the incident ambient light, and for transmission mode displays, it is an integrated backlight.
LCD screens can have uniformly rasterized image segments that correspond to pixels in order to display any image content, or, if only certain content is to be displayed, segments in a matched form, as in the seven-segment display known by the calculator.
LCD displays are used in electronic devices of various types, for example:
Consumer Electronics
Digital Cameras
Digital clocks
Mobile phones
Measuring devices
| Advantages: | Disadvantages: |
| --- | --- |
| Light, flat design with low installation depth | Resolution cannot be changed by defined pixels |
| Low energy consumption | Pixels may fail/be faulty |
| Low-radiation | |
| flicker and distortion-free | |
Previous disadvantages such as low contrast and relatively long switching times no longer play a role thanks to technical progress.
OLED displays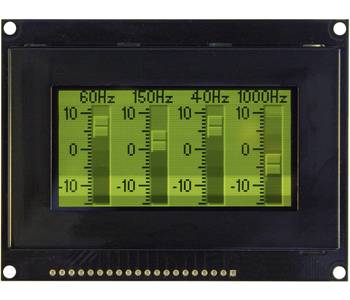 An organic light emitting diode (OLED) is a luminous thin-film component made of organic semiconductor materials. The difference to conventional inorganic light emitting diodes (LEDs) is that the electrical current density and luminance is lower and no single-crystalline materials are required. Organic light emitting diodes can therefore be produced more cost-effectively in the process of denising than conventional LEDs, but they have a lower service life and also a lower light yield.
OLED technology is used for screens in smartphones and tablets, but also for large screens in TV screens and computer monitors. It can also be used for large area lighting. Their special material properties also enable use for flexible screens.
| Advantages: | Disadvantages: |
| --- | --- |
| Do not require permanent backlighting | Lower life |
| Low energy consumption | Lower light yield |
| Quick reaction time | Must be hermetically sealed and protected against environmental influences (water and oxygen) protected |
| Cost-effective manufacturing | |
With their low power consumption, OLEDs are ideal for use in small mobile devices such as smartphones or notebooks, as they use less battery power.
These displays and accessories are available
7-segment displays and dot matrix displays: They are primarily used as information displays on electronic devices, machines and systems. Displays of this type are available in different sizes and designs. The number of digits is limited, 7-segment displays with 1-4 digits are common.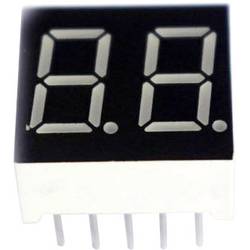 Illustration of True Components 2-digit 7-segment display
Small information displays such as this two-line alphanumeric dot-matrix display are suitable for handheld devices.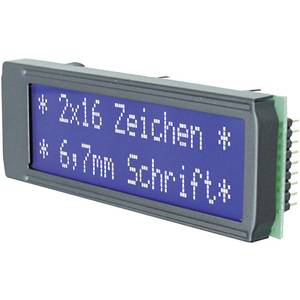 Illustration of the white-blue LCD display
Larger displays such as this OLED display are suitable for displaying more complex information.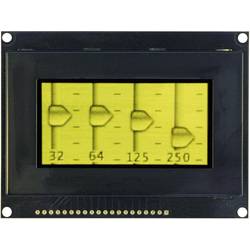 Illustration of the yellow-black OLED display
Such graphics modules are equipped with controller and data RAM and offer various interface options. For example, TFT LCD display modules in different sizes are suitable for displaying differentiated multi-color graphics and videos.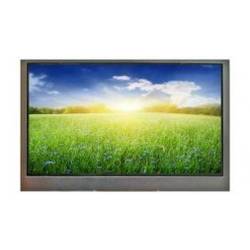 Illustration of 4.3-inch TFT LCD module with 24-bit RGB interface RTP
Electronics for control could be used as accessories for displays and displays, such as measuring signaling devices and rechargeable batteries, as well as installation accessories such as front frames or filter discs, background lighting or luminescent films. Matching LCD inverters and socket strips are also available.
This text is machine translated. About Displays & Displays Displays are required to allow information from inside electronic devices to be transmitted to the user. This can be scarce information such as the calculation result of a calculator ...