Useful information about electrical installations:
Future-oriented electrical equipment for each building
Electrical installation refers to the installation of electrical systems in commercial or private areas. There is much more to electrical equipment than can be seen with the naked eye. Electrical installations include, but are not limited to, home connections, fuse boxes, distributors and sub-distributors, circuits, switches, sockets, protective devices and lights. Without the appropriate electrical infrastructure, the convenient, application-oriented and energy-efficient operation of a building is not possible.
Electrical systems in commercial and public buildings as well as in residential buildings usually remain in operation for decades. This is why the electrical installation must be appropriately dimensioned, of high quality and well protected. The laying of cables and the installation of electrical appliances are also part of the electrical installation. Many of the components are mounted face down . This can be advantageous from a security point of view and opens up a wide range of possibilities for room design and installation.
Why is a good electrical installation so important?

How does an electrical installation work?

What should be observed for electrical installations?
What is all part of the electrical installation?

How to select suitable electrical installation material

Who may lay, modify or repair electrical installations?
Why is a good electrical installation so important?
The electrical installation ensures a reliable and safe power supply in your premises , for example for the use of electrical lighting, heating, cooling and ventilation technology, machines and technical equipment. A professionally designed electrical installation is a prerequisite for the safe, comfortable, energy-efficient, economical and future-oriented use of buildings. A good electrical installation simply makes sure that there are enough control points and sockets in your rooms. It also prevents equipment and machine failures due to line conditions and prevents lightning and overvoltage damage, fires and electrical accidents.
Modern communication facilities and new digital applications place particularly high demands on electrical installations. Especially if you are reconstructing an electrical system or modernizing an existing building installation, you should pay attention to an electrical installation that is adapted to your needs and is sufficiently dimensioned. This includes safety-related and efficiency-optimized electrical equipment with a focus on future smart home and smart building applications. Take into account any changes in the use of rooms.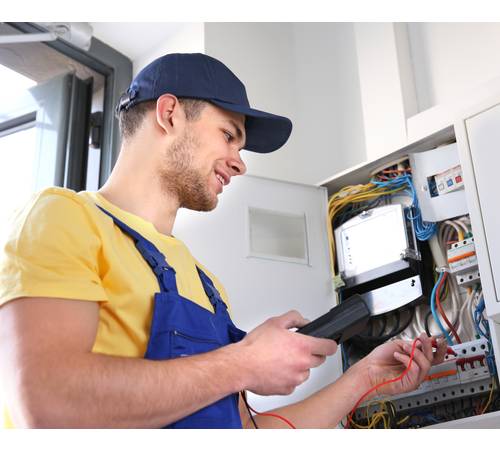 In our shop, you will receive all the components you need for your electrical installations from a qualified source. The installation materials and innovative operating materials offered by well-known brands meet prescribed standards and high quality standards. They are equally suitable for the re-installation or extension of electrical installations as well as for the inspection, repair and overhaul of electrical installations.
How does an electrical installation work?
Electrical installations typically operate in the range of up to 1,000 volts AC and up to 1,500 volts DC. The electrical installation extends from the central building connection via the cable paths to the main and sub-distributors, circuit breakers, intermediate sockets and switches to sockets, lights and permanently installed electrical devices as well as machines.
There are several variants for conducting electrical installations. In a mainly central electrical installation, as many components as possible are combined in the area of distribution boards. The advantage of this variant is a high concentration of components and thus a simple control and maintenance of the plant. In a decentralized electrical installation, the modules are mounted close to the respective consumers. This results in a better plant overview.
Electrical installations can be laid under plaster, on plaster or in plaster. A cost-saving and service-friendly surface-mounted installation offers advantages for industry and production plants. In the commercial sector, for example in offices, shops and lounges as well as in the private sector, under-plaster mounting is widespread due to optical advantages.
What should be observed for electrical installations?
For the standard-compliant execution of installation work in the electrical sector, you need a large number of different connection and fuse components, mounting materials, switches and sockets. Compliance with VDE regulations and DIN standards for product selection, installation and installation ensures the quality, safety and fire protection of your electrical installation.
There are a variety of standards, regulations, regulations and laws for the installation and operation of electrical systems. The series VDE DIN 100 as well as the standard DIN 18015 contain important basic guidelines. Documentation must be available or created for each electrical system. It describes the actual status of the system and is transferred to the operator as part of the acceptance test.
What is all part of the electrical installation?
The selection and compilation of the right materials, devices and tools is a prerequisite for a reliable electrical installation in buildings. When purchasing the components for your project, pay attention to the product features that are suitable for your technical requirements.
Power Cables
Power cables combine several, insulated wires. They are used for the orderly transport of electricity inside and outside buildings. For this purpose, the cables connect distributors, power outlets and connections and make connections to electrical systems and consumers.
The colors of the power cable wires follow a regulation valid throughout Europe and reveal their function. In the low-voltage network, the external conductor or the phase is coated in brown or black as a live wire. The neutral or neutral wire is a blue or gray sheath. The earthing as protective conductor for the discharge of any contact voltage that may occur is covered in green-yellow.
Power cables and connection cables are available as piece goods and in pre-assembled lengths. You can find further variants in the area of cables and wires. The connection to devices and distributors takes place in screwed, soldered or plug-in design. For temporary connections and for bridging longer distances between sockets and electrical devices, there are cable drums with cables of different lengths. Extension cables bridge shorter distances
Switchboard Cabinets
The distribution cabinet or distribution box is the heart of the power distribution in your building and the electrical domestic installation. From here, the electrical current is transported through electrical lines via fuses, devices for overvoltage protection and residual current circuit breakers. The cabinets include electricity meters, measuring devices, voltage monitors, gateways, network modules and circuit breakers. You can choose from cabinets in surface, flush or hollow wall design.
Modern distribution cabinet technology ensures uniform, smooth and efficient power and signal transport. As digitalization progresses and new methods for generating energy are being used, more and more modern technology is being introduced into the distribution cabinet. Thus, the distribution in your house supports you in the use of smart home components and intelligent building technology, photovoltaic systems, heat pumps, combined heat and power plants, energy stores and charging stations for electric cars. From the beginning, plan for enough space in the distribution cabinets for future applications.
Electrical Installation Materials
If you are building a house, refurbishing a building or making adjustments to existing electrical installations, you need the right electrical installation material. It includes all the electrical components you need for the distribution of electrical current and the connection of consumers. Here you will find installation boxes, connection terminals, mains plugs, mains couplings, switches, dimmers, adhesive tapes and other installation accessories.
Lighting Protection & Protective Ground
Equipotential bonding must be installed in each building in accordance with DIN VDE 0100 Part 401. It is designed to protect against electric shock. In addition, lightning protection systems and earthing systems feed the lightning current into the earth in a targeted manner and minimize potential differences due to lightning impact. They thus contribute significantly to the safety of buildings and to fire protection. By dissipating the lightning currents via a catching device to the earthing system with simultaneous equipotential bonding, voltage surges and dangerous flying sparks are prevented.
Intercoms, bells and gongs
Signaling, call and intercom systems as well as ringing and gongs announce visitors to the door by means of a ring tone, melody, siren, horn or light pulse. So you and your employees or family members know when someone is standing at your door, seeking entry or needing assistance.
Flush-mounted gongs and doorbell systems for flush mounting fit seamlessly into the environment. Radio bells and wireless bells allow you full freedom of movement and are particularly suitable for subsequent installation without laying cables. Intercoms are available as complete packages or in the form of individual components for individual configuration.
Three-phase current technology
Three-phase power technology operates at 400 volts and is used to operate powerful electrical machines, such as elevators, construction machines and electric vehicles. The available CEE plugs, CEE adapters and CEE power distributors are the most common for three-phase current. Power distribution units are also equipped with these plugs.
Switches & Sockets
Sockets and switches are indispensable for comfortable use of buildings as well as the operation of lighting technology and machines. They are an important part of the technical building equipment and are part of the usually visible components of the electrical installation. Therefore, the design of the sockets and switches is so important. By matching shape, color and material, spaces can be enhanced. For this reason, there are countless switch ranges from classic to modern to retro.
The switch ranges of well-known manufacturers such as Berker, Busch-Jaeger, Gira, Jung, Kopp, Merten, PEHA, REV and Siemens offer suitable variants for every style and every setup. Multi-vendor central applications and the compatibility of some smart home actuators with popular switching programs offer you scope for electrical equipment.
Sockets, switches and dimmers are available for surface mounting, flush mounting, wall, floor, ceiling, installation and table mounting. Special sockets are available for connecting stoves and ovens. For outdoor use, protected modules up to IP68 (completely waterproof) are available.
How to select suitable electrical installation material
When purchasing electrical installation material, it is said to plan ahead. Use high-quality installation material that is easy and time-saving to install. In any case, the components must meet the safety-relevant requirements, the specifications of the device manufacturers and existing legal requirements.
When making adjustments to existing installations or repairs in the electrical field, simply refer to the components you want to replace. The new parts should have the same or better technical characteristics than the previous elements . Pay attention to the respective application area. Special electrical installation products are available for damp rooms, areas with high temperatures or hazardous areas. The information in the product description and on the data sheets linked to many products provide information on suitable areas of application and thus support you in the selection of products.
If the existing plant mainly contains components of a particular brand, it is advisable to select spare parts of the relevant brand . For visible components such as switches and sockets, you should use the same series for optical reasons .
As part of a larger electrical installation, you often need numerous electrical installation materials and tools. Create a material plan that records all relevant components, cables, and connecting materials. The plan facilitates product assembly, saves time when procuring parts, and also enables quick part control.
Who may lay, modify or repair electrical installations?
Due to existing laws and regulations, only authorized electricians are permitted to install electrical systems commercially or to carry out repairs or modifications to existing electrical installations and installations of electrical engineering. Section 5.2 of DIN VDE 1000-10 describes the necessary qualification for this.
Useful information about electrical installations: Future-oriented electrical equipment for each building Electrical installation refers to the installation of electrical systems in commercial or private areas. There is much more to electrical equ...