This text is machine translated.
Hi-Fi components for every requirement
Get many helpful tips about buying and using Hi-Fi components in the guide. You can find information about different combinations and answers to the most common questions here.
What is a Hi-Fi component?

What types of Hi-Fi components are there?

What do you need to pay attention to when buying Hi-Fi components?

FAQs: The most common questions about Hi-Fi devices

Conclusion: How to buy the right Hi-Fi components
What is a Hi-Fi component?
Your Hi-Fi system should meet your personal requirements. The wide range of Hi-Fi components in the Conrad online shop makes this possible. Thanks to the kit system, HiFi components are well scalable and can be adapted to any new music trend. A modern hi-fi system consists of an amplifier and an input device such as a CD player or tape deck. With the various Hi-Fi components you can create a brilliant stereo or Dolby Surround sound experience yourself.
What types of Hi-Fi components are there?
| | |
| --- | --- |
| AV Receivers | AV receivers are multi-channel hi-fi amplifiers that can switch different audio and video sources to their analogueue and digital outputs: Typical audio players for CDs and music cassettes, video players for DVDs and Blu-rays, TV sets or additional amplifier amplifiers. In addition, there are several digital storage media that contain audio and video files. If an AV receiver has a network connection, multimedia files from the home network or the Internet can also be played back. AV receivers have multi-channel amplifiers with at least 5 sound and one subwoofer channel (5.1 systems) up to models with 11 sound and 2 subwoofer channels (11.2 systems). They are able to decode different surround sound formats and convert them into surround sound. The different AV receiver models differ in particular in the number and variety of inputs and outputs and supported media formats, the performance of the power amplifiers, the number of supported loudspeaker and subwoofer channels, the capabilities for image processing, improvement and scaling, the network connection and the Internet capability as well as the possibility of connecting storage media. |
| CD player | A CD player is a playback device for audio CDs. Many more modern devices are also able to play back other formats such as MP3, AAC and WMA. DVD and Blu-ray players are generally backward compatible and can thus also be used as CD players. Newer CDs contain CD text. This additional information about the artist and the titles can be displayed by a CD player equipped with the appropriate equipment. Most CD players can also play mixed data CDs. Some CD players have problems playing copy-protected CDs correctly. Recent developments led to MP3 and DVD players, which allow the playback of compressed audio formats in addition to CD playback. |
| Radio & Internet Radio Tuners | In general, a tuner is the receiver part of TV sets or radios. Stations transmit television or radio signals at the same time, but at different frequencies. The tuner is connected downstream of the antenna input and filters out the desired signal. In the case of tuners, this ends the responsibility. An amplifier component is then connected downstream of the tuner. The combination of tuner and amplifier is called receiver, the actual radio reception. Many receivers have a radio tuner. If the tuner also has network and Internet connections, the device is called the Internet radio tuner. |
| Stereo Receiver: | In 1954, the US electronics company Harman/Kardon introduced the world's first receiver, the D1000 festival, which combined amplifiers and tuners in one device. It was a mono receiver, i.e. it only delivered one sound channel. The first stereo receiver was in 1958, also by Harman/Kardon. The TA230 festival was the first receiver to allow surround sound. Today, stereo sound is largely standard. In order to experience a good stereofonic sound impression, a number of conditions must be met with regard to the positioning of the loudspeakers, the location of the listener and the room size. |
| Tape decks | Modern digital storage media and data carriers such as CD, DVD or Blu-ray have long since replaced analogueue audio carriers such as record and music cassette. And yet many hi-fi enthusiasts swear by the sound of the analogueue sound carriers. In addition, many still have old records and music cassettes, which they would like to continue to hear. Modern tape decks make the best of music cassettes. All tape decks feature standard playback, recording, stop, forward and backward, pause, eject, and an auto stop system at the end of the tape. In addition, there is usually a headphone output, a recording level display and regulator, a band selection switch (for iron, chrome or metal bands) and a query of the recording protection tabs on the upper cassette side. Depending on the intended use, price class and epoch, further elements and equipment features are found, e.g. record timer, still recording, automatic search run, auto reverse system, auto repeat, rear-band control through an additional tone head, noise suppression system or an illuminated cassette compartment. |
What do you need to pay attention to when buying Hi-Fi components?
Suitable for use
Type of sound and media to play
Ease of use and remote control
Size of the individual blocks for meaningful construction
Number of rooms to be sound-lit
Power consumption and output

The appropriate properties
Good technical and qualitative coordination of the HiFi components
Functional scope of the individual HiFi components
Quality-matched accessories (e.g. speaker cable)
Lead content: Lead-free or lead-containing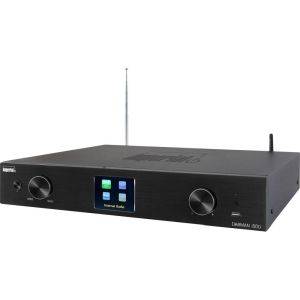 Practical advice
Hi-Fi systems have a variety of functions. With Hi-Fi components you can meet your individual requirements, because with Hi-Fi components you can assemble your own complete system. An integrated USB connection also allows the playback of audio files, which are located on a USB memory. Modern AV receivers turn a simple TV and a music system into a real home theater. Such a receiver optimally prepares the sound for DVD, Blu-ray or MP3 players and provides for a suitable picture signal circuit, which fits the sound in stereo or surround. Film!
FAQs: The most common questions about Hi-Fi devices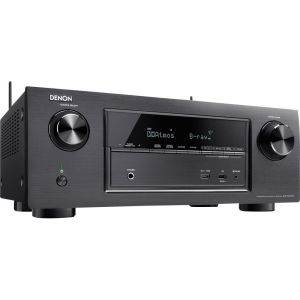 How do ich find the right combination of Hi-Fi components?
First of all, it determines the use of the type of hi-fi components. If you don't have any music cassettes, you don't need a tape deck. If you know which components you need for your personal sound experience, you can order all HiFi components in the Conrad Online Shop very easily. You will find a detailed product description for each product. Make sure you have a qualitative balance when assembling. The best CD player does not use anything when a low-quality amplifier cannot process the signals. Of course, the price provides a first indication of the quality standard of Hi-Fi components. In addition, the Conrad online shop offers you the right HiFi components for every device.
What was to be done if the sound output of HiFi components did not meet expectations?
The sound output of the HiFi-playback consists of about one third of the quality of the HiFi-components and loudspeakers, one third of the room acoustics and one third of the installation and accessories. If you have put together your hi-fi components in a meaningful way, but the sound does not match your expectations, you should first consider the other factors: Room acoustics depend on the size of the room and the quality of the walls, floor and ceiling. An optimization of the "listening room" by changing some furniture and laying out a carpet bridge can do wonders. The distance between the courts is also decisive. Test other positions of your loudspeakers. The suitability and correct size of the loudspeakers in relation to the listening room is very important. Nothing is worse than a speaker that is too small in a large room. If these measures do not work, you can of course exchange your HiFi components in the Conrad Online Shop.
Conclusion: How to buy the right Hi-Fi components
When selecting the Hi-Fi components, the sound and data carriers that are to be played are decisive. In addition, the question arises as to further functions required: Radio and TV reception, network and Internet compatibility. The size of the room determines the power output level of Hi-Fi components and speakers. In the end, you decide for yourself the quality of the sound experience, because the sound impression is as subjective as the culinary sense of taste. Listen to yourself and don't let others decide for themselves. Don't put too much emphasis on test reports, recommendations and opinion making in various hi-fi forums and trade magazines. Test the sound experience yourself and make your own decision.
This text is machine translated. Hi-Fi components for every requirement Get many helpful tips about buying and using Hi-Fi components in the guide. You can find information about different combinations and answers to the most common questions here...