This text is machine translated.
About industrial connectors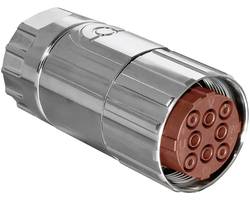 What was an industrial connector?

What types and types of industrial connectors are available?

Purchase criteria for industrial connectors - what is important?

FAQ - Frequently Asked Questions about Industrial Connectors

How to buy the right industrial connector
What was an industrial connector?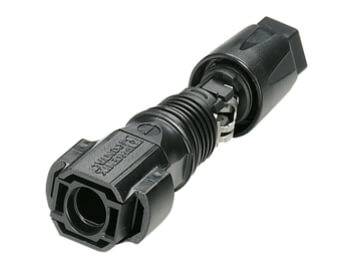 Industrial connectors are electromechanical components. Like other electrical connectors, industrial connectors are used to connect and disconnect cables, making them one of the components of electrical connection technology.
However, as in the industrial environment there are not only higher requirements in terms of durability and reliable function, but also often difficult ambient conditions, industrial connectors are specially adapted for these purposes.
Some application examples for industrial connectors are control technology and plant monitoring, photovoltaic applications as well as professional use in the broadcast sector. They are also used for energy transmission, mobile applications, control cabinets, production plants and inspection systems.
Industrial connectors consist of one or more electrical contacts, which are housed in a common housing. In order to avoid unintentional loosening of the plug and thus a functional failure, a plug-locking device is usually part of the design – in contrast to many simple plug connectors in the commercial area.
What types and types of industrial connectors are available?
Industrial connectors are manufactured in a variety of designs and contact numbers. A distinction can be made between round plug connections and rectangular versions. The latter are also offered as so-called heavy plug connectors with particularly robust housings made of aluminum or stainless steel.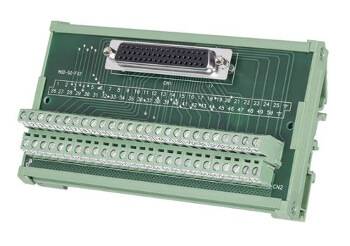 Round connectors are available in very compact and slim designs.
Modular connectors allow individual fitting of the connector housings. Depending on the contact application, or several contact inserts, an individual adaptation for the respective application can be achieved.
So-called transfer modules are used to connect various types of connectors. On the one hand, they integrate a terminal area to which the electrical cables are firmly connected by clamping or screw fixing, and on the other hand the plug section for the connection of the connectors that can be loosened at any time.
Transfer modules can also contain LED status displays, fuses, termination resistors or other components.
Purchase criteria for industrial connectors - what is important?
In addition to deciding on a particular housing design, the choice of operating voltage and operating current is paramount. Some applications require continuous shielding against external electrical interference or interference emitted by the cable itself The connector must also be electrically shielded here.
Depending on the application, a certain touch protection is required, which must at least be fulfilled. In particular, when used outdoors and under harsh environmental conditions, an adequate degree of protection must be ensured in order to prevent malfunctions, electrical hazards and rapid failure of the plug connections due to water ingress or corrosion.
Modular connectors allow multiple circuits to be combined into a single connector. For example, control and supply voltages can be routed in only one cable specially suited for this purpose.
To avoid reverse polarity and any resulting damage or hazards, use coded connectors for such uses. Some connectors also allow individual coding with otherwise the same contact insert and housing. This can reliably prevent accidental incorrect insertion.
Some applications require "leading" contacts. For example, in order to provide the intended protective measure in the form of a safe grounding in good time, to ensure shielding or to supply control circuits first, before the actual power supply of safety-critical machines and systems is produced.
Our practical tip: Wear and tear
Each contact material is subject to certain wear and tear. A small piece of material is always removed from the contacts for each plug-in cycle. Since many contacts are coated with special, thin surfaces, the permissible number of mating cycles is specified by the manufacturer. Suitable contact sprays and contact fats can be used to minimize wear and insertion forces, as well as to protect the contact surfaces from corrosion and to increase the service life.
FAQ - Frequently Asked Questions about Industrial Connectors
Are industrial connectors from different manufacturers compatible with each other?
Both standardized connectors and manufacturer-specific versions are available. For standardized connectors, it is always possible to replace them; for non-standardized connectors, however, both parts (plug and socket) must generally be purchased from the same manufacturer.
Can a different connector system be used instead of a thermal connector?
Only the thermal connectors suitable for the respective system may be used to connect and extend thermocouples ("thermal wires"). The metals used on the terminals and the actual contacts must be compatible with the sensor wire or the counterpart of the plug or the socket. Otherwise, measurement and display errors are caused by thermal voltages on these connections.
How to buy the right industrial connector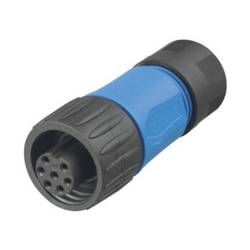 Make sure that the connectors are suitable with regard to electrical strength, current carrying capacity and the required degree of protection. If you are not only working with low voltages, all components must have the necessary protection against contact and bear the necessary test marks. Industrial connectors for moving or mobile cables require effective strain relief and kink protection to prevent cracks and breaks in the cables.
If vibrations or tensile loads occur, a secure plug lock must be provided. Connectors with plastic housings are lightweight, electrically insulating and corrosion resistant. Metal designs offer advantages when it comes to special mechanical robustness or temperature extremes.
When replacing defective connectors, it is not only necessary to pay attention to the correct number of poles, size and series; when using contacts, there are often different contact arrangements and designs within a series, which can at first glance be very similar.
We always recommend an exact comparison before ordering.
This text is machine translated. About industrial connectors   What was an industrial connector? What types and types of industrial connectors are available? Purchase criteria for industrial connectors - what is important? ...