This text is machine translated.
Useful information about model truck models
What was the distinguishing feature of a truck model?

What was a remote-controlled entry-level truck model?

What was the distinguishing feature of truck model kits?

What was the advantage of painted truck kits?

What was a truck saver set?
Are there high-quality truck kits also available as ready-made models?

What is the advantage of self-building truck models?

What are the standards for truck models?

Which remote controls are suitable for truck models?
What was the distinguishing feature of a truck model?
As well as cars, ships or airplanes, trucks are also being rebuilt as models. That has its good reason. Because only a few people are able to turn around the block with a 40 ton truck for testing purposes or just for fun.
Apart from the necessary driving license, one needs a lot of experience, overview and also the necessary sensitivity for the safe control of a truck. And that's exactly what was fascinating for model makers in these vehicles.
Like the big role models, remote-controlled model trucks also need a lot of practice and sensitivity when a tractor with trailer is to be placed on a course backwards in a parking bay. This can be confirmed by anyone who has already been allowed to steer a model truck during model construction days and who was desperate when reversing. Because faster than one thinks one has maneuvered into an almost hopeless situation, from which only one professional can help.
But not only steering a truck model is a challenge. For many modelers, besides the functionality, the original design of the model and, of course, the functionality is also very important. How good that the truck models are available in a wide variety of designs.
Matt black dream truck in the scale 1:14.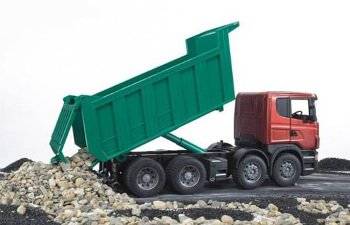 Children's truck for fun in the sand box.
Most model truck fans have already received their first models at a young age and have had their true joy.
Even today, child-friendly truck models are still offered, which are designed in great detail and have certain functionalities, such as the tilting of the loading area.
Even if these models are primarily intended for use in the playground or in the sandbox, finddy model builders like to equip these models with electric drives and remote control functions.
The relevant video portals contain a variety of examples of how the driving and steering function can be retrofitted to the inexpensive vehicle models.
However, it must not be concealed that such a conversion requires a little craftsmanship, a well-equipped modeling workshop and a good amount of creativity for clever solutions.
However, the results of such a conversion can be seen in any case.
What was a remote-controlled entry-level truck model?
The next evolution stage for truck models is the delivery-controlled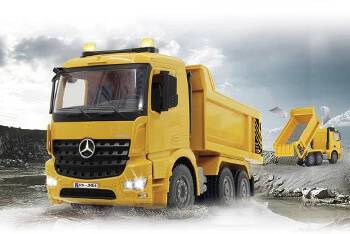 entry-level models. The truck models come out of the packaging ready to drive, so that only the drive battery is to be charged and the batteries have to be inserted in the remote control transmitter.
In these models the game and driving pleasure is in the foreground, which can inspire even young parents all around. This is especially the case, as not only remote-controlled truck models are offered in this area.
Wheel loaders, excavators, cranes, forklift trucks and other construction and special vehicles enable a lively construction activity with extensive earth movements and ample construction vehicle traffic at the large building site in the sand pit.
What was the distinguishing feature of truck kits?
If you decide on a high-quality kit with your new model truck, you should pay attention to some important points. But there are also many benefits he can take advantage of.
Model making at its finest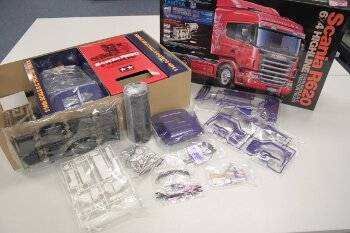 All parts of an assembly are neatly packed in bags.
With a truck model kit, the modeler, who still has real fun at screwing and mounting, comes fully at his expense.
In a truck kit model, the future truck owner receives a multitude of screws, shafts, bearings, angles, gears and small parts from which he can build up his desired truck in peace.
Even though it seems frightening at the first moment how many parts are required for a high-quality truck model, the systematic design is easy to manage.
Provided you adhere to the assembly instructions which are really exemplary, for example with the company Tamiya.
Good building instructions are important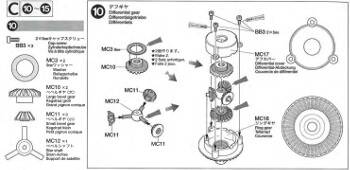 Before choosing a kit model, you should take a very critical look at the assembly instructions.
If the original size of the screws and small parts are shown in the construction plan, it is very easy to determine whether the correct parts are used for the current assembly step.
If in addition a detailed drawing shows exactly where which part has to be screwed on, nothing can go wrong with the truck assembly.
The plan shows exactly where was to be
Sensible tools make the job easier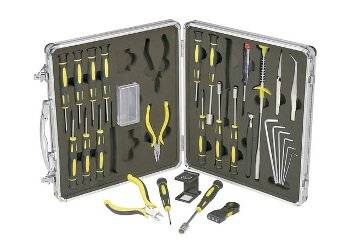 Good tools are very important for the assembly of a kit.
If you want to buy a truck kit, you should also take a critical look at the tool thrust.
For the assembly of the kit, it is an advantage if high-quality screwdrivers and socket wrenches are available.
The use of low-quality Allen keys or unsuitable tools quickly poses the risk of damaging screws during assembly.
A few euros for a reasonable set of socket wrenches or screwdrivers are well invested money and the screwdriving work is much easier to do.
The structure creates technical understanding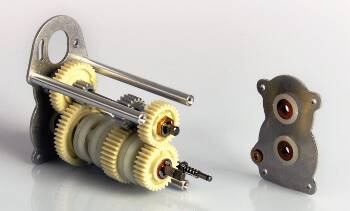 If you have ever assembled a bevel gear differential or fitted a fork in a 3-speed transmission, you can literally see how the technology behind it works.
This basic technical knowledge is extremely helpful when malfunctions or malfunctions occur on the truck model. Only those who know exactly how a mechanics or a drive works will be able to find faults and carry out repairs.
In addition to the mechanical understanding, the electrically driven model trucks with their extensive remote control, light and sound technology also convey a well-founded basic knowledge in the field of electronics and electrical engineering.
If you assemble such a gear, you learn how it works.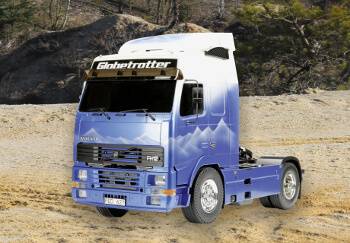 Even the simplest airbrush design has a great effect.
As meticulous as you have to adhere to the assembly instructions when assembling the truck, you have so much creative freedom in the color design of the finished model.
The canopy can either be painted uniformly in one color to suit your taste and technical requirements, or you can choose a complex multi-color painting.
Talented specialists have also made their model trucks into real works of art with airbrush illustrations.
But you don't necessarily have to be an artist. Even the simplest airbrush designs with easy-to-design color transitions make a standard kit truck a great unique piece with an eye-catching guarantee.
Trailer variety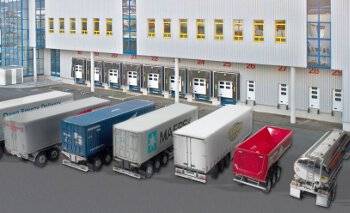 The matching trailers are as versatile as the tractors. Depending on the load, suitcase, container, tank and tarpaulin trailers or even flatbed trucks and dumper trucks can be coupled to the tractor.
By the way: It is only in conjunction with a trailer that the shunting and parking with a truck model becomes a real challenge.
With the necessary trailer lighting and any special functions, such as electrically adjustable trailer supports or tilt function of the loading tray, an interesting truck is made of a tractor.
What was the advantage of painted truck kits?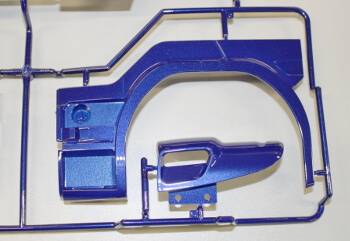 The blue colored parts were finished with metallic paint.
Since handling paint spray guns and paint cans is not necessarily everyone's thing, Tamiya has reacted and now also offers model truck kits, which already contain a colored driver's cab.
However, it is not only simple to apply colorful paint to white plastic injection-molded parts. Already during the production of the injection molded parts, colored granulate is used to ensure that any cutting edges do not appear to be white plastic.
The colored injection molded parts are finished by the manufacturer with a professionally applied high-gloss finish on the outer side, which is visible later on.
Only the body attachment parts have to be colored if required. To do this, simply place the radiator grille on a piece of cardboard and spray it with a paint spray can. Even less experienced modelers can easily get this simple step if the paint is used sparingly.
What was RC model truck savings sets?
Model builders who already have a high-quality remote control, some drive batteries and a good charger will not be interested in a saver set. But if you don't have anything like that, model truck savings sets are quite an interesting price point.
All the components are included in the saver sets to place a high-quality RC truck including special functions on the wheels. Two variants are distinguished, which may vary slightly in the equipment, but generally include the following components: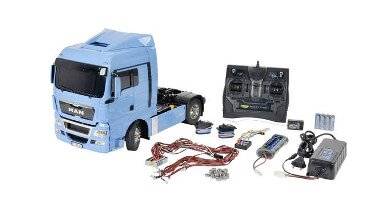 The Eco saver set includes:

Tractor kit
Remote control transmitter and receiver
Servo drive controller
LED light unit
Ball bearing set
Battery
Charger for vehicle battery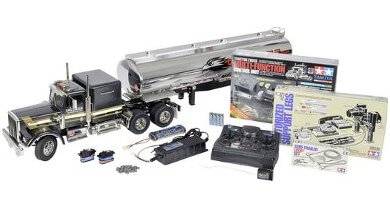 The economy set de luxe includes:

Tractor kit
Trailer kit
Remote control transmitter and receiver
Servos
Multi-functional unit for light, sound, vibration and driving function
Ball bearing set
Battery
Charger for vehicle battery
Are there high-quality truck kits also available as ready-made models?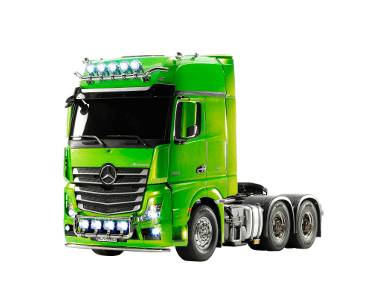 Most model builders who want to buy a remote-controlled truck model place great value on "self-screwing". Tamiya offers the XB truck series for all those who have neither time nor the possibility to assemble a model themselves. These model trucks are commercial truck kits that are professionally assembled by the manufacturer. Currently, two trucks are available as ready-made models: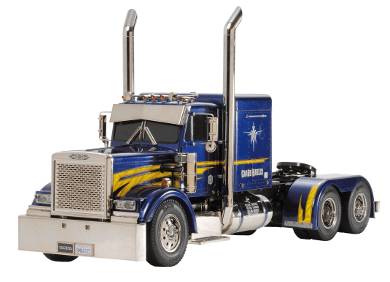 Ready-made models are only available in the Conrad branches
Since these valuable models could be damaged very easily via regular package dispatch, they are also not offered in the Conrad Electronic online shop.
However, it is possible to have a finished model delivered to a Conrad Electronic branch. The reliable transport from the manufacturer to the branch is then carried out by a forwarding agency, which delivers the transport-proof packed model in the branch without damage and lashed on a pallet. From there, the proud owner can pick up his ready-made model personally. If required, all further details as well as the current prices for the built-up models can be clarified with the specialist sales staff in the branch.
What is the advantage of self-building truck models?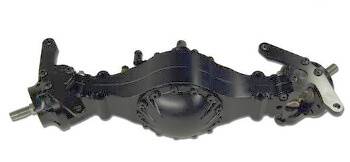 The use of complex finished parts simplifies self-assembly.
In contrast to the assembly of a kit model, extensive specialist knowledge and many years of experience in metal processing are required for the self-assembly of truck models. Of course, the necessary premises and machines must also be available.
In contrast to a kit model that can be easily mounted on the kitchen table, a well-equipped workshop is required for the construction of a self-constructed truck. But if you decide to build your own model, you have an absolute unique that will only exist once in the model construction scene.
In order to facilitate self-assembly, finished parts from series production can be used for parts that are difficult to create, such as drives, axles and frame parts as well as for tires or rims. This saves time and the model maker can concentrate on the parts to be manufactured universally.
To the truck drives, frames
But there are also many small and attachment parts in the area of tractor accessories and trailer accessories, which make life much easier for the self-builder. Or you can use the wide range of accessories to further enhance your existing truck model visually and functionally.
What are the standards for truck models?
In toy trucks, the bandwidth of the standards used is very high. The range extends from models in the scale 1:87, which can also be used on a model railway system with the track H0, up to larger models in the scale 1:16.
In the field of remote-controlled entry-level truck models, the bandwidth or the variety of offers is not quite as large. This is not surprising, because remote-controlled 1:87 scale truck models are more suitable for specialists than for beginners.
In the area of high-quality kit models, the scale 1:14 has established itself cross-manufacturer. On this scale, the models are large enough to work out details cleanly without making them too bulky or too heavy. In addition, the uniform scale has the great advantage that single components from different manufacturers can be easily combined with one another.
TRUCK models are available in a wide variety of sizes.
Which remote controls are suitable for truck models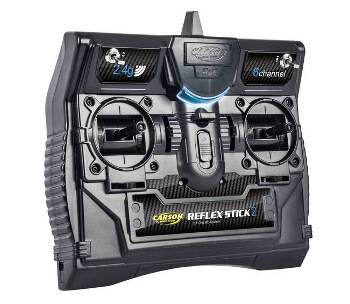 A 6-channel remote control is sufficient for driving, steering and special functions.
In principle, a simple 2-channel radio remote control system is completely sufficient for the driving and steering function. But most of the time, truck models have additional functions, which also have to be controlled by radio.
There is once a manual transmission or also the saddle clutch, which are mechanically operated via a separate servo. A simple 2-channel remote control system is not sufficient.
It is better to use a 4- or 6-channel radio remote control system, which provides the necessary control elements at the transmitter.
In practice, desk or hand-held transmitters have proven ideal, which work in the 2.4 GHz frequency range. Of course, older 40 MHz remote controls can also be used, but the long receiver aerial wires do not disturb the model's optics. The short antennas of a 2.4 GHz receiver, on the other hand, can be easily hidden.
When installing the receiver, however, you have to take into account that carbon or metal parts have a shielding effect, since the short-wave transmitter signal can only penetrate plastic parts without any problem. However, since model truck drivers never leave their models far away, the radio connection does not pose a major problem even under unfavorable reception conditions, such as for model flyers.
Our practical tip:

To be able to use a variety of switching functions even with a simple 4-channel remote control, some manufacturers offer multi-function modules. The two control sticks on the transmitter can then be used to implement or perform a wide variety of switching functions.
However, many model truck drivers prefer to control the special functions via a toggle switch on the transmitter, as it is much clearer. In this case, a high-quality remote control is recommended, in which the positions of the toggle switches can be mixed in or assigned to the joystick signals via internal mixers or encoder/channel assignments.
Bottom line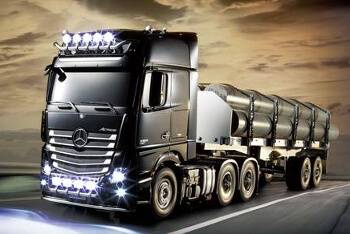 In contrast to jet models, RC helicopters, speed boats or racing cars, the heartbeat when controlling a remote-controlled model truck will be more likely to move in the quiet pulse range. But it is precisely this deep-relaxed handling of a model truck that is deliberately so desired. Because an RC model truck is not about maximum speed or pure adrenaline. It is more about the faithful reproduction of an interesting model and the equally true-to-the-original vehicle behavior.
And anyone who has experienced it before can only confirm it: It is already deeply impressive when the "virtual diesel engine" in the truck model is acoustically brought to life by remote control command. For this purpose, the typical sound of the starting engine is reproduced absolutely true to the original by a covered built-in loudspeaker.
The simultaneously excited, swinging cab with its vibrating exterior mirrors rounds off the ingenious illusion of starting the engine in a perfect way. When the 6-cylinder with a high capacity of capacity is bubbling up in idle speed, the countless lamps of the truck lighting seem to be working like magic. The simulated air brake releases the wheels in a hissing manner and slowly the entire load train starts moving with the constantly increasing engine speed. Before the upshift to the next gear, the trucker-fanfare sounds briefly and the driver is already traveling toward the highway with his load.
This text is machine translated. Useful information about model truck models What was the distinguishing feature of a truck model? What was toy truck? What was a remote-controlled entry-level truck model? What was the disti...