Time and multi-function relay: Important component in electro-mechanics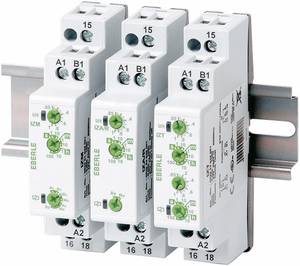 What types of timing relays are there?

Select time relay correctly

FAQ - frequently asked questions about time and multifunction relays
What types of timing relays are there?
Time relays define the time either electromechanical or electronic.
Electromechanically, there are two operating principles:
A reduction gear is driven by a DC or synchronous motor and actuates the switching contacts.
A mechanical clockwork or another non-digital time element realizes the time delay.
Electronically, there is a historical and a digital variant:
Historical: An analogueue circuit with an RC element serves as a timer and is triggered by a comparator or the relay itself.
Digital: Mostly designed as adjustable multifunction timer relay with microcontroller. The circuit is initiated by means of an oscillator and a frequency divider, on which a counter and a comparator measure the time course and implement the switching processes on this basis.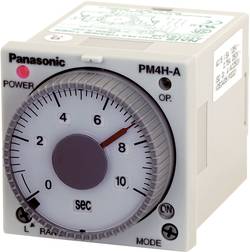 Tip: Digital timers work more accurately because they do not depend on the total time of analogue devices. The setting accuracy is also higher for digital time relays.
Some common functions of time-based multifunction relays are:
| Function | Explanation | Example application |
| --- | --- | --- |
| Response delay; | The working voltage is switched on with a time delay | Green passage light is only switched on again 2 minutes after passage of a light barrier |
| Drop-out delay | The working voltage is switched off with a time delay | Red blocking lamp for subsequent is deactivated only 2 minutes after the previous passage of a light barrier |
| switch wiper | A defined pulse is output when the control voltage is switched on | Light switch on: Output of a defined control signal regardless of the length of the button actuation |
| Single shot trailing edge | A defined pulse is output when the control voltage is switched off | Light switch off: Output of a defined control signal regardless of the length of the button actuation |
| Star-delta circuit | The wiring of an electric motor is switched from star to delta mode | Limitation of the starting current of an electric motor |
| Impulse changeover switch (relay) | Working voltage is switched on or off with a pulse (current surge) | The light in the hallway can be switched on or off with buttons |
| Timers | Functions can be repeated at defined times | The courtyard lighting is automatically switched on and off at certain times |
| Staircase multiway switch | Light in the staircase | The staircase lighting in multi-party houses switches off automatically after a certain period of time |
| Watchdog | Monitoring the system, can initiate a reset or other countermeasures in the event of errors | Turn on a warning light when the service interval is about to expire |
Select time relay correctly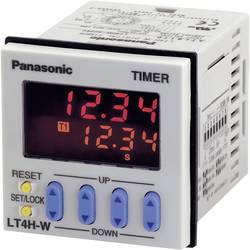 Specification
There are monofunctional and multifunctional versions of time-controlled relays.
Monofunctional: These time relays can only fulfill a fixed function, for example only switch off the voltage with a drop-off delay.
Multifunctional: These time relays have several selectable functions, for example on and off.
Operating voltage
Select a voltage range that corresponds to your intended purpose and use time and multifunction relays only under the general conditions specified by the manufacturer in the product data sheet. The operating voltage is the voltage actually applied to the power circuit. Typical operating voltages for electronic processes are:
12 V – Batteries, Batteries, Adapter
24 V – Switching power supplies, Light control
100 V – Hi-Fi technology, speakers, amplifiers
And 240 V – mains voltage of the socket, AC and DC
Time range
Another important criterion in selecting a time-controlled multi-function relay is the time range. Select a sufficiently long and precisely adjustable time range in the filters for your application.
Therefore, you should pay attention to the minimum and maximum time range of the relay. The smallest adjustable time span is one thousandth of a second, 0.001 s. the longest time range 9999 h, i.e. longer than one year.
Mount
For fixing time switches, there are various holders, for example, by eyelets for screwing or rectangular shape for cleaning in niches. In industrial applications, attachments are usually for mounting on a DIN rail, in which the time and multi-function relay is simply clamped onto a standardized mounting rail.

Connection
You can choose between screw terminals, tension springs and plug connections for connecting electrical connections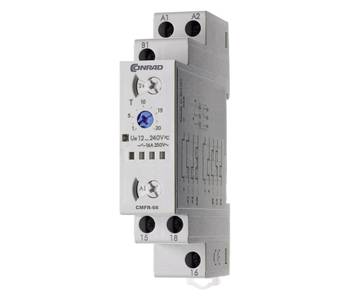 Contact type
Time relays are designed as NO and changeover contacts, sometimes with several connection options. Changeover contacts can act as both normally open and normally closed contacts. In the context of more complex circuits, the time functions take on multifunctional process control tasks.
The contacts of the time relays are potential-free, i.e. the input and output circuits are electrically isolated from each other. This allows integration into a circuit in such a way that the operating voltage and switching voltage have different limit values.

Category
Time relays, time switches for DIN rails, staircase lighting timer and auxiliary switch block are the most frequently sought-after multi-function time relays. In addition, we offer some more in our online shop.
FAQ - frequently asked questions about time and multifunction relays
What was the difference between switching voltage and operating voltage?
Both voltages are important when selecting relays. The switching voltage is present in the control circuit, i.e. at the relay input. The relay electrically isolates control and power circuits from each other. At the relay output, in turn, the power circuit is controlled, in which the relay circuit applies the operating voltage of the working circuit or interrupts as long as specified values are reached in the control circuit. For example, an NC contact can switch off the operating voltage of an electric heater if a corresponding switching voltage is applied in the control circuit of the relay by another control element. No current flows between circuit and load circuit.
Are the multifunction relays suitable for industrial use?
Yes, all available time relays are ISO certified. You can limit the search results by time relay according to RoHS guidelines in the filters under News & Offers.
Where can ich find time switches for household use?
You can find time switches for household use for connecting light chains, Christmas decorations and similar under Building Services & Smarthome > Electrical installation > Time switches.
Is there a volume discount when purchasing multiple multifunction relays?
Yes, if you purchase several timers of the same type, volume discounts are offered. This is indicated in the product overview on the far right.
    Time and multi-function relay: Important component in electro-mechanics What types of timing relays are there? Functions of time relays Select time relay correctly FAQ - frequently asked questions about time and mul...