What types and types of potentiometers are available?

Purchase criteria for potentiometers - what is it all about?
Conclusion: How to buy the right potentiometer

Our practical tip: When replacing, observe the resistance curve, the angle of rotation and the load capacity

FAQ - Frequently asked questions about potentiometers
Related topics related to the potentiometer area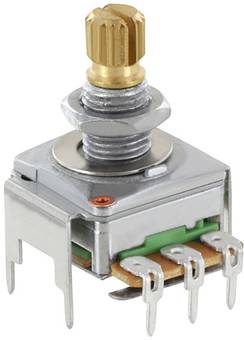 Potentiometers are passive components whose electrical resistance can be continuously adjusted by mechanical actuation, in contrast to a fixed resistance. They consist of an electrically insulating carrier on which the actual resistance material is applied and a movable contact for removal , also known as a grinder. Potentiometers always have at least three electrical connections , two for the start and end of the actual resistance track and one for the movable sliding contact.
This results in a fixed resistance on the one hand via the total resistance and a continuously adjustable resistance on the other hand through the mechanical division of the resistance path into variable partial resistances on the other. When a voltage is applied, this results in an adjustable voltage divider with corresponding partial voltages.
Potentiometers are used whenever a manual control is to be implemented. Examples are the speed settings for power tools, volume and sound settings on audio devices, the regulation of an output voltage or the brightness level of the lighting via a dimmer. Another very common application of potentiometers is the internal adjustment of electrical and electronic circuits via the variable resistance value or by the use as a voltage divider.
What types and types of potentiometers are available?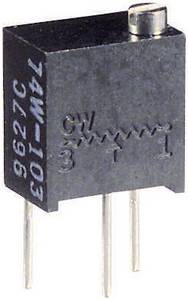 In mechanical terms, potentiometers are distinguished between rotary and sliding potentiometers. A subset of the rotary potentiometers are the trim potentiometers . They do not have an axis for holding an operating button, but usually have a flat slot , or an adjusting screw . They are actuated ("adjusted") using a small screwdriver.
Some potentiometers, usually rotary potentiometers, have an additional switch integrated in their housing. This switch contact, which is then activated at one of the mechanical end positions, is often used to switch a device on and off, for example.
Multiple potentiometers combine two or more potentiometers in one component . A distinction is made here between a common, i.e. mechanically coupled actuation and a separate setting option with two buttons. Special forms of potentiometers are the so-called motor potentiometers . They can be operated both manually and via their mechanically coupled electric actuator. This also enables remote automation of actuating processes.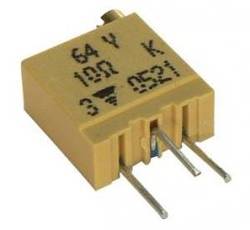 The electrical properties of potentiometers are defined by the type of resistance material and its linearity. The resistance materials can be a carbon or metal layer, and conductive plastics and composite materials made of ceramic and metal are also commonly used as resistance. The latter are also known as Cermet potentiometers. Wire potentiometers have a screw-shaped resistor wire wound around the (usually ceramic) insulating body, which enables higher electrical power losses than layer potentiometers.
A distinction is made between potentiometers with a linear resistance characteristic corresponding to the operating range and those with a logarithmic characteristic curve. Logarithmic potentiometers are required if a particularly wide setting range is to be implemented, for example for amplifier circuits for volume controls.
Purchasing criteria for potentiometers – what is it all about?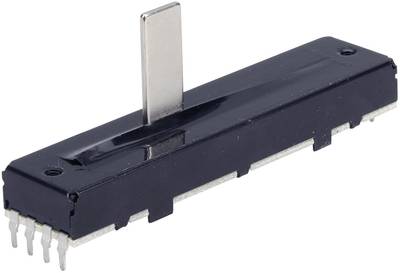 Trim potentiometers often require a particularly precise setting option in order to be able to carry out adjustments very precisely and to minimize operating deviations as much as possible. Multi-turn potentiometers are also available for this purpose, which allow up to 25 complete rotations instead of the usual 210° to 280° rotation angle.
Multi-standard versions are also available in different grades for rotary potentiometers. With up to 10 rotations, particularly precise settings are possible via the rotary knob.
Sliding potentiometers are always available when fast actuation is desired or the current setting position is to be detected quickly and clearly. Arranged next to each other, they also enable the simultaneous operation of several sliding potentiometers, which is common and necessary for mixing desks with their often numerous slide controls.
Conclusion: How to buy the right potentiometer
If a high setting accuracy is required, multi-turn potentiometers and trimmers are particularly suitable. Sliding potentiometers enable rapid actuation and allow the position of the slider to be recognized at a glance. Rotary potentiometers and trimmers with rotation angles of up to 280° are relatively universal for most standard applications , they combine an often sufficient setting accuracy with quick access to the desired setting value.
Multiple potentiometers allow common or separate settings as required. Especially in the audio area in stereo applications, they are convenient for adjusting the volume or recording level both together and separately. Wire potentiometers are robust and also available for higher power losses.
In the area of potentiometer accessories you will find a variety of useful additions such as buttons, attachment material, couplings, trimmer wrenches, axle extensions, joint couplings and more.
Our practical tip: When replacing the resistor, observe the rotation angle and load capacity
If a defective potentiometer has to be replaced, always make sure that the resistance characteristic (linear, positive or negative logarithmic) corresponds to the original part. The angle of rotation from stop to stop must also be observed when a scale is attached to the device. Of course, the electrical load capacity must not be lower than that of the potentiometer to be replaced.
FAQ – Frequently asked questions about potentiometers
What does the "10 k lin" print on a potentiometer mean?
The numerical value indicates the resistance value in ohms, the letter "k" stands for kiloohm, and "M" for megohm. In this case, for a resistance of 10 kiloohms or 10,000 ohms. If there is no further indication or the labeling "lin" below, this is a linear potentiometer. A "+" or "+ log", on the other hand, stands for a positive logarithmic potentiometer, corresponding to "-" or "- log" for a negative logarithmic characteristic of the resistor.
About potentionmeters What is a potentiometer? What types and types of potentiometers are available? Purchase criteria for potentiometers - what is it all about? Conclusion: How to buy the right potentiometer ...