This text is machine translated.
What types of power cables are there?

Frequently asked questions about selecting power cables
Power cables are insulated conductors for the electrical power supply. The cable between two connectors serves as a conductor. In the sheath the actual conductor is protected, usually it is a wire made of copper or aluminum. For the connection points there are various plug forms as connecting pieces. The CEE system is a common system for the assignment of plug shapes.
Power cables are used as an extension to the outlet as a primary power source or as a connection to sub-distributors such as cable reels, which are connected to a power source. As a rule, prefabricated plugs are attached to both ends of the cable. An exception is the connection cables, which only have one plug and one open end for mounting on the device.
Search tip: In this category you will find a large selection of power cables with various prefabricated plugs and sockets for flexible electrical installation in buildings and outdoors.
Cable without plug
Multiple sockets, so-called socket strips
Cables are also referred to as sheath cables. The electrical conductor is surrounded externally by an insulating coating as a protective layer. Because their construction with the wire in the middle of the cable cross-section and the outer shell resembles a hose, hose line is another synonym for electric cables. Most of the time, PVC hose lines with a plastic coating are used as insulation.
Three-wire connection cable with insulating sheath
What types of power cables are there?
In our shop you will find a large selection of prefabricated power cables with plugs for the easy supply of electrical devices with power as well as the distribution or extension of your electrical infrastructure.
Connection cable
Connection cables are mounted directly on the device and are used to supply power via the plug at the other end of the cable. Different devices require different cables. Of course, for example, a cooker with a high-current cable needs a different supply cable than a small appliance, which receives less current via a power supply than it normally flows out of the socket.
Pay attention to the manufacturer's instructions in the product data sheets for the respective permissible application area!
Cable reels with standardized CEE slots are used to distribute power. The cable reel itself is usually supplied with power through its connection cable in the socket. The number of slots determines how many devices the cable reel can distribute this power to. The wound-up connection cable serves as an extension, so that the current is available not only in the direct vicinity of the socket, but also where it is extended with the help of the cable reel, for example mow from the cellar connection to the garden to the lawn and at the same time listen to the radio via another slot.
When using the slots on a cable reel, it is important that the maximum permissible loads are not exceeded when connecting several devices according to the manufacturer's instructions.
Professional cable drum with different plug options
CEE extension cables are simple cables with standardized CEE plugs and sockets for extending power lines. When selecting, make sure that you need a plug or a socket as a counterpart to the existing structure of the devices and cables for connection to the power supply and to the consumer.
Cable reels can be equipped with standard CEE plugs or with other slots and adapter functions. They are used to extend and distribute a power supply. The cable reel itself is usually supplied via a conventional socket, its connection cable extends this power line and through several slots on the cable reel, the current can be distributed to several electrical consumers (devices)
Cold device cables can only be used to connect devices that do not generate high heat during operation, otherwise the cable would be damaged by the development of heat. Such capes are cheaper to produce. For example, cold devices are computers.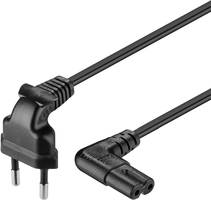 Power cord for example for flat-screen TVs and other multimedia devices
Power cables are used to connect devices to the mains that are not suitable for use with the usual 230 V from the mains socket. A power supply unit on the cable acts as an adapter and converts the output current from the socket into low currents for consumers such as kitchen appliances or loudspeakers. Often the power cord also acts as a rectifier, which means it converts AC current into DC current.
Extension cable: Extension cables are required if the power supply has the correct parameters for the consumer, but is not yet available in the correct place. Extension cables bridge the distance from the power source to the connected device.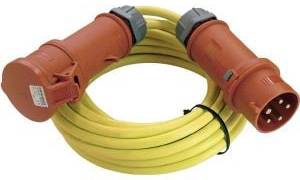 Extension cable with German earthing contact connections
Frequently asked questions about selecting power cables
Are power cables for indoor use different from those for outdoor use?
Yes. When selecting power cables, always pay attention to the area of application. Power cables and distributors for outdoor use are differently insulated and thus weather-resistant to moisture and temperature fluctuations. Even in damp interiors such as cellars or bathrooms, you should only use cables that are approved for outdoor use.
What plugs and sockets do ich need?
Power cables are insulated conductors with two ends as connection points. On both sides you need suitable plugs and sockets, depending on was you want to connect. A plug fits into a socket. If, on the other hand, you have a socket as the connection point, you need a cable with a 'male' plug.
What was the CEE marking?
The CEE system is a variant for the assignment of suitable plugs and sockets. CEE 7/4 and CEE 7/3 are, for example, the German earthing contact plug and the corresponding German earthing contact socket-outlet (type F). In addition, there are manufacturer-specific markings for connector systems.
What was a protective contact?
For safety reasons, protective contacts are provided with grounding. At least one three-wire cable is required for this purpose: There is a supply line and a return circuit for each of the circuits, the third contact is connected to the ground cable, which routes high currents in the event of faults and, if necessary, triggers the fuse in the control box. Both the cable and the earthing contact plugs must be equipped with the appropriate, at least three-wire cables so that the protective function can be established.
What was to be observed regarding the insulation of power cables?
Since the cables are live in use, their sheath must provide sufficient protection against accidental contact. In addition, some applications require sufficient shielding against electromagnetic fields to avoid interference with other devices in the vicinity of the cable.
What was the difference between a cable and a line?
Power cables are a subtype of the electrical cables. Cables can also be simple wires or other materials. In addition, cables have a protective sheath with insulation function as contact protection and for shielding from electromagnetic influences.
Where can ich find cables without connectors?
Cables without connectors for advanced users and professionals can be found under Connectors & Cables.
This text is machine translated. About power cables What is a power cable? What types of power cables are there? Frequently asked questions about selecting power cables Power cables are insulated conductors for the electri...