This text is machine translated.
Useful information about RC model aircraft
What was an RC model airplane?

What RC model aircraft are there?

What do you have to pay attention to when purchasing RC model aircraft?

Different versions: BNF, PNP, RTF, RTB, ARF

Legal requirements for the operation of remote-controlled flight models

FAQs: The most common questions about RC model aircraft

Conclusion: How to buy the suitable RC model aircraft
What was an RC model airplane?
Many different RC model aircraft are available for hobby operation as well as for artificial flights.
As gliders, motorized models, jet models and in many other forms, they bring together small and large model planes.
Creative hobby constructors are given many freedom in design and motorization with kits, while beginners can start immediately with supplied complete sets.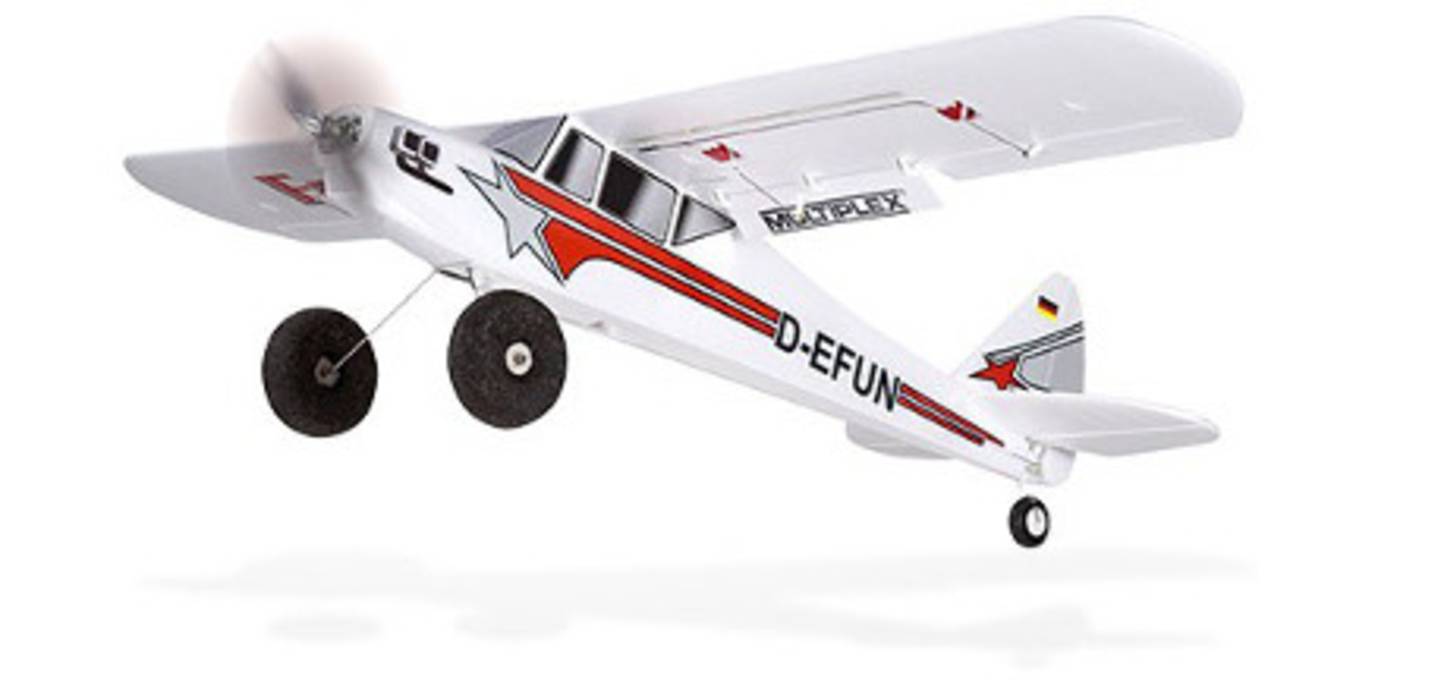 Model flying is easy to learn thanks to modern and reliable technology.
What RC model aircraft are there?
| | |
| --- | --- |
| RC model aircraft for beginners | Both indoor and outdoor operation offer many possibilities for beginner models. Self-flying aircraft for fast flight around a pole, RC model aircraft, which can be controlled with the Smartphone as well as complete kits are available. |
| RC indoor, park flyer models | Different types of RC model aircraft are suitable for indoor or outdoor operation. Motorized aircraft models bring great flying pleasure in halls as well as in meadows. Various models with several engines and numerous technical extras are available. |
| RC jet models | High speeds offer RC jet models. Top models fly with 200 km/h and more through the air. These models are suitable for experienced model flyers and offer many modification options. |
| RC model aircraft | Both classic machines with propellers and paragliders come on the runway in beginner models or for advanced users with strong motors. Many different models and a variable technical equipment are possible. |
| RC Glider models | For relaxed flying, RC glider models are just the right thing. Small motors bring them into the air and afterwards the RC glider models can circle in thermals for a long time. |
What do you have to pay attention to when purchasing RC model aircraft?
The right model
Supplied with kit (kit) or BNF, PNP, RTF, RTB, ARF
Weight: The limit of 5 kg is particularly important for the permit
For RC glider models: RC motorized aircraft model, RC glider model, hand-launch glider
For RC model aircraft: RC paraglider or RC model aircraft
Use: Indoor or outdoor (park flyer)
Maximum flight speed
Wing span
Type of power supply and maximum flight time
Suitable equipment
Flight characteristics: Sporty or comfortable sailing flight
Number of motors / type of motor
Type of transmitter and receiver
Suitable for night flight
Start: From the ground, from the hand
Material: Carbon, plastic or EPP, AeroCell
The right range of functions
Control via a smartphone
SAFE technology: For GPS-supported landings and safe control over the RC model aircraft
Bluetooth
Detachable chassis
AS3X Gyro system: For safe flight behavior even in case of turbulence
Bracket for cameras
Different versions: BNF, PNP, RTF, RTB, ARF
BNF: Stands for "bind and fly" model aircraft of this type are 'bound by the operation to the remote control' and only react to the assigned control. The corresponding receiver is already installed.
PNP: Models with the name "plug and play" are already configured, but (usually) not yet fully assembled and do not carry batteries or remote control.
ARF: Even "most ready to fly" means that only a few components need to be added, such as chargers or wings that can be glued together. So they're almost ready to fly.
RTF: Stands for "ready to fly" – for models of this type, mounting or setup are not necessary. Batteries, remote control and receiver are already included.
RTB: The abbreviation stands for "ready to bind" – models in this version still require a transmitter and receiver for the control, otherwise they are completely ready to fly.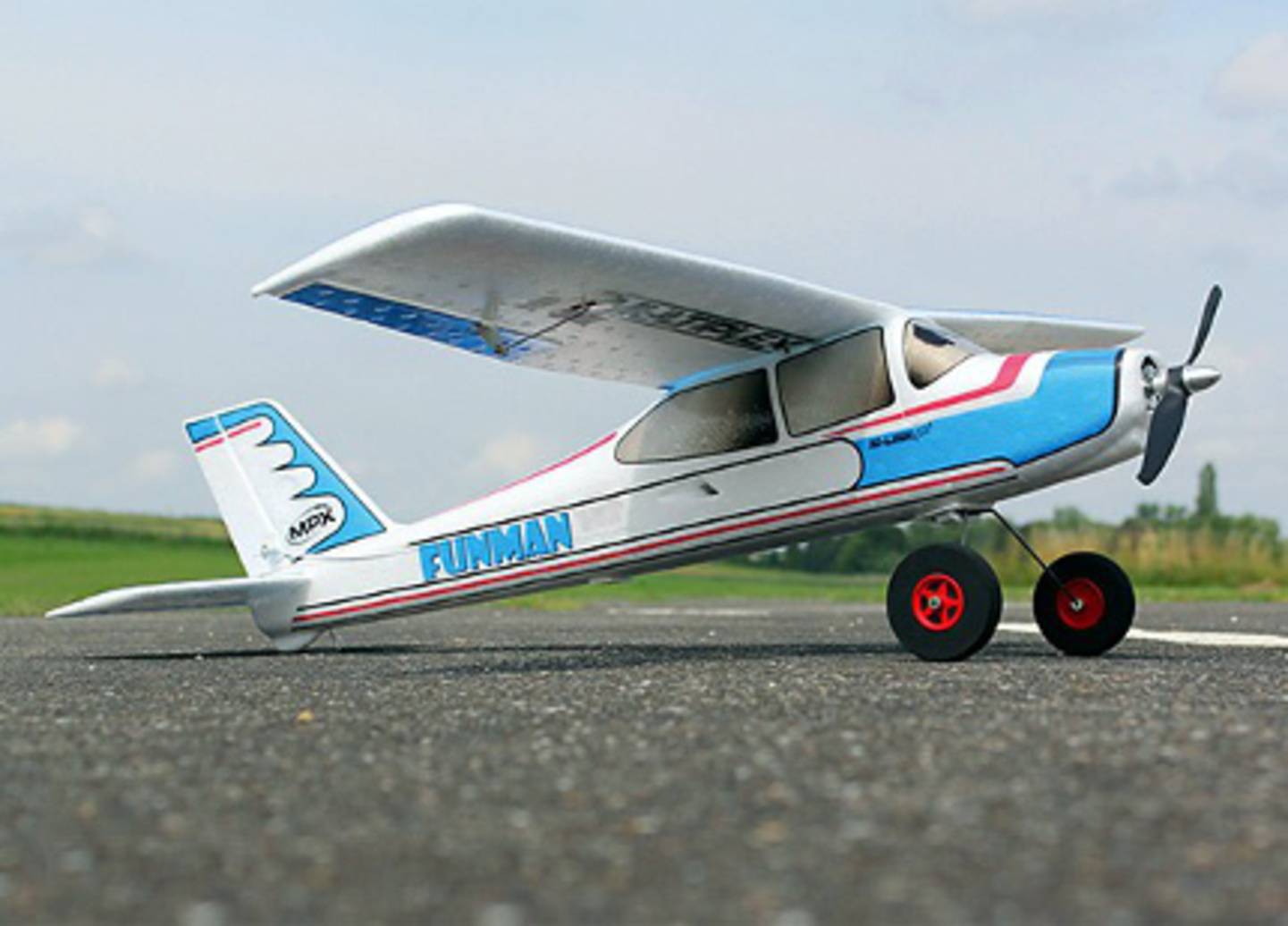 Ready for the start - now there's gas and fun.
Our practical tips
for abbreviations BNF, RTB, PNP etc. vary from manufacturer to manufacturer. For example, some PNP models have controllers integrated in the model, others do not. When purchasing your RC model airplane, pay attention to exactly was everything included in the delivery and in which construction stage you received the model. If you would like to purchase a BNF or RTB motor model plane, you should also make sure that your remote control is compatible with the model.
Legal requirements for the operation of remote-controlled flight models

The operation of flight models is regulated by the air traffic regulations. In Germany, model aircraft of all kinds are legally considered aircraft. But before you can take off with a model, you need a valid liability insurance, which covers the resulting third-party damages in the event of damage.
The drone regulation, which came into force on 07.04.2017, regulates the use of multicopters and drones. From 1 October 2017, new requirements and regulations will apply in this context, which also apply to model aircraft and are binding. And these are the main points
Download the drone prescription
No-fly zones
Remote-controlled model airplanes must not be used everywhere. There are areas that are not allowed to be flown over or to which a safety distance of 100 m must be maintained. These include:
Airports check-in and check-out areas
Major roads such as motorways and busy roads
Locations of emergency services or the police
Nature reserves
Crowds
Industrial plants
Military security areas
Institutions of federal or state authorities
Hospitals
Via residential properties (without the explicit permission of the owner)
Model aircraft with a combustion engine must maintain a minimum distance of 1.5 km to the next residential area.
Identification, evidence of knowledge and permission to ascend
Operation on a model airfield with permission to ascend
is the best place to operate a flight model, is a model airfield with a general permission for the rise of flight models, in which a flight glider monitors the current flight operation and observes compliance with the safety regulations.
On these airfields, the maximum flying height and the maximum permissible starting mass of the model aircraft are clearly regulated in the permission to ascend the airliner. No personal proof of knowledge or personal permission to ascend is required. Only flying models with a starting mass of more than 250 g are subject to the labeling obligation. A permanent and fire-proof plaque with the name and address of the owner must be placed in a visible place.
Please note:
If no flight glider is present on an approved model airfield, e.g. because a model airplane pilot is alone on the model airfield, this pilot needs proof of knowledge if his model is heavier than 2 kg or he wants to fly over 100 m high!
The following regulations apply outside these airports:
If the flight model is lighter than 250 g and does not fly higher than 100 m, there are no restrictions besides the obligation to insure.
If the model airplane is heavier than 250 g and does not fly more than 100 m, it must bear a permanent and fire-proof marking with the address of the owner.
If the model is heavier than 2 kg or flies higher than 100 m, the user must have a knowledge record and the model must be marked.
If the aircraft is heavier than 5 kg, the user also needs a lift permit, which he can apply for from the respective national aviation authority.
If the flight model is heavier than 25 kg, the model requires approval and it may only be flown on flying areas that have also been approved for models over 25 kg.
Note:
If an external land (e.g. an agricultural land) has to be entered for flight operation, the permission of the land owner/tenant must be obtained in advance.
Important:
Copters or drones must not fly higher than 100 m outside approved model airfields!
Obtain proof of knowledge from DMFV
Note:
On a model airfield without official permission, model pilots will also need to be able to prove their knowledge if the models are heavier than 2 kg or fly higher than 100 m.
Since the proof of knowledge can only be acquired from 14 years of age, children and adolescents may only fly on an approved model airfield with official permission to ascend and flight gliders with models over 2 kg starting mass or higher than 100 m.

FPV flying
Remote-controlled flight models must always be controlled in view. Flights with a video goggles are only permitted if the aircraft is not heavier than 250 g and the maximum flying height is 30 m or if a second person monitors the aircraft within sight and alerts the operator of the transmitter of impending danger.
Evasion
Flight models are obliged to avoid manned aircraft and unmanned outdoor balloons.
Night flight mode
Flying at night with an illuminated model is legally required. The necessary permission must be obtained from the national aviation authorities.
FAQs: The most common questions about RC flight
At what age can you fly an RC model airplane?
For smaller children, it is especially recommended to use a cable to connect a pole to a safety flyer. You can't fly out of control and still have great fun. For RC model aircraft with an engine, manufacturers recommend a minimum age of 14 years. In addition, certain statutory regulations apply to larger RC model aircraft.
How does an RC model aircraft start?
Depending on the design, RC model aircraft start either from the ground or from the hand. Especially glider models without landing gear are lifted into the air before departure and start flying at sufficient speed. Models for manual ejection are also available. RC model aircraft require a sufficiently long and as flat surface as possible for starting and landing.
What was the cost of an RC model airplane?
The prices for RC model aircraft vary greatly depending on the equipment. Simple models for beginners are already available for under 100 Euros and ready to start. The larger scope of delivery will cost more for complete sets, but a suitable transmitter is required for all RC model aircraft. The price increases with additional flight comfort through SAFE technology or AS3X gyro system as well as other extras.

Conclusion: How to buy the right product
Before purchasing RC model aircraft, it should be clear whether a kit (kit) or a complete model with remote control (transmitter) and receiver is the right one. In addition, the flight characteristics vary from model to model and it is recommended for inexperienced users to reach a model with stable and well-controllable flying behavior. In addition, the location is relevant. Not all models are suitable for outdoor use, Parkfly models cope with wind and glider models even need the lift of the warmer air masses. Finally, the weight class is relevant, as legal restrictions apply for a flight weight of more than 5 kg and for RC model aircraft with a combustion engine. After all, all preferences can be operated with the different RC model aircraft. Jet models are on the move at particularly high speeds, while motorized aircraft models are more suitable for aerobatics and acrobatic inserts. There are also differences in the material: The particularly stable EPP can even forgive small crashes.

This text is machine translated.    Useful information about RC model aircraft What was an RC model airplane? What RC model aircraft are there? What do you have to pay attention to when purchasing RC model aircraft? ...