Relays: Indispensable for switching currents in electromechanics
How does an electromechanical relay work?

Areas of application of relays

What types of relays are there and what are their characteristics?

Important criteria when buying relays

What does "zero voltage switching" mean?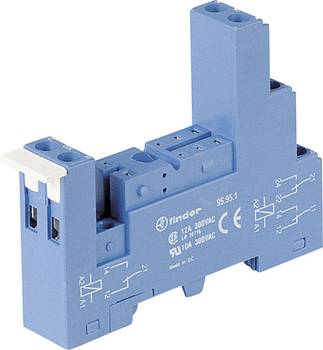 What is a relay?
A relay is an electrical component used to switch currents. The control current applied determines whether the relay is open or closed. When the relay is open, the load circuit is enabled to the load located behind the relay in the circuit. The control current is often bound to a logic. For example, it can be specified that the control current flows to the opening of the relay only when a motion or light sensor is activated or when the time control of a computer software provides for this.
How does an electromechanical relay work?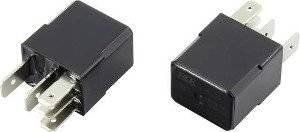 An electromechanical relay operates with an electromagnet . If the control current flows in the control circuit, a magnetic flux is induced in the ferromagnetic core of the relay. This affects the ferromagnetic armature as well. If it moves in the core due to magnetic flux, the armature closes the working contacts in the relay, which closes the load circuit and supplies the load located behind the relay.
Areas of application of relays
Relays are used as switches for switching currents. However, while switches are normally actuated mechanically, i.e. by manual physical action, relays are used for automatic switching of currents. Relays can be used, for example, in the following scenarios:

Switching a load circuit whenever another load circuit is put into operation. For example, an LED light should always light up in a circuit when the load circuit of an electrical consumer is in operation (potential-separate switching of two circuits that are in the process of being replaced).
For increasing electrical power with low power through induction (switching amplifier principle).
To switch the load circuit software-controlled . The simplest scenario is, for example, that a Raspberry Pi or a programmable logic controller (PLC) switches the relay exactly when the input signal of a sensor changes or a user makes a specific input in a software.
What types of relays are there and what are their characteristics?
The Conrad online shop offers a variety of different relays for professional use. The products are divided into the following categories:
DIN Rail Components
Solid State Relays
Industrial Relays
Interface Modules
Automotive Relays
Magnets & Accessories
PCB Mount Relays, Plug-in Relays
Reed Switches
Relay Accessories
Relay Boards
Contactors
Surge Protection Switches
Multifunction Relays & TDRs
Monitoring Relays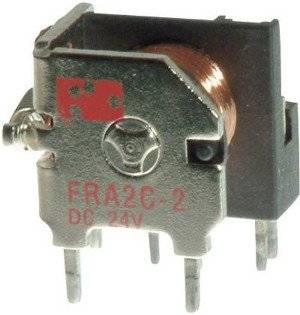 The principle of electromechanical relays (EMR) has already been described. They are up to 20 percent cheaper than the more expensive semiconductor relays. In addition, their power consumption is much lower , which is why they are particularly suitable for low power . . In contrast to semiconductor relays, EMR usually does not have such high heat losses in the load current path. While semiconductor relays often have to be mounted on a heat sink, this is not necessary for electromagnetic relays.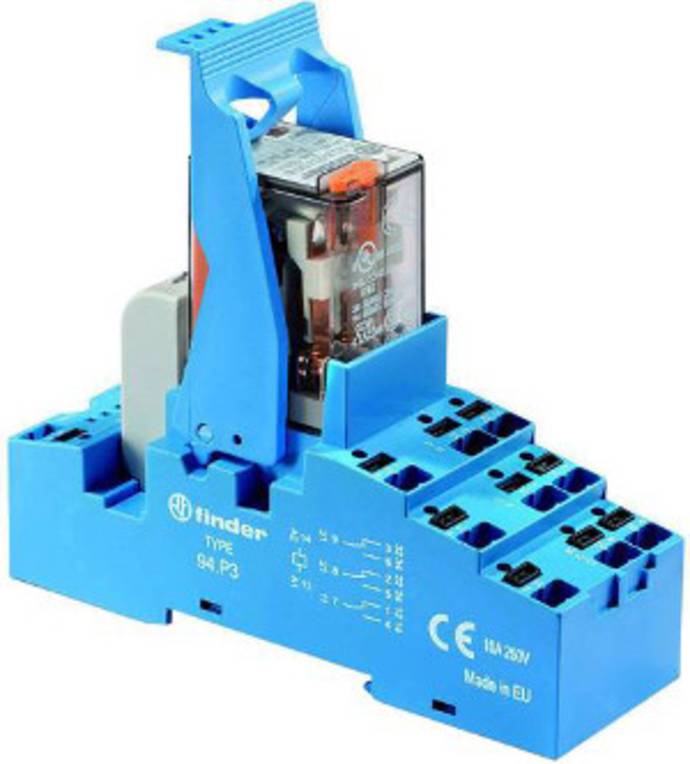 This vulnerability of the semiconductor relays does not apply to PhotoMOS relays. In their case, however, a high contact resistance is noticeable compared to the electromechanical relays. They also have an average lower voltage drop in the load circuit than semiconductor relays. Electromechanical relays cannot be easily operated with AC voltage, as the magnetic field is constantly reversing and therefore the armature cannot be held constantly. Therefore, there are special phase or split pole relays for this purpose. You can only connect a DC relay to an AC voltage with an upstream rectifier.
Solid State Relays (SSR) are electronic relays that are implemented with electronic switches such as transistors, thyristors or triacs. They are suitable for switching resistive and inductive loads . The galvanic separation is usually done here via PhotoMOS transmission. Semiconductor relays are more expensive than electromagnetic relays, but shine through a lower signal distortion . This is important, for example, for thermocouples or microphones. While the signal path of electromagnetic relays can be noticeably distorted by the different temperature levels of the two conductor materials (thermal voltage), the so-called offset voltage generated by free charge carriers in the semiconductor has a much lower influence on the signal.
Since semiconductor relays work without moving parts, they are usually more durable and suitable for adverse environmental conditions , such as for use near explosive gas mixtures. There is no switching noise and the semiconductor relays are insensitive to shaking and shock loads. Since no ferromagnet is installed, these relays are not so easily disturbed by magnetic fields. They are also used in environments where high switching speeds or low switching frequencies are required. Another advantage of these relays is that they do not have a "contact bounce". This term refers to a phenomenon when instead of immediately closing an electrical contact, the contact is opened and closed several times.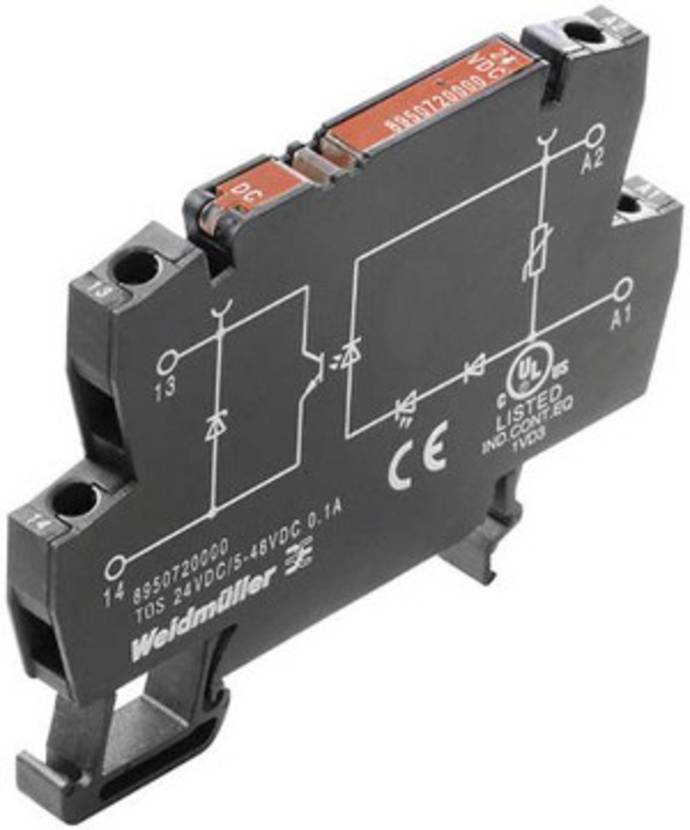 An important feature of semiconductor relays: With the exception of Triac and PhotoMOS receivers, only one current direction is possible in the load circuit. . When using solid-state relays with optocouplers, it must also be noted that they are generally not approved for ambient temperatures above 85°C. Power supplies built using optocouplers have a low bandwidth of up to 25 kHz and therefore react slowly to changes in the input voltage. As optocouplers have a relatively high power consumption, they should not be used for standby circuits, for example.
Contactors in turn are special relays for use in high-current technology. They are characterized by the fact that the electrical voltage and the current in the load circuit can be many times higher than in the coil of the control circuit. Furthermore, they usually have several switching contacts, which are needed for switching three-phase consumers.
Print relays , also known as "small relays", are used in low-voltage applications.
Interface relays are relays with special inputs for programmable logic controllers (PLCs), industrial PCs, fieldbus systems and other software-controlled controllers. They are often used when software-controlled currents are to be switched.
Time relays are relays with a time element. This enables a delay in the on or off time and is advantageous, for example, in automation technology.
Important criteria when buying relays
Protection against external load factors
Depending on the requirements, relays can be protected against certain external influences. For example, there are dust-protected relays and wash-proof relays that are sealed with cast resin. Gas-protected relays are melted in a glass tube filled with protective gas, while vacuum relays in this glass tube are gas-free.
Criteria according to switch-off behavior
According to the usage categories EN 60947-4-1 and EN 60947-5-1 relays are categorized according to their switch-off behavior. Depending on the category, they are suitable for electromagnetic or resistive loads or other special applications. The category also determines the number of phases and thus the type of current.
Switching and control voltage
A relay basically distinguishes between two voltages
The control voltage is the voltage that must be present in the control circuit in order for the relay to trigger a change of the switching state. For this purpose, there is usually a minimum and a maximum value in which the area is switched.
The switching voltage is the voltage that may be present in the load circuit after it has been opened. This is the voltage that can be switched with the control voltage in the load circuit without any problem. Again, there is usually a value for minimum and maximum.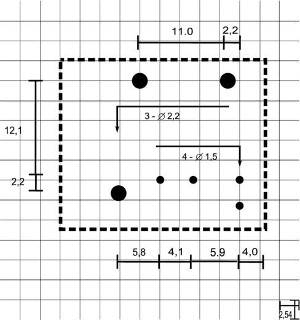 Load current value
The load current value determines the current strength that the highest in the load circuit may permanently occur. If the current in the load circuit is greater than specified, a different relay must be used.
Surge current
The so-called surge current measures the current that can be generated in the load circuit at maximum voltage. The surge current is usually low if the relay is switched at the time of the voltage peak and high if it is switched at the time of a voltage zero point. Therefore, zero voltage switching relays usually have a high value for the surge current. High surge current can cause problems. For example, the component behind the relay can be damaged if it does not tolerate such a high surge current, or an arc occurs on lamps when they are switched off.
What does "zero voltage switching" mean?
The supply voltage in normal household and industrial circuits is not continuous, but in a sine wave. If a device is switched on or off at a time when the voltage is not zero, high-frequency interference is generated (so-called on or off edge). To avoid this, the relay can be designed so that it only switches the consumer at zero voltage, i.e. at the time when the voltage is just zero.
Relays: Indispensable for switching currents in electromechanics What is a relay? How does an electromechanical relay work? Areas of application of relays What types of relays are there and what are their characteristics? ...