This text is machine translated.
Robots: Advanced machines for playful learning and more

Fields of application of robotics in the classroom
Robots: Advanced machines for playful learning and more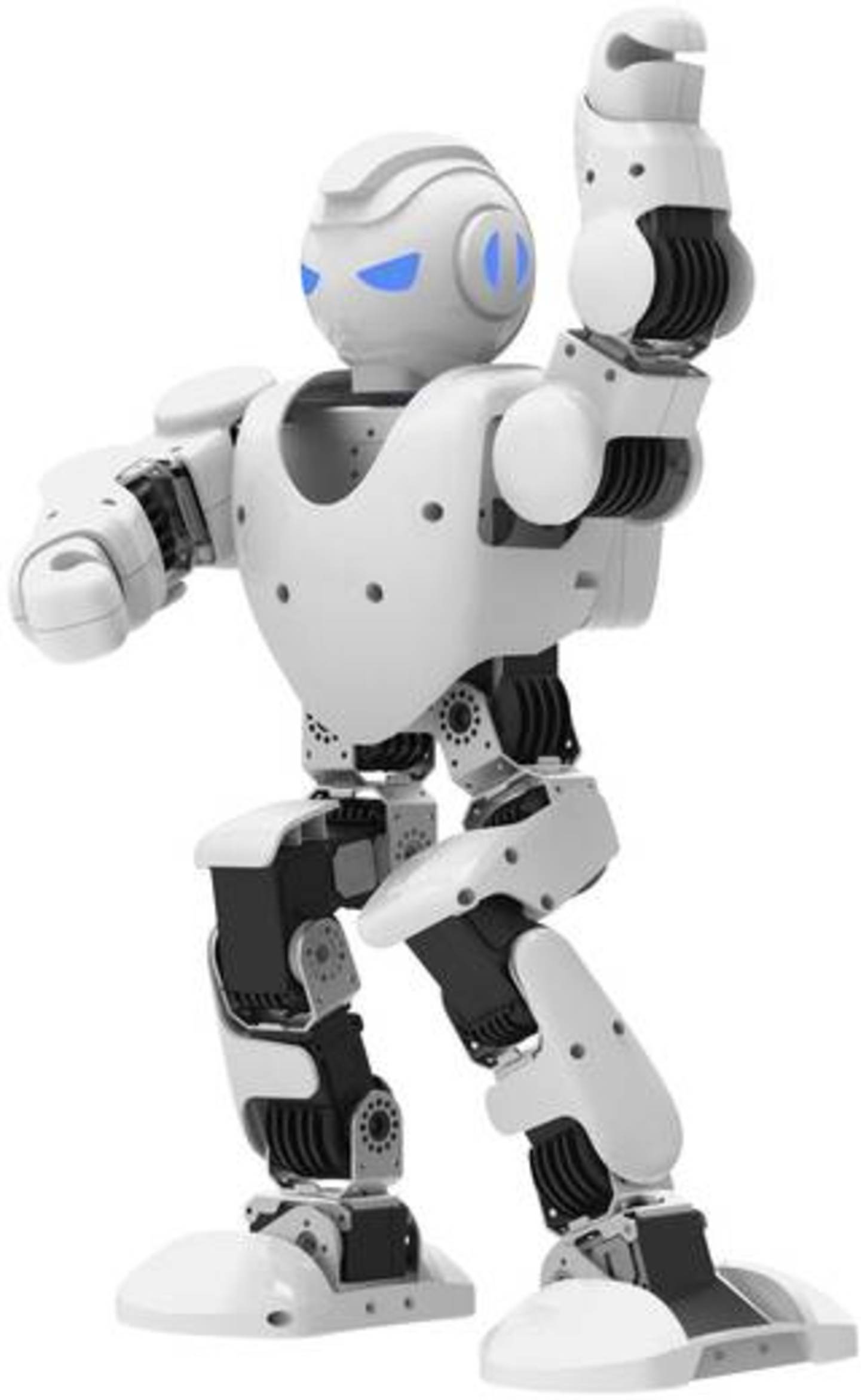 Robots were originally designed as technically advanced machines and products of the technology branch today called Mechatronics to take over mechanical work. They consist of a mechanical basic structure, a robot control system and sensors for the detection of signals and actuators. As industrial robots, they have in large parts taken over simple work, such as piece production, which was previously carried out by humans. Once programd, robots are able to perform complex workflows autonomously. In addition, robots are now being used in the private sector for service work and modern robotics is being used more and more in the market for toys.
Robots can be distinguished by design, for example, autonomous mobile robots, walking robots, humanoid robots and cognitive robots. Another distinction is made about the purpose of use. In this way, it is possible to differentiate between industrial robots, service robots, medical robots, exploration robots and even toy robots.
In principle, robots are equipped with various sensors that allow them to react to their environment:
Acoustic sensors
Optical Sensors
Kinetic sensors
The information that the sensors register is synchronized with the position of the axes present in the robot and converted into motion instructions. The kinetics in turn differ according to the form of motion, number and arrangement of the existing axes and the forms of the working space of the robot, which can be Cartesian, cylindrical or spherical. Open kinematics, such as those found in humanoid robots, are characterized by serial axes. In closed kinematics, links are connected to at least two other links.
Humanoid robots are robots that are modeled on humans in their design and their movements. They stand on two legs and, when they are android or gynoid, even have human traits and human-like behavior. Humanoid robots have two main purposes: As multifunctional machines, they are researched in order to be able to perform complex tasks, such as in the care sector.
An important field of application is in the academic field, in research and science. There they are used for the research of artificial intelligence, the machine is to acquire additional functions by interacting with it. On the other hand, they can be used in teaching in the fields of computer science, robotics, systems and sensors as well as in the social sciences.
The humanoid robots available from Conrad are ready-made devices with a variety of functions:
Thanks to a high number of degrees of freedom and integrated gyrometers, realistic motion sequences are possible.
Cameras and optical sensors for infrared provide for object and face recognition.
The acoustic sensors provide via ultrasonic measurement for distance measurement and microphones for direction detection of sound.
They have multiple pressure sensors and capacitive touch sensors for human interaction.
The robots are equipped with powerful processors and have Ethernet and WiFi interfaces. The operating system is Linux.
The robots are graphically programmable (VPL) in C++ or Python.
The height of a device is 58 centimeters and the weight is 5.4 kilograms.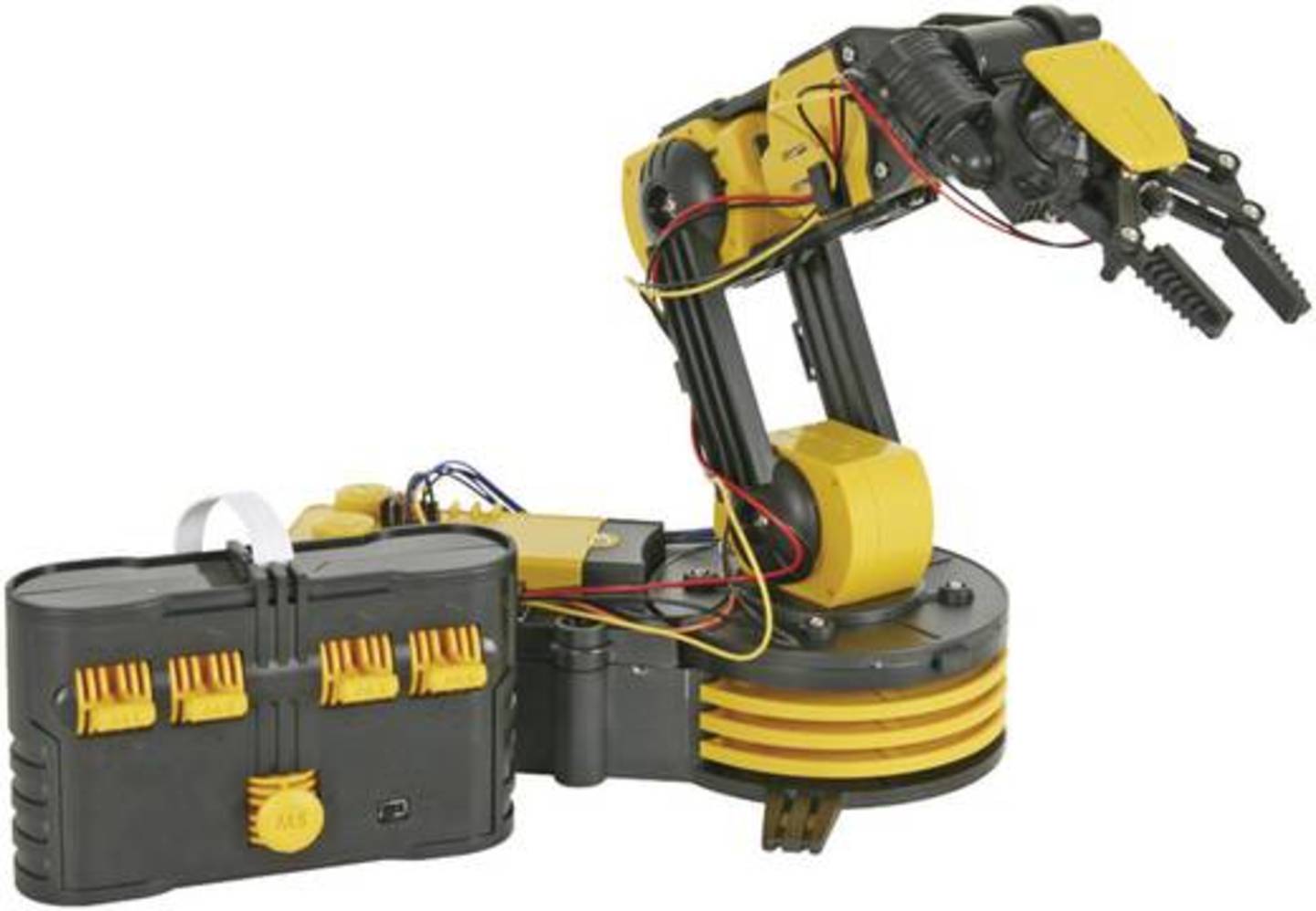 In addition to being used as work and education equipment, there are robots that are used for pure entertainment – both for children and adults. Robots sold as toys have a variety of appearances. In addition to humanoid-looking toy robots, there is a wide range of toys that look like animals and are therefore considered as replacement pets. In addition, there are ready-made devices among the robots that are used to introduce robotics and programming in a playful way and to work toward the general understanding of technical connections.
Finished toy robots are considered separately from robot kits because as a user there are relatively few possibilities to influence the functions. Many toy robots are delivered pre-programd and therefore cannot be changed in their function. Nevertheless, they react to their environment, whether by remote control, smartphone apps or interactively via optical motion sensors, sound sensors or touch sensors.
Robot kits are autonomous mobile robots in the field of hobby electronics and allow users to build and program robots completely according to their own ideas. They are ideal for children and young people to introduce them to the world of robotics in a playful way and to teach basic skills.
Instead of purchasing individual components and components individually, you can purchase them as kits and expand them as needed. In contrast to finished products, robot kits offer the advantage that users experience a high educational added value in the design and are well maintained at the same time. The electronic components are included in the kit and assembled by the user.
Types of robot kits available from Conrad include:
Robotic arms that are ideal for learning on the object
Robot vehicles that essentially consist of a programmable microcontroller with processor mounted on a wheeled body
In addition, there are special robot types, each with special application areas.
Some kits come with pre-programd controls and programs, which can be easily loaded onto the microcontroller via USB interface or can even be used directly after assembly. Other kit robots can be programd with programming languages such as Basic or C. In order to assemble your own kit or to supplement or exchange components, a wide range of accessories can be used.
The kit accessories available from Conrad include:
Display modules
Sensor modules as accelerometers, magnetometers and rotary encoders for general robotics, indoor navigation applications and motion detection
Individual sensors for ground detection, ultrasound and much more
Microcontrollers, for example, the Arduino boards commonly used in kits of this type
Various expansion modules
Gear sets, axle sets, tire sets, inserts, grippers and other mechanical components
USB programming cable for connection to PCs
With these high-quality electronic and mechanical components, you can build your own robots and program them according to your wishes.
Robots have been conquering more and more areas of our lives since their first use in the automotive industry in the 1960er. The technology with artificial intelligence, sensor technology and precision is developing extremely quickly, applications are taking up more and more space in our everyday lives. They are entering households and educational institutions. With the humanoid designs of the robots, students can be taught subjects such as programming, robot technology, control and control technology as well as creative work in a playful way. Special problem solving skills can be learned and further developed.
Fields of application of robotics in the classroom
Programming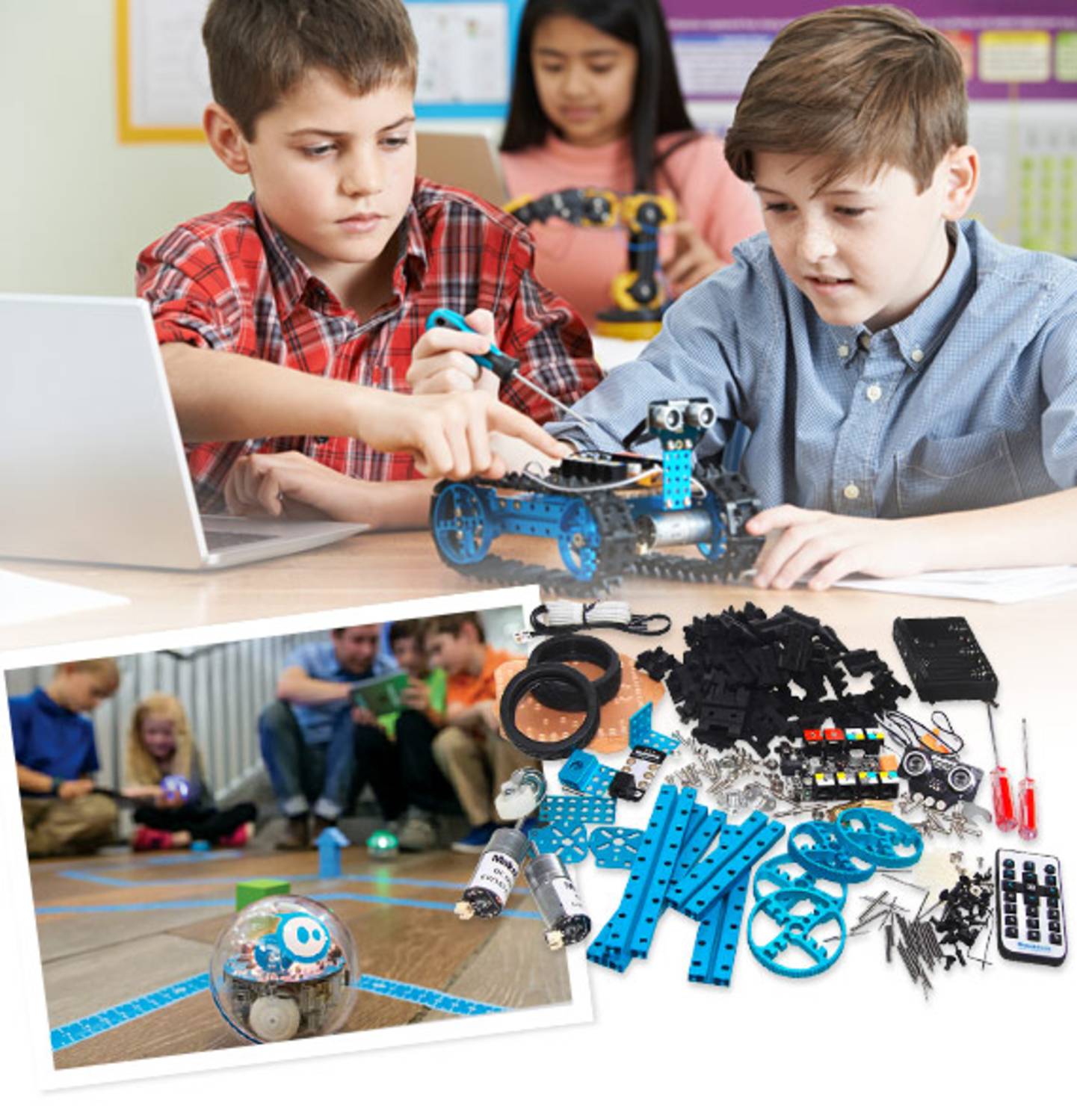 From the simplest robot types with controls, to apps via smartphone or tablet, to more complex types that require more advanced programming in choreography or C++, the offer for teaching learning content ranges from kindergarten to university. Programming learning from easy to demanding.
Construction
In group work, for example, robot kits such as "Meccanoid 2.0 (GS16)" can provide a deep understanding of technical relationships, strengthen team skills and problem solving skills. The learning objectives are achieved together by assembling and cabling the components.
Telemetry
In robotics, telemetry stands for calculating or measuring distances with optical, acoustic or radioactive elements. Infrared, ultrasonic or laser distance meters are used. It allows the robot to move around the room. Students are clearly taught the use of technical procedures and their possibilities.
Mechatronik
Interdisciplinary interaction between mechanics, electronics and computer science quickly becomes highly complex. These disciplines of mechatronics are used in robotics. With our robotics offerings for teaching you can provide basic knowledge in a clear way and make it easier for your students to get started

with mechatronics .
Automation
Today, industrial production is only efficient if work steps are automated accordingly. Industrial robots play a central role in this. With the ARexx robot arm "RA1-PRO" a first insight into this exciting topic can be given playfully. Interest and learning success in the students are guaranteed.
This text is machine translated.                               About robots Robots: Advanced machines for playful learning and more Humanoid robots To...