This text is machine translated.
About navigation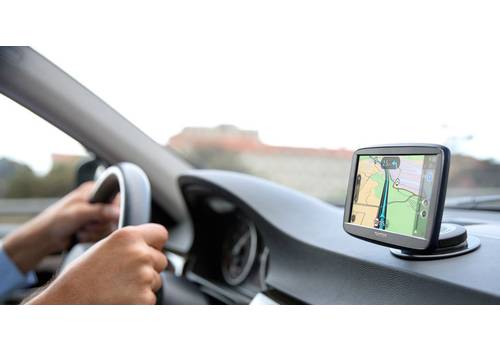 In former times, compass, globe and even stars were used for navigation, today sophisticated technology takes its place. Modern navigation systems not only calculate the optimal route between start and destination, but also offer the user a wealth of useful additional information. Our guide will help you understand what was available for navigation devices and what to look for when you buy them.
With modern navigation without detours to the destination

Navigation devices and navigation systems

GPS location: Basis of navigation

Purchase criteria for navigation devices – what is important?

Our practical tip: Mount the navigation device correctly in the vehicle

FAQ – frequently asked questions about navigation and navigation devices
With modern navigation without detours to the destination
The term navigation is due to the Latin verb navigare, which translates as much as "lead a ship". He originally called the art of bringing a ship to its destination quickly and without detours. Today, navigation means the ability to transport not only ships, but also vehicles and aircraft from A to B. There are three main things to navigate: Determining your current location, determining your destination, and finding the ideal route between these two points. In the past, you could browse through unwielded maps, browse atlases or use a globe. These times are long gone. Modern technology reduces the navigation and makes it even more dynamic. Navigation devices or navigation systems no longer determine the optimum route, but also provide real-time information by informing car, truck and motorcycle drivers, for example, about current traffic jams, construction sites or detours. They also warn when you are about to drive in the wrong direction and literally get the driver on the right track.
Navigation devices and navigation systems
Navigation systems and navigation devices calculate the route between two locations by positioning and including geo-information, traffic guidance, obstacles and much more. The coordinates of the current location are obtained via radio or satellite. They also have built-in maps to help you calculate the shortest, fastest, or most economical route to your destination. Most navigation systems are equipped with a display that shows the way on a digital map. Navigation is mainly carried out by spoken instructions. This has the advantage that one can concentrate completely on the events in the traffic or the way ahead and does not have to constantly look at the screen. Voice-activated navigation systems allow you to start navigation or change settings by voice command alone.
Navigation systems are available for various applications, so there are special versions for trucks, cars and motorcycles, but also for cyclists and pedestrians.
Navigation devices for trucks, cars and motorcycles are generally based on the same positioning procedure, but differ in their equipment. Trucks are higher, wider and heavier than cars was the most difficult and sometimes impossible to maneuver around tight corners, through narrow tunnels or low underpasses. For this reason, truck navigation systems indicate bridge heights and weight restrictions. While automotive navigation devices are more focused on finding the fastest connection between two locations, motorcycle navigation devices offer the ability to display curved, mountainous, or scenic tours. The reason for this is that motorcyclists often have different demands on their routes than drivers. It is not always about the most economical, but often also about the more pleasant way. Accordingly, navigation systems for cars and motorcycles usually work with different map materials.
In principle, mobile and stationary navigation devices can be distinguished. Navigation devices for fixed installation are usually integrated in the vehicle's music system compartment. They often receive satellite signals better than mobile versions, but the latter have the advantage of being transportable and being able to be used flexibly in different vehicles.
GPS location: Basis of navigation
There are different methods of navigation, but GPS technology is the basis of almost all navigation systems. GPS stands for Global Positioning System and enables you to determine your own location worldwide via satellite. This works as follows: GPS satellites circulating in the Earth orbit permanently transmit their position and their current time to Earth in the form of coded radio signals. These signals are registered by a GPS receiver installed in the navigation device. By determining the time the radio waves require for their path, the receiver determines the distance to all the receivers whose signals it receives. From this he derives his own position. An exact position determination is possible when the GPS device has contact to at least four satellites. The more satellites are, the more precise the location can be determined.
GPS is not only useful for navigation. GPS trackers, for example, are primarily used to determine the location of vehicles, people or animals. With their help it is possible to find a stolen car again or to do geocaching, a kind of treasure hunt via GPS. GPS trackers are mainly location devices and, unlike GPS navigation systems, are used less for route planning. Depending on the application, different versions of GPS trackers are offered. GPS trackers for location of people are usually very handy and light-weight, so that they can be worn comfortably on the body. You have an SOS button to call an emergency call in case of an emergency. Some trackers are also equipped with a geofencing feature that allows you to define a virtual area and trigger an alarm when the person leaves. This function is also practical for GPS trackers for pet tracking. These trackers must be small, lightweight, rugged and ideally waterproof, as the animal must always carry the tracker with it to be located.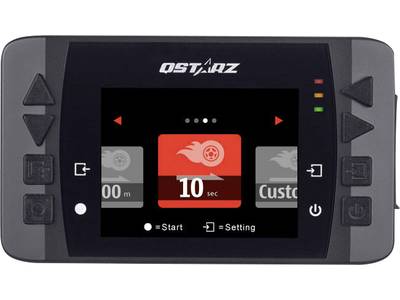 Other demands are made on GPS trackers for vehicles. They should not be battery-operated, but should be supplied with power via the vehicle battery, because if the battery is empty, locating can no longer take place. It is useful when the tracker allows you to switch off the vehicle's engine remotely. Such functions are not so useful for bicycle trackers. Here a motion alarm proves to be more practical: If the wheel is moved, the tracker immediately makes a message about it.
GPS-Warner can be distinguished from GPS trackers. They warn of potential hazards and zones that require careful driving, such as sharp turns or transitions for school children. As soon as one approaches such a danger point, the GPS-Warner emits a corresponding signal.
Purchase criteria for navigation devices – what is important?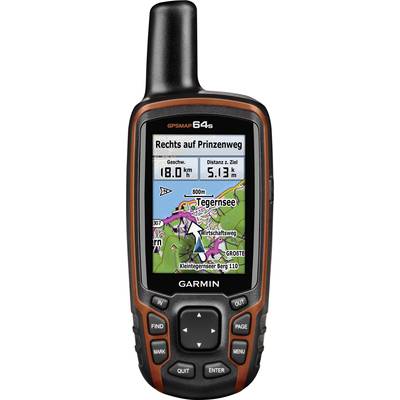 The range of navigation devices is large, so it is important to narrow down the selection as much as possible in advance. First of all, consider the purpose for which the device is to be used. For example, hikers or mountain bikers who want to orient themselves in the open area should choose a device that is intended for outdoor navigation. Such designs are very robust and do not take the rain cast or fall from one or the other. If you are primarily traveling by car, you can use a navigation system for your car.
The technical equipment of a navigation system should be adapted to the scope of application and the requirements of its own. For car, motorcycle and truck drivers, for example, speed and lane assist are practical. They help to maintain the speed limit and make a message when a lane change is imminent. If there is a connection to traffic information (TMC = Traffic Message Channel), you receive current traffic messages in real-time and are informed of possible traffic jams. Some navigation devices can be used as hands-free equipment and, for example, can be connected to the smartphone via Bluetooth to receive calls. There are many technical features that navigation devices can be equipped with. Think ahead of time about which you are likely to be using.
When purchasing a navigation system, it is important to pay attention to which maps are available and under which conditions it can be updated or extended. MANY devices have ROOF cards (Germany, Austria, Switzerland, Liechtenstein) or even cards for the whole of Europe installed. It should always be possible to retrofit a navigation system with maps. As traffic routes can change over time, it is important that route planning is always based on current material. Regular updates allow you to drag updated maps to your navigation system. In this context, it is useful for the navigation system to be able to access the Internet. Please note that updates may be subject to a fee. Not every manufacturer offers free updates with the sale of its navigation devices. Speaking of Maps: POI maps not only show the route, but also restaurants, hotels, petrol stations and other places that may be of interest to the driver (POI = point of interest).
A good navigation system must be easy and intuitive to use. Make sure you have a sufficiently large display with good graphics and a user-friendly menu navigation. The navigation system should also be able to provide linguistic instructions so that you can concentrate fully on the traffic. A voice control proves to be advantageous, in order to be able to make comfortable changes to the settings while driving. The type of attachment also plays a role in the purchase. Some navigation systems are equipped with suction cups or fixing plates, others are glued. You can find brackets in numerous designs and much more in our navigation accessories.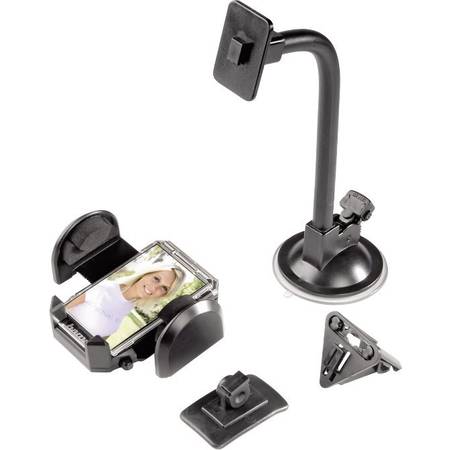 Our practical tip: Mount the navigation device correctly in the vehicle
Navigation devices fitted to the vehicle must not interfere with the driver's field of vision and must not be placed in such a way that they are thrown away when the airbag is opened. Ideally, you can attach the navigation system to the dashboard, but it is also possible to attach it to a corner of the windshield or to the side window. It is important that there are no blind spots and that the navigation system sits firmly and securely at every opportunity.
FAQ – frequently asked questions about navigation and navigation devices
What was offline navigation?
If you use your smartphone app for navigation, you often have the problem that maps and traffic information are only displayed when you are connected to the Internet. This is because many apps are designed for online navigation. In such cases, the map material is not archived directly on the mobile phone and is therefore not available offline. This saves storage capacity, but it can be expensive, because the cost of mobile internet outside the EU is sometimes very high and varies from country to country. Apps that make offline maps available for download are a great way to access them at any time. Meanwhile, there are some good offline navigation systems available in the app stores.
My navigation device stops responding. What was to be done?
In some cases, it may help to reset the navigation device completely. Some navigation systems are equipped with a reset button for this purpose, while others require you to keep the on/off button pressed. Be sure to follow the manufacturer's instructions, as some models require additional steps, such as removing the SD card.
This text is machine translated. About navigationIn former times, compass, globe and even stars were used for navigation, today sophisticated technology takes its place. Modern navigation systems not only calculate the optimal route between start...