Screws & nuts: Fixing technology for professionals
Screws and nuts are point-shaped means of connecting two or more parts in a detachable way. zum lösbaren Verbinden von zwei oder mehr Teilen. They are characterized by their ease of processing and are therefore particularly frequently used.
Screws are made of numerous materials such as steel, stainless steel or plastic . Steel is often used for weather-proof applications. Zinc plated screws provide some corrosion protection, A2 stainless steel screws are heavy rust and A4 stainless steel screws are also acid and seawater resistant.
Select suitable screws for the planned application and the workpieces . The correct screw creates a screw connection in which the applied pre-tension force is retained to a large extent under operating stress. Cotter pins and other locking elements prevent unwanted loosening of screw joints.
DIN standards ensure standardization by standardized components when using screws . For example, DIN 933 defines basic properties of threaded cap screws to the head.
How is a screw structured?

What are self-tapping screws?

How can screw connections be secured?
How is a screw structured?
A bolt consists of a metal pin with a head and milled thread . With self-tapping screws, there is a smooth shaft between the head and the thread. With full thread screws, the thread reaches up to the head.
The nut is screwed onto the thread of the bolt . For this purpose, their thread is matched to that of the screw. The function of the nut can also take over a thread cut into the workpiece.
For fixing screws, the rotation causes the connected components to be pre-tensioned and fixed. In contrast, when tightened, the motion screws lift a load and lower it when released.
Depending on the design and drive, the screws can be tightened manually with screwdrivers, bits, wrenches, torque wrenches and motor-driven. Depending on the application, washers are used.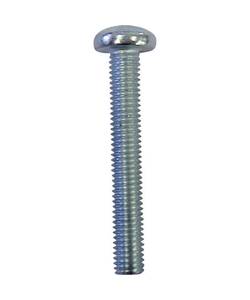 What screws are there?
Screws can be divided into categories according to thread and intended use . Depending on the material, different types of screws are used.
Wood screws and sheet metal screws are pointed at the front and have a slightly conical thread. They are self-cutting or self-tapping. This means that wood screws and sheet metal screws do not require a counter thread, but they cut it when they are screwed into the workpiece themselves This will save you one operation on these models. The SPAX brand countersunk screws are popular in the trade and processing of wood. Its special thread makes it easier to screw in and offers a good hold.
To the self-tapping screws
Tip : for screws with a retractable head, the drive is hardly visible after screwing in.
Metric screws for steel construction always require a counter-thread to hold. Metric screws are also called machine screws or metal screws and use a metric ISO thread called M. The number behind it represents the nominal diameter. A M8 screw is therefore a steel screw with a nominal diameter of 8 mm.
What profiles are there?
The screw head contains the screw profile, which is also referred to as the screw head drive or motif. The profile transfers the turning movement applied by the tool to the screw when tightening and loosening. The shape of the drive prevents the tool from slipping.
The slot drive is the original stone under the screw drives. However, the open side design does not provide the best screwdriver and flat blade bits. Screws with self-centering cross-head drive or Phillips drive and its further development, the Pozidriv or PZ drive can be processed more efficiently. Even higher torques can be transmitted in the star-shaped six-round interior, which is known under the brand name Torx. The external Torx version is the external six-round. Other screw motifs used in the professional field are Torx Plus, MTS-Mortorq, LocTec.
Steel construction screws usually have a hexagonal drive . Hexagon nuts with the same diameter are used for screwing. The power transmission is not quite as efficient as the external hexagon drive in the hexagon socket or Allen profile.
A special feature is screws without head . This category includes grub screws, grub screws and worm screws. Instead of a screw head, your free end usually has a hexagon socket for screwing in and out.
What are self-tapping screws?
Thread forming screw types have hard and sharp edges that are milled into the deformable material when they are turned in . This saves you time during processing, because pre-drilling or thread cutting can be omitted. Wood screws, drywall screws and SPAX are among the best known threaded screws.
Threaded screws are used in metal construction and assembly. Their hardened thread can be screwed into materials made of softer metals without pre-cutting a counter-thread. All you need is a pre-drilled, punched or lasered screw hole.
How can screw connections be secured?
Under stress and stress, there is a risk that the screws and nuts will loosen automatically over time. The use of safety elements prevents the pre-tension loss of screw connections and consequently the loosening and dismounting of your workpieces.
By using setting fuses, floating locks, clamping washers and increasing the friction on the contact surfaces of the screw and nut or in the thread, you can counteract the loss of pre-load force.
Nuts and screws with clamping part or clamping lock prevent them from falling apart.
Screws & nuts: Fixing technology for professionals Screws and nuts are point-shaped means of connecting two or more parts in a detachable way. zum lösbaren Verbinden von zwei oder mehr Teilen. They are characterized by their ease of processing...