Multiple sockets: Connect multiple devices at the same time without any problems
What are multiple sockets?

Which multiple sockets are available from Conrad?

FAQ – Frequently Asked Questions about Power Strips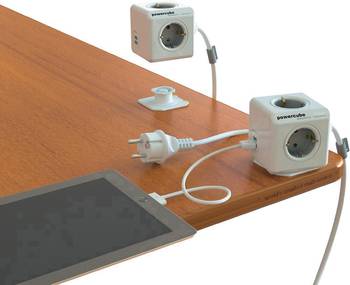 What are multiple sockets?
Multiple sockets are an important part of the electrical installation within the building technology in the area of electrical systems for low voltage, which covers the range up to 1,000 Volt alternating voltage and up to 1,500 Volt direct voltage. They are typically used to route an outlet of the 230 volt power supply to a supply point while making several plug-in options available. A multiple socket makes it possible to supply several consumers with power via a single wall socket. Multiple sockets have at least two outlets and are partly equipped with switches and surge protection . They are available with or without cable connection.
Which multiple sockets are available from Conrad?
In the Conrad online shop, multiple sockets are essentially divided according to their application areas :

Outdoor Sockets
This category includes sockets designed primarily for outdoor use. There are various designs, partly in " decorative optics ", in order to be able to insert the sockets optically in stone gardens. Many of the multiple sockets in this category are equipped with earth spikes, others are shaped as columns of weather-resistant plastic or metal. These include so-called plug boxes with which mains plug connections can be sealed against contact and moisture and which ensure that an electrical connection is not unintentionally disconnected. These are available as distribution boxes as sets with multiple sockets.
Some models have built-in timers . The majority of the garden sockets have the protection class IP44 (protected against access with a wire and against all-sided splash water).
Learn more about the IP standard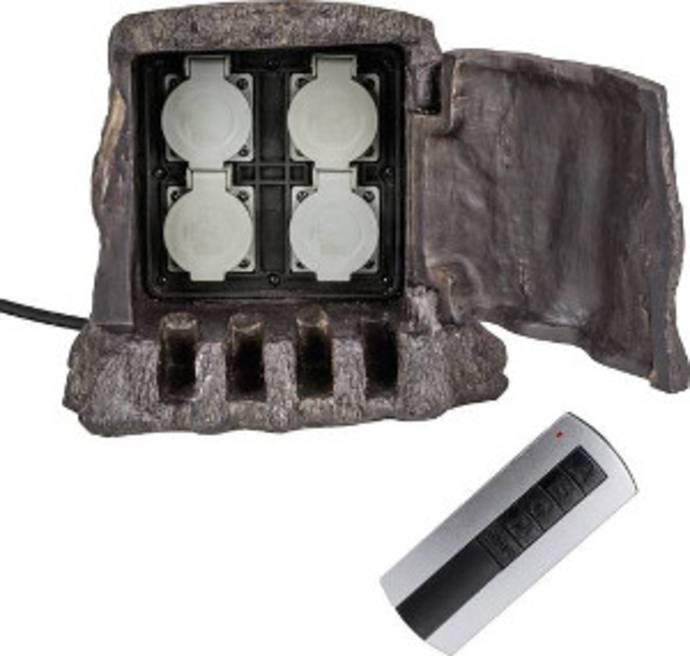 Thus, sockets can be placed inconspicuously in the garden.
Plug-in electrical installation "GESIS"
This system allows power supply to be provided in a tool-free installation . This concerns the production of electrical connections. Cut-outs and openings must be made in a conventional way. The current-carrying elements are connected via plugs, distributors and sockets standardized to one another. A variety of power outlets are available, partly with additional USB charging outputs.
Mains Outlet Splitters
These distribution boards are mainly used to multiply the number of available slots and are mostly designed without cable extension, for this purpose with on/off switches and child protection. Some models have internal FI switches or air lines. In industrial applications, the housings are impact-resistant and resistant to aggressive media. Often (hinged) suspensions are integrated. The sockets are protected against splash water and dirt with sealing ring and self-closing hinged lids (IP44).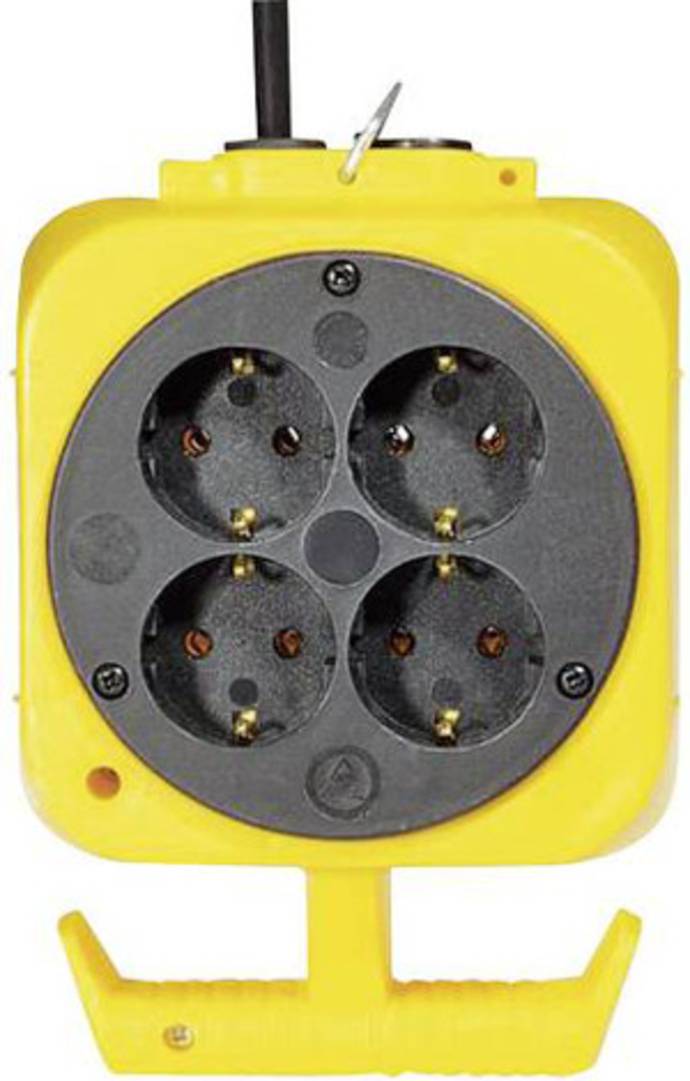 Multiple devices can be connected at the same time thanks to socket distributors.


Power Strips
These strips with one to twelve sockets are offered in a wide variety and equipment. They are available for various plug types and mostly with switches and child protection. The power strips with overvoltage protection are technically designed to meet the safety requirements of the devices to be connected.
19" standard strips are also available for installation solutions. In addition to the master-slave socket strips, which are now already classically designated, there are models that can be controlled via a web browser or with an app from the provider. Other possible features include the number of switches on the strip, programmable, rotatable, retractable power strips, which are supplemented with a time switch (timer).
Modular Power Strips
The module system also offers (almost) tool-free installation of additional required sockets . The modules are connected with each other using the so-called Wieland connector and provided with protective caps at the ends. The system is also suitable for DIN rail mounting. Switchable elements with child protection and USB as well as master/slave function are available.
Socket strip accessories
Fastening solutions, cover and sealing kits are available as accessories.
Socket tower "VARIO TOWER"
The "VARIO TOWER" is a modular system developed by the German company EHMANN: The 230-volt supply is always continued centrally in the stackable tower. The plug-on modules are equipped with master-slave functionality, ISDN distribution boards, integrated overvoltage protection as well as with and without separate switches.
FAQ – Frequently Asked Questions about Power Strips
What must be observed when handling multiple sockets?
Safety is a top priority. Electrical equipment is subject to many standards, regulations, regulations and laws which allow only authorized electricians to commercially install electrical equipment or to carry out repairs or modifications to existing electrical installations. The required qualification is described in DIN VDE 1000-10.

Any electronic installation material must always comply with the applicable regulations and standards . Use the data sheets of the products, which are usually available for free download, for prior information.

When opening a device and in the case of defective sockets, live parts are sometimes exposed, which pose the risk of an electric shock. The maintenance and repair of multiple sockets belongs in the hands of a specialist. Such work may only be carried out after these components have been disconnected from the mains voltage.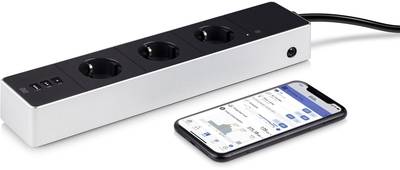 The supply voltage may only be fed in via correctly installed supply lines.

The sum of the power of the connected consumers must not exceed the total permissible load capacity of the multiple socket.
For sockets to be mounted, follow the manufacturer's installation instructions exactly.

In the event of external damage caused by transport or improper handling, a multiple socket outlet must not be used. If you notice any such damage, immediately stop using the component.

Most power strips are designed for indoor use. There are exceptions for garden sockets and models for industrial use with the degree of protection guaranteed by the manufacturer.

Opening or otherwise voids the warranty.


What documentation can be used?
For multiple sockets with integrated additional solutions, the manufacturers provide operating instructions and instructions for use.
What should be taken into account when replacing multiple sockets?
Only multiple sockets with the same electrical parameters may be replaced. When replacing the model, also consider the design, as long as the optics of the model plays a role for your purposes.

How do defects become apparent in multiple sockets?
The following symptoms usually occur:
Multiple, unexpected tripping of circuit breakers and or fuses
Cracks in plastic housings and corrosion on connectors
Visually visible cable breaks in case openings
Poorly latching switches, visible sparking and/or crackling of switches. This may be associated with a burning smell.
Unusually warming cables
Other interesting topics about multiple sockets:
Brennenstuhl socket strip

Socket strip with foot switch
Stein outdoor mains outlet

Socket strip overvoltage protection
Socket strip (single socket control)
  Multiple sockets: Connect multiple devices at the same time without any problems  What are multiple sockets? Which multiple sockets are available from Conrad? FAQ – Frequently Asked Questions a...