This text is machine translated.
About soldering technology
What is soldering used for?

What soldering technology is available at Conrad?

What should you pay attention to when using soldering technology?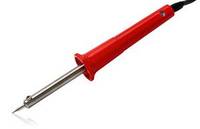 During soldering, heated metals are liquefied in such a way that they form a material-positive connection with the surfaces of other metals to be connected. The elements to be joined are not melted down into the depth; this is one of the main differences in welding. The material used to connect the workpieces is called solder and is a slightly melting alloy. Soldering creates a so-called intermetallic connection between the workpieces, which is electrically conductive. This makes soldering one of the electrical connection techniques and is most widely used in electrical engineering.
There are different soldering methods, which are based on the technique for heating the solder and the temperature ranges used.
A distinction is made between the temperature of the lot:
Soft soldering up to 450 degrees Celsius
Hard soldering from 450 to 900 degrees Celsius
High-temperature soldering over 900 degrees Celsius
The required soldering temperature is generated by means of a soldering iron, a flame from a soldering torch, hot air, hot steam, heat radiation, laser or induction. Special cases are heating by ultrasound, electron beam or an arc.
One problem with this connection technique is the oxidation of the connection points during the phase of superficial heating. By contrast, so-called flux is used to reduce this tendency to oxidation and at the same time to improve the distribution of the lot by reducing its surface tension. In the classic "solder wire" the flux is often already introduced as a soul. Negligence can lead to the dreaded, hard-to-find "cold soldering joints".
In addition to the use of the classic soldering iron, a number of industrial soldering methods have been established, such as immersion soldering, flow soldering and reflow soldering – these processes differ in the way in which solder and flux are processed on the components to be soldered.
What is soldering used for?
The application possibilities of the soldering technology are more diverse than one might initially suspect. There are many areas in the home and industry where soldered joints provide reliable support. Various processes and temperature ranges are used, for example: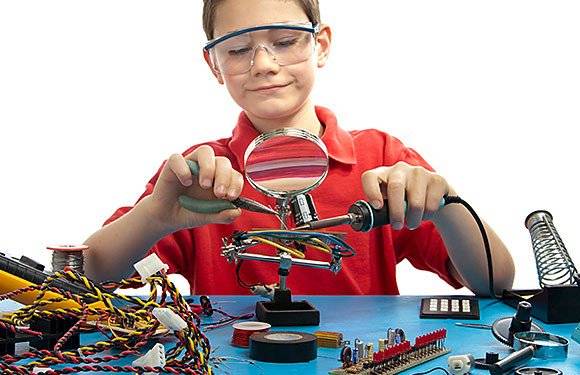 For the electrical connection of electrical and electronic components with cables or on printed circuit boards. Industrial soldering methods are also used.
When laying drinking water, gas, oil and heating pipes
When connecting car body parts in vehicle construction
For roof closures and the surface protection of buildings
When deforming objects made of acrylic, PVC and polystirene, plates and profiles (in model construction)
When loosening solder connections
What soldering technology is available at Conrad?
Soldering products are divided into the following categories in our online shop:
Heating Torches
This is understood to mean high-performance gas burners with temperatures above 1,000 degrees Celsius, which are used for heating or welding. They are used, among other things, for weed removal.
Gas soldering iron, gas soldering equipment
These are the actual burners for gas soldering with defined temperature ranges and operating times. They are available as sets and with their own piezo ignitre.
Gas Cartridges
Supply the gas for soldering in different packaging sizes.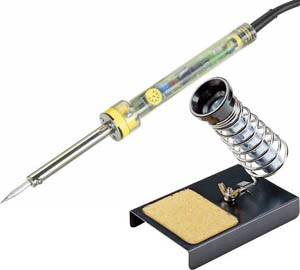 Soldering Accessories
This category of soldering technology includes all the technical aids required to precisely position the components to be soldered and also ensure perfect soldering joints, for example through special soldering tips.
The accessories also include products that enable the desoldering of components with many connections of circuit boards, whereby emerging excess solder is safely discharged. To protect PCBs, use preheat plates that reduce soldering time.
In addition to soldering cleaning agents for keeping the soldering tools clean, this category contains devices and accessories to keep the working places free of hazardous soldering smoke. Special soldering accessories are available for soldering white metal, zinc alloys and cast iron as well as applications in model construction.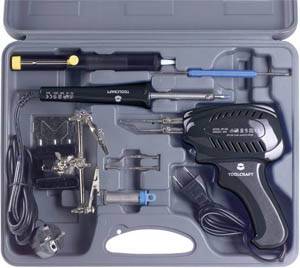 Soldering iron
Soldering irons are the real tools for soldering. This category offers devices with different power ratings, temperature ranges and soldering tip shapes. Special models are also available, for example, for cutting foam or creative applications (soldering paint).
Soldering iron sets
The soldering iron sets available from us contain soldering irons with holders or in the case.
Soldering stations and extensions
Due to the temperature control, soldering stations can be used to react to the specific soldering situation. There are many accessories and replacement parts.
Practical advice
The soldering tip requires regular care as it is exposed to high wear due to oxidation. This must be observed especially before direct soldering. Use suitable toiletries. In addition, it is useful to always have suitable replacement tips in stock.
What should you pay attention to when using soldering technology?
Only operate soldering devices with electrical connections that are installed in accordance with the regulations. Before carrying out any maintenance work on soldering equipment, unplug the mains plug from the mains socket to ensure that there is no voltage.
Always secure your soldering equipment in such a way that you and others cannot accidentally touch the hot devices. Equally important is protection from falling down to protect work surfaces and floors from fire hazard. Soldering equipment must never be left unattended when switched on. After use, the soldering tool should be placed on a cooling stand before it is stored.
Some soldering iron components can be replaced by hand if worn. Observe the descriptions in the operating instructions, which also applies when using accessories and additional devices.
Do not breathe solder fumes and protect others from it. Use extraction technology especially in the commercial and industrial sector.
Repairs to soldering equipment may only be carried out by a qualified electrician. Otherwise, there is a risk of accident for the user. It is recommended that the repair be carried out by an authorized service workshop.
This text is machine translated.   About soldering technology What was soldering? What is soldering used for? What soldering technology is available at Conrad? What should you pay attention to when using soldering tec...