This text is machine translated.
High-quality speakers for perfect listening pleasure
Speakers are audio playback devices. For the perfect sound, home cinema, audio games and music lovers will find a wide selection of speakers in our shop.
From individual standing loudspeakers, through multi-channel sound systems, multi-room loudspeakers, radio and speech controls as well as loudspeakers for car radios, various products are available for every purpose from the economical standard loudspeaker to the high-end sound playback.
At Conrad, hobbyists will find all the parts for the individual construction of a loudspeaker system with active and passive loudspeaker technology.
The following guide explains what matters when selecting speakers and sound systems.
The technology: How do speakers work?

Which speaker systems are available?

Sound systems with multiple speakers at a glance

The most important questions when selecting speakers
The technology: How do speakers work?
Speakers are sound transducers that convert electrical signals into acoustic signals. Modern loudspeakers enable a variety of playback of music, speech and noises. The device type usually consists of a diaphragm, an electric coil as a drive and strong permanent magnets.
The function of a loudspeaker is carried out in several steps:
There is an electrical coil inside the loudspeaker as a drive. Current flows through this coil.
The current flowing through the coil generates an electro-magnetic flux.
In addition, there are strong permanent magnets inside the loudspeaker. The permanent magnets are drawn through the magnetic flux into the coil and pushed out again.
A membrane is attached to the magnets. This membrane oscillates with the movement of the magnets. The membrane compresses air through its vibrations and thus generates audible sound waves.
High-end materials make modern speakers clearly superior to older speaker models in was both for precision sound reproduction and for the richness of the facets of acoustic output signals. With a modern sound system, you can enjoy voices and music, as well as sound recordings of sounds such as sigh, whistling, rustling or drums with high sound quality.
The technical progress in the field of sound technology also enables smaller and smaller loudspeakers with sufficiently good playback quality.
By the way: Less frequent usage areas for loudspeakers are ultrasonic cleaning devices and analysis devices for measuring the vibration sensitivity of buildings. Here, too, sound technology is used, in which a coil vibrates magnets.
Which speaker systems are available?
Audio signals can be played back by a single loudspeaker or by a loudspeaker system with several loudspeakers.
A single loudspeaker is sufficient to recognize sounds and connections. However, noise from a single source of sound is often unpleasant as a direct sound.
In loudspeaker systems consisting of two or more loudspeakers, the sound sources are combined in such a way that the spatial reproduction creates a natural sound impression (stereo playback). See below for an overview of different sound systems with multiple speakers.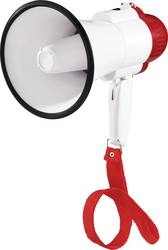 Search Tip: The speakers in this category are external output devices that do not work without a connected media source.
Instead, if you want an all-in-one combination device with integrated speakers such as a radio receiver or a CD player, you can find an overview of our audio products here.
For a natural sound, at least two loudspeakers (right and left) must be used, since humans have two ears. A speaker alone can only sound directly and does not create a spatial impression, so announcements from megafons and similar individual loudspeakers are often perceived as 'quäkend' and unpleasant.
Practical knowledge:
Many loudspeaker boxes and latches, which have an effect as sole devices, are only visually connected devices. Behind the cover there are often two loudspeakers for the spatial sound right and left or even LCR systems with left/right/center loudspeakers.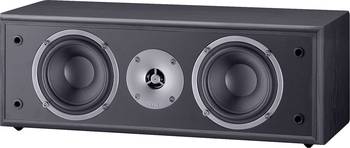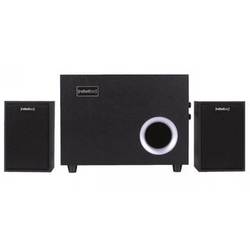 In addition to the two speakers on the right and left, a subwoofer for low bass sounds as well as effects, other front speakers such as center speakers and rear speakers are used for surround effects.
In order for the playback to function as a surround sound, not only the loudspeaker boxes, but also the connected media source must support the sound playback on several channels. This is why audio content is recorded on several audio tracks nowadays.
Sound systems with multiple speakers at a glance
The development of sound systems for spatial reproduction was largely based on the cinema industry.
Multi-channel sound history:
At the beginning only one mono channel was possible for the sound, which was centrally played at the front.
Later, the five-channel system was developed for cinemas, with three speakers at the front and two rear speakers. These were the first stereo playback with separate audio tracks for right and left.
The four-channel cinema system used three front speakers and a mono surround channel. The sound was played on separate tapes at the same time as the optical film content. However, the bass effect was new, from which the subwoofers emerged later.
Today's common sound systems with multiple speakers are ascending by number of speakers:
Loudspeaker pairs: Loudspeakers are usually sold as pairs, one of which plays the left and one of the right audio tracks for the stereo sound.
In 2.1 systems (referred to as "two-point one"), the sound of the two speakers is complemented by a subwoofer for deep tones and effects.
LCR systems with three loudspeakers: LCR stands for Left, Center, Right. From the three loudspeakers, the frontal, central center loudspeaker usually plays back dialogs, the loudspeakers on the right and left complement the surround sound.
5.1 system: The 5.1 system for speakers (referred to as "five-point one") has become established in home theater applications. It consists of five loudspeakers and a subwoofer.
For the surround sound of a 5.1 system:
1. Three main speakers: left (L), center (C), right (R)
2. Two rear surround loudspeakers left (LS) and right (Lr)
3. A subwoofer for effects (LFE, stands for low frequency effects or low frequency enhancement, in other words: "Bass loudspeakers")
SSDS system (7.1): Sony Dynamic Digital Sound (SSDS) has eight different audio channels, five of which are front speaker channels, two for right and left side speakers, and one for subwoofer. SSDS is superior to other sound systems as 7.1 systems. However, pure SSDS with seven loudspeakers and a subwoofer are actually only installed in large cinemas, since the five front loudspeakers need a lot of space in order to be able to work optimally.
Practical knowledge:
When playing back 7.1 recordings with other loudspeaker systems, AN SSD processor distributes the up to eight channels to the existing loudspeakers, such as those of a 5.1 system. The same principle also applies to a 5.1 recording on a 2.1 system or via LCR with less sound distribution because the rear speakers are missing.
The most important questions when selecting speakers
If you are looking for a suitable speaker, you should think about the following questions in advance:
Where should the speaker be used?
Usually, loudspeakers are sound-wise designed for indoor use or for vehicles.... Her voice is sound-wise. If you want to enjoy good sound outdoors, an outdoor speaker is recommended.
How big can the speakers be?
The size of loudspeakers determines by volume of sound and bass, since the sound waves require a resonance chamber for their full development. In the case of loudspeakers, the bigger the better. If you have sufficient space for setting up, you should therefore tend to prefer larger loudspeakers and multi-channel sound reproduction with several loudspeaker boxes.
Info: SoundBars are space-saving speaker latches for mounting under flat screens. For a more spatial sound, they are often supplemented by subwoofers and other loudspeakers.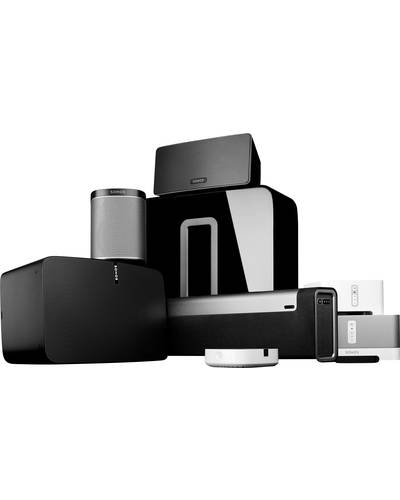 How many rooms / how much area should be covered?
Individual rooms:
High-quality sound quality in the living room creates 5.1 systems with five hi-fi speakers and a hi-fi subwoofer.
Ceiling and wall speakers are often used for small rooms such as bathrooms and corridors.
For niches and individual workstations with little need for sound quality, mini speakers or small PC speakers are sufficient to understand audio content.
Cars can also be upgraded with the help of a sound system with several car speakers for optimum sound quality.
Multiple rooms:
Today, multi-room systems are in trend, with multiple speakers divided into different rooms. With such a system, you can continue to listen to your favorite music when you go from the living room to the kitchen.
Various manufacturers offer systems with more room loudspeakers. In most cases, the selection requires the definition of a manufacturer's system. Here, attention should be paid to the compatibility of components from a product series and the later expandability of the multi-room sound system.
Larger areas:
PA systems are public address systems for large areas, which are to be sonated as evenly as possible. PA means "public address", too German for an audience. Public address loudspeakers are used in discotheques, corporate conference rooms or wellness areas.
Electro-acoustic systems (ELA) are used for the sound of large areas, for example in supermarkets, at railway stations and at concerts. Thanks to hohem sound pressure, they overcome background noise and are thus well understood even in noisy environments. In our shop you will find various loudspeakers and other devices for the compilation of an individual ELA system.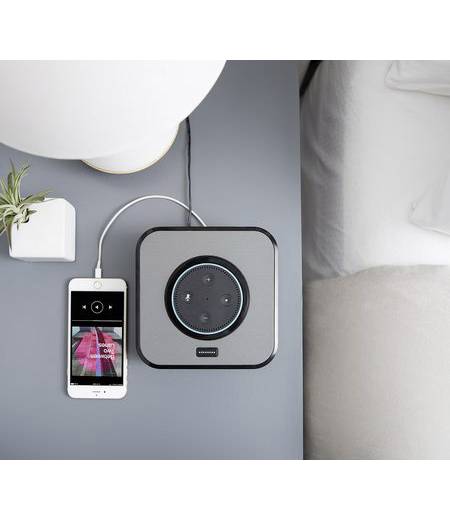 How do you want to operate the loudspeakers?
Loudspeakers act as output devices and are often controlled via the connected system, which supplies the media contents. For example, smart speakers can be set correctly via smartphones, PC speakers via the computer and car speakers via the tap.
The following are available for loudspeaker operation:
Control via connected devices such as stereo systems, TV sets, computers, smartphones, etc.
Voice control with corresponding software, often via Smartphone
Remote control via LAN or WLAN (smart speaker)
Wireless control via Bluetooth
Classic remote controls with buttons
Search tip: Voice-controlled speakers for Alexa, Siri and Co. are available here.
Info: The operability of loudspeaker systems is important, for example
To find the right balance between right and left, front and rear speakers for the spatial impression
For PA systems and multi-room speakers, only sound certain areas or for car speakers, play the children's listening games mainly in the rear seats
Different sound profiles for simple speech reproduction, harmonic sound carpets or effective action sounds can be defined.
How many speakers should the loudspeaker system consist of?
The more speakers a sound system includes, the more spatial it sounds. For an overview of common multi-channel sound systems with different speaker types, see the "Multi-speaker Sound Systems Overview" section above.
By the way: Nowadays, there are hardly any visual drawbacks to the purchase of loudspeakers, as loudspeakers are not available as clumpy black boxes, but with attractive designs in different colors and shapes.
Do you want to lay speaker cables?
Practical knowledge: In general, audio signals are transmitted wired with higher quality than by radio. Wireless connections always produce loss of sound quality, as they are superimposed by other sound waves such as neighboring WLANs or mobile phone waves.
When it comes to the question of cabling loudspeakers, different types of connections should be considered separately so that a differentiated choice can be made.
Use cables or radio connections on speakers
The connection to the device that was providing the audio
The connection of different loudspeakers of a sound system to one another
The power supply to speakers.
When selecting speakers, always go through all three types of connections in your head and choose cable or radio control options.
Note: Speakers with wireless connection via WLAN or Bluetooth still require a power supply cable if they are not powered by batteries or rechargeable batteries.
Do you want to connect headphones occasionally?
If you want to be quiet occasionally by connecting headphones to the sound system, you should pay attention to the corresponding connection options when purchasing new speakers. When played back via headphones, only two loudspeakers are activated for each ear on the left and right, and higher-quality recordings are output accordingly with fewer audio tracks.
This text is machine translated.         High-quality speakers for perfect listening pleasure Speakers are audio playback devices. For the perfect sound, home cinema, audio games and music lovers will find a wide ...