Switches and sockets: Important helpers in electrical installation
Which switches and sockets are available?

Installation of switches and sockets from A-Z
Which switches and sockets are available?
There are a whole range of switches and sockets, whereby dimmer and motion detectors are used very frequently. An overview:
Motion detectors use various methods to detect movements as irregularities in their environment and then trigger an electrical signal. Decisive for the selection of motion detectors are their detection angle and the maximum range of the detection.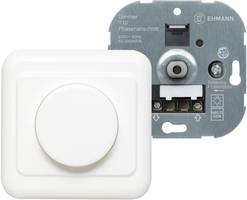 Dimmer controls the lighting. They are available as push-buttons, slide switches and rotary switches for mounting directly on the lamp cable as well as for flush mounting, as complex control units for lighting systems or with remote control. When selecting, pay attention to the connected load and suitable illuminants.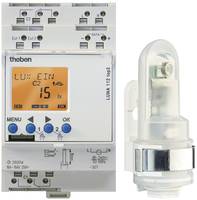 Twilight switches detect darkening due to the natural course of the day and shading and then trigger an electrical signal, which is usually used for lighting control. Typically, these switches are designed as NO or CO contacts to switch on lamps or switch from day to night mode. Some also have fixed time controls integrated or can be flexibly controlled via bus systems in Smart Homes.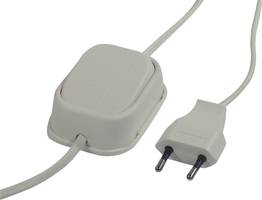 Cord switches are installed as switches directly in the cables of the electronic devices to be controlled or as intermediate adapters. They are available as pedal switches, rotary switches, slide switches, pull switches or push buttons. Dimming functions for lighting are often implemented via so-called cord dimmers.

Sockets & Switches (Misc.)
This category comprises the largest product variety within the switches and sockets and offers a wide range of conventional Schuko sockets for low-voltage power supply in buildings, via special connections such as cooker end sockets, floor mounted sockets blind controls, card sensors for hotels and USB charging sockets.
In addition, there are suitable mounting material for your switches and sockets such as cover plates, frames, buttons, inserts and labeling sheets as well as socket cleaner. When selecting, you can use the Special Features filter to consider criteria such as child protection, lockable power outlet, built-in surge protection, and alternative ports such as Cat5/Cat6, HDMI, and USB.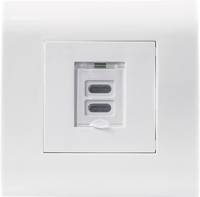 Installation of switches and sockets from A-Z
Similar to the choice of switches and sockets, the variety of mounting options in the filter mounting type is also available. In general, you should ask yourself in advance whether you want to install your switches and sockets firmly or prefer mobile solutions . Mobile solutions make sense if you assume that the rooms are being re-used frequently or if, for example, you are not allowed to interfere with the walls in a rented property. Instead of screws, there is also adhesive for attaching light switches, for example. Wireless solutions enable the flexible positioning of switches, because there is no need to lay cables.
Assembly

Construction means a survey of the basic switch and does not say anything about its anchoring variant. Superstructures are comparatively common in motion sensors, since they can achieve a larger detection angle by increasing a surface-mounted element than if they were to close directly with the wall.
Surface-mount

Surface mounting is called the attachment above the plaster or the wallpaper , i.e. not in or under the wall. This prevents damage caused by invasive procedures. Surface mounting is less complex than flush mounting. Screws or adhesives are often used. Necessary supply cables can be camouflaged through cable ducts.
Flooring

The insertion of switches and sockets in the floor makes sense especially in large halls and multimedia rooms - here extension cables to the intended location of the electrical consumers would inevitably become a stumbling block. Floor sockets should be provided with dust protection when not in use.
Ceiling

Lamps or sensors such as motion detectors are often attached to the ceiling. Connections for multimedia devices such as beamers are also often located above the heads of the audience. Mounting on the ceiling is also a simple sabotage protection in high rooms. However, the direct access to control switches can be complicated by the height, which is why ceiling mounting is often equipped with cables to wall switches or radio modules.
Mounting

The installation of switches is possible in the wall (flush-mounted) as well as in other inventory like furniture or decorative strips. Find out more directly on the product pages for the permitted installation methods. In addition, when installing in closed bodies such as cabinets, you should observe the possible heat generation of the live parts and possibly important status displays of your devices that should not be covered. The cable routing should be done through suitable outlets rather than through hinged doors and other clamping devices, otherwise the lines could be damaged and become a safety hazard.
Top-hat rail

DIN rails are standardized mounting rails on which electronic components are attached from the front. They are often found in the industrial sector, but also in building technology, for example, in utility rooms, where many circuits converge and a clear and easily accessible arrangement system for the individual components is required. In order to attach a switch to a DIN rail, it needs a suitable guide on the back. In many cases, this will be retrofitted separately.
Speaker cabinets

Housing sockets can be safely covered by the enclosed housing when not in use.
Terminal

A clamp is a pinch anchor for a line . Since cables are always insulated as cables for safety reasons, only a small piece of the insulation is removed at the end of the cable.
Screw fixing

In most cases, screw fixing means fixing the frames of sockets and switches to the wall , for which this is prepared with several drill holes. In contrast, the screw fixing also functions within a switch. To do this, a short piece of the insulation of a cable is disconnected and the metal screw conducts the current at this point, analogueous to the terminal.
Pluggable

Plug connections are an easy installation method. When selecting the connections, pay attention to the matching plugs and sockets or to the extent to which incompatibility can be corrected by means of adapters. Sometimes frames of switches with clip plugs are anchored in plaster walls.
Created on

Self-standing components do not require any additional fixing and thus considerably reduce the installation effort.
Table;

Switches, sockets and multimedia connections at tables are often used in office rooms to provide power directly at the workplace . The components are specially designed for installation in tables, for example, where the access directions are different from switches and sockets for installation in cabinets.
Flush-mounted

Flush mounting means laying cables and installing switches and sockets in plaster or directly in the wall. Such an installation is invasive and comparatively expensive, which is why it is usually only used for new buildings and extensive large-scale renovations.
Walls

Wall mounting is the most common installation variant for sockets, light switches and other buttons . It differs from ceiling, installation and floor mounting. Wall mounting options are available with both surface and flush mounting options.
Socket Adapters

Adapter plugs are a practical and easy to install option for laymen. An electric consumer is not plugged directly into the socket, but the adapter plug is placed as a switch between the socket and the device to be controlled. It acts as a function adapter with standardized plug connections.
 Switches and sockets: Important helpers in electrical installation Which switches and sockets are available? Installation of switches and sockets from A-Z   Which switches and sockets are available? T...