About tilt switches and rocker switches
What are tilt/rocker switches?

What are the differences between rocker and rocker switches?

Which electrical connections can be used to install rocker/rocker switches?

What else should you know about tilt/rocker switches?

FAQ – Frequently Asked Questions about tilt/rocker switches

What are tilt/rocker switches?
Switches open or close an electrical connection between a voltage source and an electrical consumer and ensure a permanent switching state until the next switching process. The design of these switches ensures that the live switching contacts are disconnected from the external control elements without accidental contact. The switching process is triggered by human hands.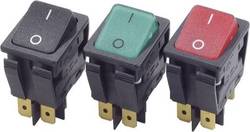 What are the differences between rocker and rocker switches?
Toggle Switches
The rocker switch actuator is a lever in various geometric shapes that is pushed out of the switch housing for easy and quick operation. The lever is installed in such a way that it is disconnected from the live switching contacts in the switch housing for the switching person. When the lever is moved, the electrical contacts in the switch are reliably connected and disconnected. Spring force keeps the shift lever in a defined position or returns it to the starting position. Toggle switches can therefore be differentiated according to latching and momentary variants. They are available with several switch positions, with locks and partially lockable safety elements to prevent accidental switching. The switching positions are available as selection criteria in the menu of our online shop.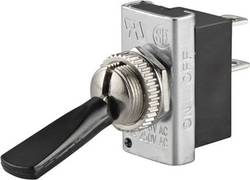 Toggle switches can be selected according to categories such as shape, color and (for illuminated models) lighting colors, connection variants, switching currents and voltages, switching positions as well as material or functionality of the lever.
Toggle switches are available in protection types from IP20 (protection against solid foreign bodies and finger access) to IP68 (dust-tight, full touch protection and protection against permanent immersion).
Rocker Switches
The operating element of the rocker switch is a rocker, usually concave or convex, which actuates the electrical contacts, often by force transmission using other mechanical components such as levers, pins or springs.
After reaching the switching position, the rocker is fixed there with spring force or returned to the initial switching position. As a result, a distinction is made in the category of rocker switches according to latching and momentary models. A special feature is switches with fixed center positions, which can switch from this central position in both directions as latching or momentary operations. The different switching positions can be found as selection criteria in the shop menu.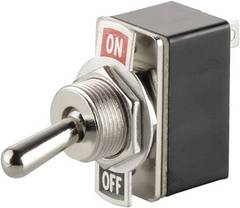 Rocker switches take up less space in the operating environment, as they protrude from front panels or device surfaces only at a low height. They are often illuminated and/or functionally printed. Many models are available in multi-pole versions.
In the Conrad online shop, rocker switches can be selected according to switching currents and voltage. Other selectable categories are connection variants, housing, button and light color, the type of lighting, the available switch positions and printed motifs.
Most rocker switch models comply with protection class IP40 (protected against access with a wire). The highest degree of protection available is IP67 (dust-proof and complete touch protection as well as protection against temporary immersion). The degree of protection that can be achieved may vary with the installation position.
Which electrical connections can be used to install rocker/rocker switches?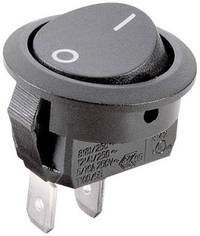 The following versions are available for the electrical connection at Conrad:

Spade connector for cable lugs in standard widths 2.8, over 4.8 to 6.3 millimeters
Solder connections, also as solder lugs, for permanent connection to cable ends
Solder pins, also angled, for soldering to conductor or mounting plates
PCB connections for soldering onto PCBs in standard grids
Quick connections (snap-in) into suitable counterparts or device openings, so that the switch can be mounted or changed without tools
Screw connections for connection with cable lugs or clamps or tinned cable ends or single-core cables in screw loops
Open cable ends, which are led out of the switch housing and can be soldered or screwed together
What else should you know about tilt/rocker switches?
The Conrad range offers you an extensive selection of high-quality rocker and rocker switches, with which you can solve all switching tasks in the professional and domestic sector.
With the corresponding accessories rocker and toggle switches can be extended by safety features and additional functions: Colored button caps, special labeling, protective caps for keyholes, blind pieces, installation frames, covers and much more. As a professional user, you will be able to meet even the most complex requirements for switching processes and the operating security as well as design requirements of your customers.
Flip and rocker switches as well as the matching accessories are partly available in low-cost industrial packaging.
When making rocker and rocker switches, limit values for substances hazardous to health and hazardous to the environment must be observed. The standard term RoHS is offered as a selection option in the Conrad professional shop menu.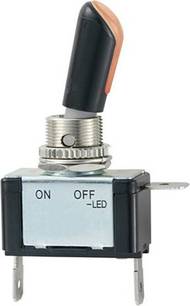 FAQ – Frequently Asked Questions about tilt/rocker switches
What safety instructions must be observed?
Tilt and rocker switches connected to the 230 V mains may only be installed by qualified personnel.
Unauthorized opening and improper repairs to equipment equipped with rocker switches can cause significant hazards to the user. In addition, an existing warranty may be void if unauthorized persons make repairs. Use the manufacturer's support.
The fastening and loosening of the switch housings should only be carried out with suitable tools, in order not to damage the fastening elements and housing.
Data sheets from the manufacturers are available for download for the switches. Use this for a technically sound information before you use or replace a switch when planning an electrical system.
In the event of malfunctions or defects, the switch must be immediately disconnected from the power supply and must not be used any further.
Defective switches belong to public collection points of the municipalities. It is prohibited to dispose of them as household waste.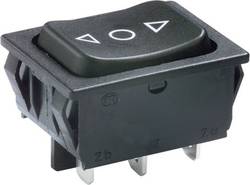 What is the service life of rocker switches?
The number of switching cycles is from 50,000 to 1,000,000 if the application criteria according to the data sheet are met.

How can I detect defects in rocker switches?
Wear and overload result in an arc when the switch contacts are opened, which causes the contacts in the switch to burn off one by one. This contact burn may be noticeable due to odor and leads to increasing contact resistance up to complete failure.
The wear of the tilt, rocker or locking mechanisms leads to an unreliable hold of the switching positions. If the shift position is no longer possible, the switch must be replaced.
In highly vibrating technical environments, such as in cars or machines with an imbalance (floor compressor), the cable and connector mountings may come loose, causing the electrical system behind the switching unit to fail.
Plastic levers on rocker switches run the risk of breaking off if mechanical stress is too high.
  About tilt switches and rocker switches What are tilt/rocker switches? What are the differences between rocker and rocker switches? Which electrical connections can be used to install rocker/rocker switc...