Teksten forneden er maskineoversat fra den tyske originaltekst.
Wires, strands and individual wires: Connect electrical conductors together
What wires, strands and individual wires are there and what are they used for?

What must be taken into account when selecting wires, wires and individual wires?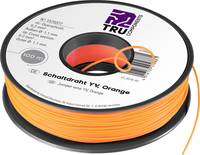 In order to realize closed circuits, power sources and consumers must be connected to each other via electrical conductors. The technology uses wires, strands and single wires. These are available in a wide variety of versions due to the variety of the respective requirements. Together, they are supposed to have as little ohmic resistance as possible and are electrically insulated to the outside. Another important application of wires are the windings of electromagnetic coils and inductors.
What wires, strands and individual wires are there and what are they used for?
Wires are round metallic conductors used for rigid wiring and installation because of the solid cross-section. If wires are bent too often and too tightly, the material can become fatigued and break at the bend racks.

Strands , type identification "Li", consist of many very thin wires that are bundled into one conductor. Therefore, wires are flexible and can be used for connections between movable connections. They can also be laid more easily in pipes and ducts.
Wires and strands are offered in combination as single wires as well as in several wires, e.g. as twin cables or as a multi-core ribbon cable.
In most cases, wires and wires for electrical connections are made of copper because this material has a very low specific resistance at 0.018 µΩ m and to the conductors of the 1. Class. Copper wires used to wire electronic circuits are usually tin plated. These can be soldered better.
For internal wiring that is inaccessible from outside, there are also wires without insulation . These are used, for example, for ground connection, and are therefore voltage-free and can be protected against accidental contact and short-circuits if necessary with insulation tubing.
If the wire is intended for the transmission of high-frequency currents, it is advantageous if it is silver-plated, because with increasing frequency the skin effect acts, which pushes the conductive electrons from the core of the conductor to the surface. Silver has an even smaller cable that can carry noise-sensitive signals or those that must not be radiated, e.g. Low or high frequency, are equipped with an EMC-effective shielding.
For insulation to the surrounding area and adjacent conductors, wires and strands are coated with plastic, usually PVC with different colors, marked with "Y". Specially suitable insulation material is available for applications, especially in industry and manufacturing as well as for outdoor areas.
The insulation material is colored so that the individual lines can be easily tracked and identified in complex installations and wiring. For safety reasons, certain colors are required for wires used in installations or control cabinets, such as green-yellow for PE, brown or black for L phase and blue for N phase.

There are plenty of strands in many colors.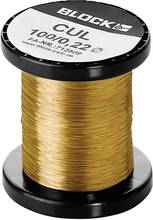 Winding wire for coils is coated with a coating layer for insulation, which is why this is also called "copper wire".
The wires and wires are made in different diameters. This is done by specifying the round area of the cross-section, which lies in the range of fractions from mm² to 250 mm². The current density in an electrical conductor, measured in A/mm², should not exceed a maximum value, so that it does not heat up impermissible. The maximum permissible current density for copper conductors is between 1.2 and 6 A/mm² depending on the application and ambient temperature. The maximum current carrying capacity of the conductors under the usual ambient conditions is defined for the respective cable type in the standards DIN VDE 0298-4, DIN VDE 0276-603, DIN VDE 0276-620 and DIN VDE 0276-1000.
What must be taken into account when selecting wires, wires and individual wires?
A suitable type of electrical cable is available for almost every technical application. The most important selection criteria are determined by the current load and the voltages that occur as well as the ambient conditions in operation. The permissible values are specified in the manufacturer's data sheets. Today available wires, strands and single wires meet RoHS requirements.

Practical examples:
Standard Y-wires and wires are suitable for wiring within electronic devices and control cabinets. For solder connections, tin-plated individual wires should be selected. For screw and terminal connections, wire ends must be provided with wire sleeves. Special "Wire Wrap" wires are available for wiring with winding connections.

The dielectric strength of the insulation of wires, wires and individual wires must be designed in such a way that it is well above the rated operating voltage. The test voltage for wires above 50 V AC and 120 V DC should be 2,000 V for five minutes.

For electrical installations, individual wires may only be laid in pipes and closed cable ducts. Surface and flush mounting is only permitted for sheath cables. In order to protect against exceeding the maximum current loads specified in the standards, the corresponding protective devices in the circuits, i.e. Fuses. Examples: Conductors with 1.5 mm² must be protected with 16 A, conductors with 2.5 mm² with 20 A. The wires and wires for phase, neutral and ground conductors in a circuit must have the same cross-section.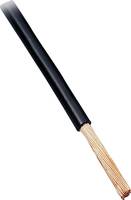 Therefore, wires and wires for automotive applications are subject to large temperature fluctuations and must be suitable for a range from -40 to over 100 0C.

Vehicle lines are exposed to high temperatures.

In industrial environments and manufacturing areas, electrical equipment and aggressive media such as oil, grease, water vapor, etc. are exposed to UV radiation outdoors. The insulation of the wires, wires and individual wires used must be suitable for such ambient conditions.

Special requirements are placed on technical systems in safety-relevant areas, e.g. Lifts, door controls and fire detection systems. In this case, the electrical connections and therefore all wires and strands must continue to function for a certain period of time in the event of a fire. Conductors with halogen-free insulation should be used in fire-hazardous areas.
Teksten forneden er maskineoversat fra den tyske originaltekst. Wires, strands and individual wires: Connect electrical conductors together What wires, strands and individual wires are there and what are they used for? What must ...