Guide
This text is machine translated.
Which housings are available?

What is to be taken into account when selecting enclosures and control cabinets?
Enclosures and control cabinets are solid cases for electronic components. They protect their contents, such as generators, instruments or cables, as well as the environment, for example, from electromagnetic waves. Often, the housings contain fasteners, such as wall mounting.
In addition, housings and control cabinets can take over important functions, such as order through meaningful and clear divisions, a touch protection according to IP-protection class, heating, ventilation and cooling.
Which housings are available?
In the sub-categories for enclosures and control cabinets you can choose between: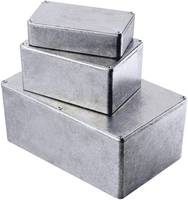 Universal housings cover electronic components. They are available in different sizes and materials. Most of all, economical plastic housings are used, for temperature-critical applications and for optical reasons metal housings are also frequently used. If you order larger quantities, you will receive a quantity discount in our shop for many cases.
Wall/installation housing
Housing for wall mounting is practical because they are hung up in a space-saving way and are easy to use from the front. In the protective boxes you can hide various installations, which are clearly arranged with housing accessories. Some wall housings have a transparent cover so that you can see from the outside whether everything is in the right place.
Desk housings have a beveled shape, on which displays and membrane keypads can be attached for operation. Table housings are suitable as standing and lying housings on straight surfaces, some hybrids are also designed for wall mounting.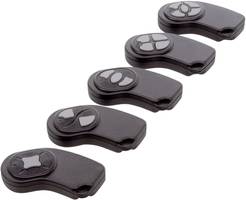 Hand-held enclosures are characterized by their good hand grip and meet increased protection targets for comprehensive touch protection. They are available in various IP protection classes. They are used, for example, for hand-held transmitters and radio controls. Often there are practical fixing lugs for mobile use on the hand-held housing.
19-inch components are standardized in size, which are used in industry, information technology and other industries. The term racks is also commonly used for such components. Circuit boards or entire assemblies are often placed inside. The advantage of standardization to 19'' is that different racks can be combined with each other.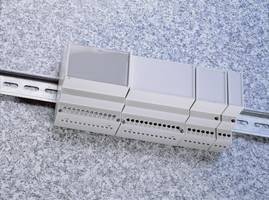 DIN rails are metal mounting rails. Housings with DIN rail devices are used in electrical engineering for mounting parts on open mounting rails, in control cabinets or distribution boxes. The advantages of the DIN rail mounting are the standardized dimensions and the easy attachment by sliding on the side or by attaching it on the front.
Housings for plugs contain electronic components such as voltage transformers or time circuits and have standardized connections. The control is located in the housing, from the outside it can also be safely operated by laymen.
Practical advice
Control cabinets are enclosures that house a variety of electrical and electronic equipment. Like a cabinet, they are often lockable, so they are protected against unauthorized access.
What is to be taken into account when selecting enclosures and control cabinets?
In order to find the right housing for your application, you should consider the following selection criteria: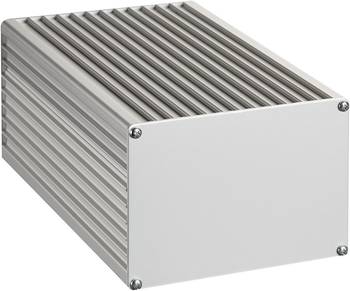 Dimensions
It is important to distinguish between outer dimensions and inner dimensions. You need sufficient space at the place of use for the external dimensions. The internal dimensions depend on which and how many electronic components fit into the housing. Some applications require a little more space inside because the subdivision options do not allow full volume utilization or because heating and cooling elements, for example, are to be retrofitted. There should also be enough space around the outside of the housing to allow the lid and doors to be opened and to allow enough space for maneuvering when content is exchanged flexibly.
Subdivision options
Most housings have a rectangular basic shape and are delivered with hollow inner surface. In order to be able to fix complex circuits and wiring, accessories such as mounting rails, mounting supports, cable clamps and much more are required. Suitable suggestions for the respective housings are presented on the concrete product pages at the bottom right. Here you will find the complete selection of housing accessories. 
Opening and closing mechanisms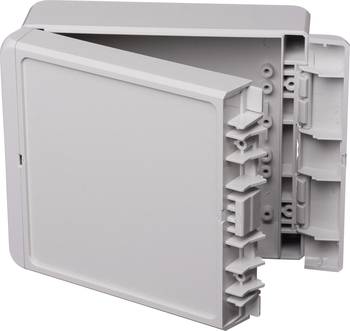 The preferred opening variant should be selected according to how often you have to approach the electronic components inside the housing for maintenance work and how high the danger is that unauthorized access is to be gained. Switch boxes are available with cylinder locks and handles or with simple folding and sliding mechanisms for opening. Housings for component groups can have simple hinge closures, which are partly secured with screws. The higher the effort required to enter a sealed enclosure, the more secure it offers against unauthorized entry.  However, all maintenance procedures are correspondingly more complicated.

Power distribution: Cable outlets, earthing, emergency stop switch
Of course, the electronic components in the control box or housing must be supplied with a power supply that passes through the housing wall. For many fixed mount housings, the outlets are located on the rear. For plug housings, the connections for the entire assembly are on the outside of the housing. Observe the outlet directions if you have little space at the installation location. Also, be careful not to expose the cable outlets to security risks. For example, unsecured, live cables or the ingress of water into a housing with sensitive technology can pose risks. Grounding is provided centrally for many housings or is possible via the appropriate use of the cable outlets. In safety-relevant areas, enclosures with emergency stop switches are also considered for the entire technology.
Assembly
The mounting options for fixing housings and control cabinets to other components or walls are various. There are basic installation options in larger devices, wall mounting, stand and hanging devices. In addition, vibration dampers are sometimes necessary to stabilize the mounting and prevent noise.
The secondary features of mounting options include compatibility with separate controls, such as keyboard slides and status indicators.

The environment of the control cabinet: Thermostats, ventilation & Co.
Some electronic components in housings are particularly sensitive and must therefore be protected against heat and moisture. Sometimes, enclosures and control cabinets are operated under harsh environmental conditions. As peripheral control cabinet to ensure optimum general conditions for your technology, you will find a large selection of blowers, fans, heaters, thermostats, hygrostats and recessed lights for maintenance work in dark areas in our shop.
Search tip: Not only electronic equipment, but also tools want to be stored properly. Here you will find products for tool storage.