Guide
With IP video surveillance, you can keep everything in view
IP-based video surveillance systems are easy to use and are becoming increasingly popular. They use the computer's network for data transfer and are easily expandable. To find out more about the advantages of IP video surveillance and which components play an important role, please read our advisory.
IP-based video surveillance: That's behind it

Components of IP video surveillance

IP Video Surveillance System Purchase Criteria – What's it all about?

Our practical tip: Consider light scenarios

FAQ – Frequently Asked Questions about IP Video Surveillance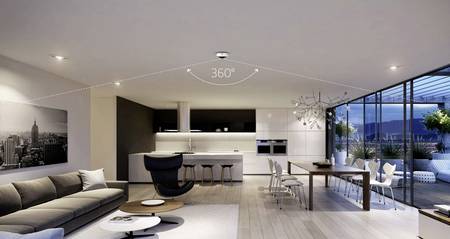 IP-based video surveillance: That's behind it
With the help of video surveillance it is possible to protect your own property, the house or the apartment against unauthorized access and burglary. By recording and documenting events within a certain surveillance area, the results of the investigations can be more accurately reconstructed in the event of subsequent investigations and, if necessary, the perpetrators can be identified. Video surveillance is also used for preventive purposes: If a potential burglar knows that he is being observed, he may give up his project. IP (Internet Protocol) video surveillance has been particularly prominent and gaining in popularity in recent years. This is because IP-based monitoring systems use existing computer networks for data transmission and therefore are very easy to connect – either via WLAN or using an Ethernet or LAN cable.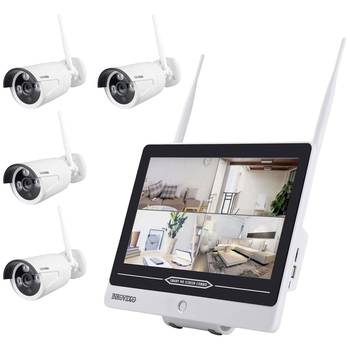 The connection via WLAN or LAN brings with it different advantages. If video surveillance is carried out via WLAN, no cables need to be laid for data transfer, as the signals are transmitted via the IP network alone. This makes the installation very simple and fast. A connection via LAN cable also has its advantages, because if the PoE components are connected, the necessary operating current can be pulled out of the Ethernet cable (PoE = Power over Ethernet). Power supply via mains, rechargeable batteries or batteries is then no longer necessary.
IP surveillance systems are suitable for many applications and are used in private households as well as in companies, trade and industry. They can be extended in many ways, offer a high degree of safety and are easy to use. For example, configurations and settings can be made conveniently on the computer using suitable software. Because the IP system is connected to the network, smartphones, laptops, tablets, and other devices on the same network can access it. In addition, access is possible via the Internet. In other words, IP systems can be controlled by multiple endpoints, multiple users, and anywhere.
Components of IP video surveillance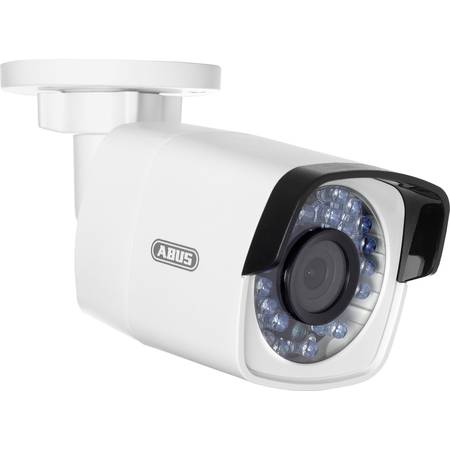 IP cameras, also known as network cameras, are at the center of IP-based video surveillance. They are equipped with an integrated web server and a separate IP address, through which they can be connected to the network or accessed via the Internet. Like analogueue surveillance cameras, IP cameras have analogueue CCD or CMOS sensors. However, they convert analogue signals into digital signals and compress them to transfer them to the storage device via the network. Sensors and alarm transmitters can be connected directly to the corresponding inputs and outputs of the IP camera. Many IP cameras are already equipped with motion detectors and night vision LEDs. If required, the system can be expanded with additional IP camera accessories such as sensor modules.
IP cameras are available in various designs. There are so-called dome cameras, which are constructed in hemispherical shape and equipped with an opaque ball behind which the actual camera is installed. Bullet cameras are elongated and have the shape of a bullet ball (English bullet). Your lens is integrated in the housing and thus protected, but not replaceable. These are different from box cameras that look similar, but have a interchangeable lens mounted outside the housing. Compact cameras with small dimensions and can therefore be used in many different ways. Tilt and swivel cameras are bullet, box or dome cameras that can be aligned at different angles.
IP cameras that focus on integration with Smart Home include Google Nest Cams. You can create live images from the surveillance area around the clock and send a warning to your smartphone or e-mail as soon as something unusual is registered. The recordings are recorded in 1080p HD quality and stored in the cloud. To get an overview of past events, the option is to display the recordings of the last three hours via Nest App (available for iOS and Android). Google Nest Cams are available for indoor and outdoor surveillance and feature night vision mode. The power is supplied via a connection to the mains supply. The devices are equipped with a microphone and a loudspeaker, which enables a bi-directional communication (hear and speak).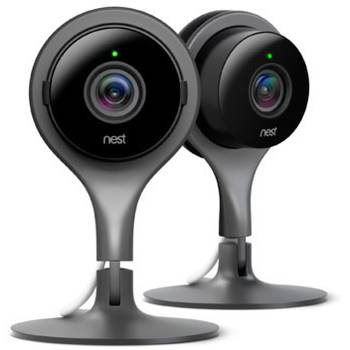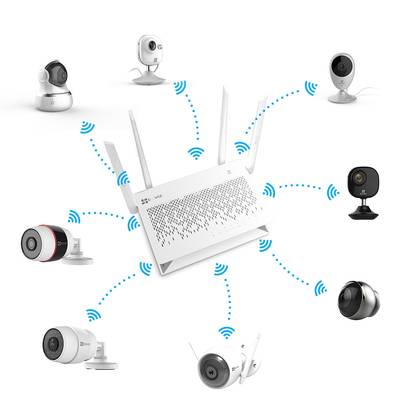 If the IP camera recordings are not stored directly on the PC or in a cloud, network video recorders (NVR) are used. Network recorders have one or more hard disks with very high storage capacity . The amount of storage capacity a recorder's hard drive should have depends, among other things, on the number of IP video cameras connected and the image quality. The higher the resolution of the recordings and the more cameras are connected, the more storage space is required. In order to be able to transfer the recordings to a USB stick or an SD card, for example, network recorders are usually equipped with appropriate connection options.
Network recorders are available individually, but are also often part of network monitoring systems. These are complete solutions, especially suitable for those who want to equip themselves with all the important components for video surveillance. Depending on the version, the sets include a recorder, several IP cameras and, if necessary, other components, such as a monitor. The advantage of such video surveillance sets is that all components are coordinated and compatible with each other.
IP Video Surveillance System Purchase Criteria – What's it all about?
Several factors must be taken into account when compiling and designing an IP monitoring system. Special attention is paid to the IP camera, which is the heart of any IP-based video surveillance system. First of all, the resolution of the camera plays a big role, after all, something should be recognizable on the recordings. For more demanding tasks, an IP camera should have a resolution of at least 2 megapixels. In fact, many models achieve even better quality. 4 megapixel cameras (2k) and 8 megapixel cameras (4k) are now also available. In terms of resolution, IP cameras are already ahead of the curve compared to analogueue video cameras and are currently defining a new standard. However, high resolution is not always necessary. If you just want to get an overview of what's happening in one place, without having to recognize details such as faces or number plates, then a network camera with a VGA resolution (VGA = Video Graphics Array) of 640 x 480 pixels can be sufficient.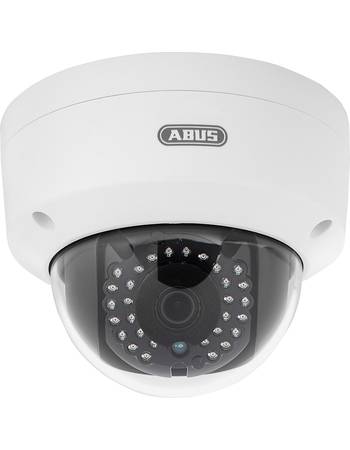 The range of vision of an IP camera should also be adapted to the intended use. 360° cameras offer a full view, but are not suitable for every installation environment. Tilt and swivel cameras can be aligned in different angles and are equipped with a movable arm for this purpose. Since the movement can be perceived, they are more conspicuous than immovable cameras. With the latter, a wide-angle lens can be used to cover the widest possible range of vision. For surveillance in the dark, IP cameras with night vision function are a good choice. They are equipped with infrared LEDs (in short: IR LEDs), i.e. light emitting diodes that generate infrared rays. With this help, the surveillance area is illuminated, so to speak. Infrared light is not visible to the human eye, but the camera recognizes it and can capture the environment in black and white mode. Since natural colors are distorted by infrared light in daylight, most night vision cameras are additionally equipped with a filter that filters out the IR light. It switches on or off automatically depending on the ambient brightness. The range of a camera in night vision mode depends on the number of LEDs installed.
For IP-based video surveillance, it is important that the existing bandwidth is designed for data traffic. A continuous transfer of large video files over the network has a negative effect on the transfer speed. It is recommended to provide a separate broadband connection for security. Unless there is a fiber link, in which case resources are usually sufficient. It is also necessary to specify how the recorded IP videos and images are to be stored. If you want to access the data from anywhere, cloud storage is a good idea. Alternatively, you can store the recordings on a PC, a memory card or other storage media.
Our practical tip: Consider light scenarios 
When installing an IP camera, the ambient light conditions must be taken into account. First of all, the camera must not be directed against the light, otherwise the events in front of the lens are difficult to recognize. It should not be placed in front of reflective surfaces, so that it is not blinded by reflections. It is also best to look at the night conditions, because in darkness, additional light sources are often switched on, which can cause reflections.
FAQ – Frequently Asked Questions about IP Video Surveillance 
Is private video surveillance allowed?
In order to protect property, health and safety, it is permitted to provide cameras to non-public bodies which are in their own possession for the purpose of surveillance. These include, for example, the private property and the home. However, you may not film the property of your neighbor, shared paths or driveways. Your neighbor's personal rights would otherwise be violated.
Do I need to take note of something when installing an IP surveillance camera for the first time?
It is recommended that you do not set up the router via the WLAN connection, but first connect the router and camera to the network cable. Otherwise, the router may not recognize the device immediately. Once the initial installation is complete, the camera can be easily connected to the WLAN.
The IP surveillance camera does not connect to the WLAN. What to do?
It often helps to reset the WLAN camera to factory settings. This can be done either via the menu settings or by using the reset button. This is located on the bottom of most cameras and must be pressed for several seconds. This often requires a connection to the power supply. Resetting the reset button is also an option if you forget your password.