Guide
This text is machine translated.
About laptops
Laptops offer significantly more flexibility than tower PCs. They enable mobile working, surfing, gaming or streaming and have caught up considerably in terms of performance and design in recent years. In our guide, you can find out what types of laptops there are, which areas of application they are suitable for and what to look out for when buying one.
Implement, home computer or gaming station? 

Design and processing of notebooks
The choice of operating system

Accessories for Notebooks
---
Which notebook fits me?
Today, the notebook has become a standard computer and is very popular due to its flexible usage possibilities. It is the most important working tool for many people in the most diverse fields of work. In the private environment, the notebook is used for media use or as a communication terminal, through which contact with relatives, friends and acquaintances is established and maintained. The variety and hardware requirements of notebooks are limited. The technical equipment that notebooks sometimes have is correspondingly broad. To find the right device, prospects should consider what they want to use their notebook and what applications are most important before buying.
Implement, home computer or gaming station?
Do you want the notebook to be a pure tool for everyday office applications? Are not only standard applications such as web surfing and word processing required at home, but also resource-hungry multimedia software? Or is there a need for a greater power reserve for technically demanding games or professional design software? Such a distinction can be used to analyze roughly whether a notebook is above-average performance or should be specially equipped, for example with a 3D graphics card.
In general, several factors define the different weights of possible notebook configurations: Computing power and memory, graphics performance, display quality, hard disk speed, interfaces and connections, design and processing quality. In addition, there is the suitable operating system and the battery capacity.
Computing power essentially determines the speed the computer can achieve when performing its tasks. This is noticeable, for example, in the number of possible parallel applications. Performance also plays a major role in compute-intensive tasks such as editing high-resolution graphics or compressing files.

AMD and Intel processors are available in a variety of designs for notebooks in PC architecture; Apple notebooks, Chromebooks, and Windows tablets are limited to Intel processors of different sizes. 
The performance of the notebook is not just dependant on the main processor. The size of the main memory is also decisive. If the memory is too small, this can slow down the performance of the entire system, even if a powerful processor is installed. You shouldn't save here, because that can be a bit of a retrospect. Current PC notebooks offer a majority of 4 to 16 GB of RAM, with gaming laptops never having less than 8 GB. Basically, the more, the better.
---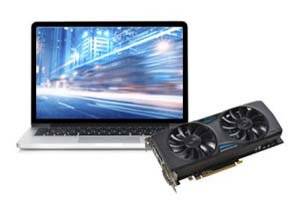 In terms of graphics performance, a distinction must be made between a graphics chip integrated in the main processor and graphics processors from external providers that provide 3D support for the display of high-resolution 3D sequences. Intel HD Graphics is a variety of onboard graphics variants, which are described in more detail in the product datasheet, depending on the version. 3D content can only be displayed to a limited extent with such graphics processors.
On the other hand, dedicated 3D graphics cards are especially appreciated by gamers who want to take advantage of the high-resolution 3D graphics of modern video games. 3D graphics processors are offered by NVIDIA (GeForce series) and AMD (Radeon series). Beyond gaming, they can also bring a performance advantage for graphics applications such as professional graphics design and 3D modeling.
---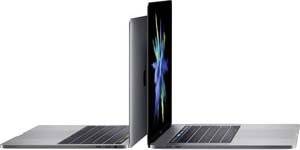 The display is an elementary component of a notebook. Although external monitors can be connected to most notebooks, the built-in display is normally used as the main monitor and is the only display device available while traveling. Notebook buyers should consider how large the display should be. Larger displays are particularly suitable for multimedia applications and computer games, but require more power. In addition, the dimensions and weight of the notebook are larger. Notebooks with smaller displays, on the other hand, are easier to store and usually have a longer battery life.

Displays can be matt or glossy. Non-reflective versions are offered. Matte displays have a coated surface that diffuses the light in different directions. This reduces reflections and the display can also be used outdoors, provided Leuchtkraft Colors and contrasts are more powerful on glossy displays, and the sharpness of the image is more intense. High-gloss displays are particularly suitable for presentations of photos and videos. One disadvantage of glossy displays is that dust and fingerprints are strongly marked on them, was resulting in a higher cleaning effort. 
---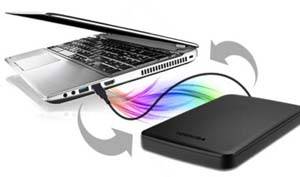 The hard disk as a central data memory is an important component in the overall system. In addition to storage capacity and data security, the access rate is a relevant size. It can significantly affect the speed of the computer and, in certain cases, slow down. In order to accelerate the performance of the system without major upgrades, fixed-memory hard disks or SSDs (solid-state drives) have been used since the end of 2000. They work without moving parts and enable shorter access and response times than conventional hard disks . This makes it possible to work very quickly. However, the price per GB for SSDs is significantly higher than that of conventional hard drives. Accordingly, the total capacity of SSDs installed as standard is often lower.
Because most everyday applications do not require an exceptional amount of storage space, a 256GB GB commercially available SSD can be sufficient. If larger amounts of data are required, e.g. for archiving photos or videos or for installing memory-hungry games, a magnetic hard disk should be selected. Alternatively, an external memory such as a USB hard drive can be combined with an internal SSD. Notebook versions with two hard disk slots are available. This generally combines an SSD as a system hard disk with a magnetic hard disk for pure data storage. While practical, this solution increases the size and weight of a notebook. 
---
Design and processing of notebooks

Since a notebook can hardly be changed modularly after purchase, one should consider in advance which requirements are placed on the design. The physical size of the notebook is defined by the screen size measured in inches. Available options range from 10.6-inch notebooks to 17.3-inch versions. The most common are 13-inch to 15-inch sizes. The information refers to the length between two diagonally opposite corners of the display. The larger the dimensions, the more bulky the notebook. Smaller designs offer less space for, for example, additional integrated devices such as a second hard disk. In addition, the space available for additional connections is reduced.  
Since a notebook is built differently from the stationary computer as a compact device, one should consider how important the processing quality is for the daily use. Even if only one part is defective, the entire device must be brought to repair or even replaced, was sometimes quite a long time. 
---
The choice of operating system
Available in the scope of delivery of the PC version and thus also for gaming laptops especially current Windows systems in different versions as home or pro version. Apple notebooks come with the latest version of MacOS. Chromebooks are a special version, which work with their own Linux distribution, Google Chrome OS. This moves the computer's work processes to cloud applications, was a little bit of a backseat to the hardware equipment of your notebook. The choice depends mainly on the user's habits.
Chromebooks take a cloud-focused approach. The Google Chrome OS operating system is focused on the priority use of cloud services and online archiving. This makes the notebook more like a terminal, which defines its functional scope by the host's capabilities, i.e. the central server service on the Internet. Chrome OS is essentially reduced to the Chrome web browser, so any application runs as a web application. Therefore, no software needs to be installed. However, an Internet connection is absolutely necessary in order to be able to use the full range of functions of the device.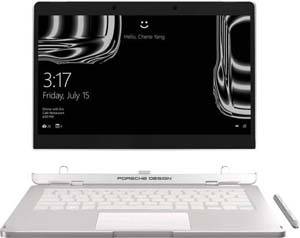 Windows tablets are a combination of a tablet computer and a notebook. This class of device relies on the functionality of a Windows PC and the ease of use of a tablet. Therefore, the devices have a touch screen; the keyboard can be easily separated from the display on some devices, which then functions as a tablet.

Windows tablets are available in a variety of ways: So-called pads work like tablets and can be connected to a keyboard. Convertibles, on the other hand, are hinged with a supplied keyboard. The variants known as detachables also include a connected keyboard, which can be easily solved.
Windows tablets are available in sizes from 8" to 14". The usual features are WLAN adapter, stylus function as well as mobile phone options such as GSM, UMTS or LTE connectivity. 
The luminance and angle dependence of the display are also important variables. Both are measurable, but also strongly dependant on subjective perception. Higher quality displays usually have an IPS display (in-plane switching). This minimizes loss of quality due to changes in viewing angle compared to the classic TN panels (Twisted Nematic). Notebooks with OLED panels are also available. These provide a true black in the image display by individually illuminated pixels as compared to the gray of other display technologies. 

Most notebook displays are available in full HD resolution of 1920 x 1080 pixels. This resolution is sufficient for most available applications, as well as the ability to display films in the best quality. However, lower resolution models are also available, either 1366 x 768 pixels or 1600 x 900 pixels. Higher-end devices have been equipped with high-resolution displays since Apple's Retina display was introduced. Currently, models with a maximum of 3840 x 2160 pixels are available. With a high resolution it is possible to increase the displayable area of a display accordingly. 
The importance of the interfaces on a notebook is often underestimated. For example, a too low number of available USB ports can have a negative impact on everyday use: If other devices of daily use, such as a USB hard disk or an audio interface, are to be connected to the notebook at the same time, it may be necessary to disconnect individual devices temporarily.
The interface standards of notebooks include the microphone and line connection. Meanwhile, the HDMI interface has become established as a standard; however, mini and micro HDMI or display and mini display ports are less common. The VGA port can only be found on a few devices.
Most notebooks offer an SD card reader, sometimes a micro SD slot. USB 2.0 and USB 3.0 are standard. There are now numerous devices with compatibility with the USB 3.1 standard introduced in 2013 and the suitable USB-C connection, which not only enables high data transfer rates, but also a power supply for power recordings up to 100 W.
Wi-Fi is standard on all devices, with different modes available. Since most WLAN routers support the common modes, the user only has to worry about this if he/she has special requirements for the transmission rate.
The availability of LAN connections on notebooks has declined, as the widely used WLAN generally makes the wired version superfluous. Bluetooth is now standard, so that corresponding terminals such as speakers or headsets can be easily connected.  

---

Useful accessories for your laptop: privacy and screen protectors

Protect your laptop from unwanted glances from the side with a privacy film. Our 3M product finder will guide you to the right protection for your product with just a few clicks.
---
Special notebooks

Gaming laptops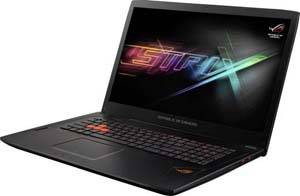 Gaming laptops are PC notebooks that have a particularly powerful hardware and 3D-enabled graphics card. Dimensions and weight are smaller than the processing power and graphics quality. The focus is on high performance, which can guarantee the necessary resources for current computer games. Due to the large space requirements of powerful graphics chips, more complex cooling concepts with large fans and not least the larger display, gaming laptops are offered in 17.3-inch format. 
---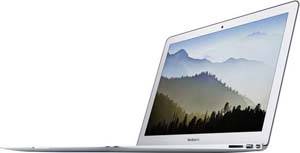 Similar to PC models, Apple MacBooks focus on local data processing. Since MacBooks are offered exclusively by Apple, they are equipped exclusively with the operating system MacOS. Further differences can be found in the equipment details.

Apple computers are generally awarded a higher level of user friendliness through fewer compatibility problems and intuitive operating concepts. This is mainly due to stability problems of previous Windows operating systems in the 90s. At the same time, the closed character of the Apple system is the only thing that makes it possible for external manufacturers to integrate hardware components for Apple computers, subject to restrictions. This minimizes compatibility and security issues while significantly reducing the choice of available hardware components and enhancements over PC notebooks. 
Our practical tip: Set screen size and resolution in relation to each other
Screen size and screen resolution should not be chosen arbitrarily, but should be set in relation to each other. A UHD resolution makes little sense on a small display of 10 inches, as not all the details on offer would be recognizable. A UHD or 4K resolution is only worthwhile from a screen size of 17 inches. Full HD is the right choice for displays between 14 and 16 inches. HD is theoretically sufficient for anything smaller.
---
FAQ - frequently asked questions about laptops
What does core mean in the context of processors?
The core is the core of a processor, i.e. the central processing unit of a computer. The processor is often also referred to as the CPU (Central Processing Unit) and is responsible for carrying out all relevant computing operations. Nowadays, CPUs with several cores are almost exclusively used. The range extends from dual-core processors (2 cores) to deca-core processors (10 cores).
Can a 2-in-1 laptop replace a desktop PC and tablet?
A 2-in-1 laptop does not necessarily match the computing power of a desktop PC, but it does offer more computing power than a tablet. In this respect, it represents a good compromise.
Does a laptop with an integrated DVD burner still make sense today?
That is a question of personal preference. If you still like to create your backups on CDs or DVDs, a DVD burner will be a good choice. Nevertheless, the trend in storage media is clearly moving towards USB, external hard disks and the cloud. Sooner or later, DVDs will hardly play a role any more.