EU fluorescent lamp ban 2023 - plan and prepare early.
The sales ban will apply to compact fluorescent lamps and ring lights from February 2023 and to fluorescent tubes from August 2023. Timely retrofitting helps to save costs and energy.
Saving energy starts with measurement. With mobile and stationary power measurement.
Intelligent measurement technology can be used to identify energy-saving potential and implement it with suitable product solutions.
If you are looking for industrial-grade lighting solutions, Ledvance are one of the leading suppliers of lighting technology on the planet. The company provides a wide variety of LED lighting products and everything else needed to light up smart buildings that operate state-of-the-art light management systems. And making the most of energy-saving opportunities is an integral part of the Ledvance range.

A little goes a long way: Switching to smart LED technology, putting motion detectors in areas that are rarely used, timers and dimmable daylight sensors ensure that the lights only turn on when someone is actually there.

Most lighting fixtures already use LED lamps where possible. In 2023, the EU-wide CFL ban comes into effect. Means acting now, planning ahead and swapping out any lamps and bulbs soon no longer on sale helps avoid supply shortages.

The luminous efficiency of LED lamps matches their traditional counterparts. However, LED bulbs emit light at a different angle. This is why we recommend to look into each individual scenario ahead of replacing the fluorescent tubes, to make sure you maintain the same light intensity levels as before.

As a result of rising energy prices, everyone is talking about energy management. We all have already looking at our utility bills, trying to come up with ways that lower energy usage and optimise power consumption. These days, being energy-efficient is key. Many businesses are upgrading equipment, or are change their production methods. Which also includes scheduling plant and machinery maintenance and repair work at proper intervals.
These days, testing doesn't just refer to knowing how to use a C.A. product. It also means being able to evaluate the collected data correctly. This is why Chauvin Arnoux supports customers by offering an extensive range of training in the form of workshops. More Chauvin-Arnoux products are available at the Chauvin Arnoux Brandshop.
Measurements are the basis for any improvement in the energy efficiency of a plant and for monitoring power grids. Accurate energy measurements and the correct allocation of the measured consumption data for machines and plants, are the prerequisites for energy optimization. Only in this way can diagnoses, controls and improvement measures be effectively enforced in the long term.
The PEL energy data logger series by Chauvin Arnoux comprises affordable and easy-to-use meters for all tasks that need to comply with ISO 50001 standards. PEL collects and stores energy consumption of electrical plant, thereby helping improve the energy efficiency and lower the running costs. As PEL series loggers are portable and easy to fit, this allows monitoring the power usage at different points of industrial and commercial electrical installations. The product comes with PEL Transfer software which makes collecting, storing and analysing key consumptions data for all types of grids an easy and straightfroward process.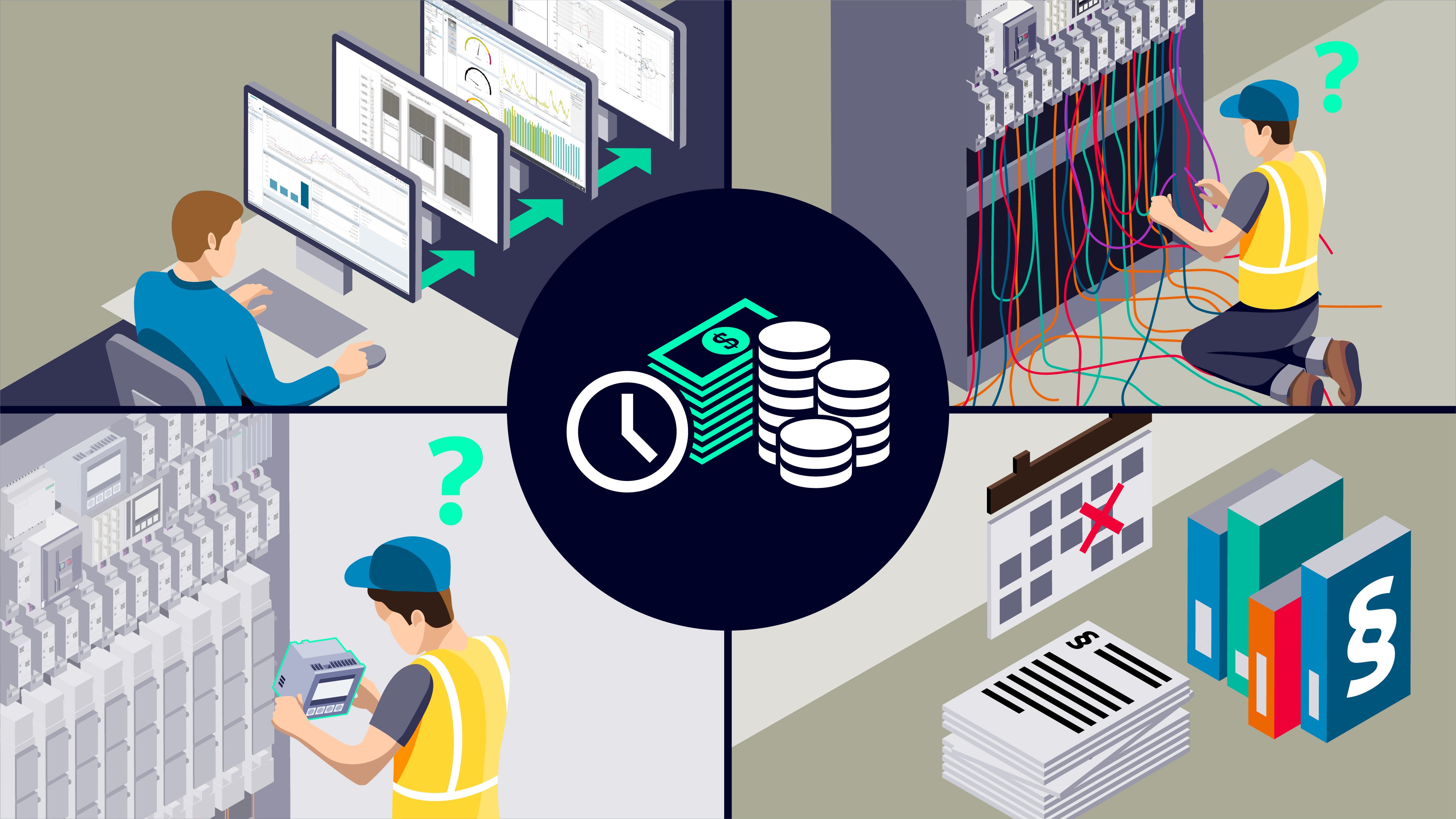 How to Comply with the Latest Building Wiring and Plant Installation Rules
High labour costs, very little space for new features, overly complex retrofitting of existing plant and constantly changing industry standards make dealing with time and budget constraints difficult. On top of which safety components protecting electrical wiring need to be able to cope with higher and higher load.
© Siemens AG 2022. All rights reserved.
Adding genuine value – Sourcing made simple and efficient
You might also be interested in.

100 years Conrad
Celebrate with us and benefit from great anniversary offers that will make your daily work easier

Conrad Energy Saving Guide
Tips and things to know. Ways to reduce your energy costs.

Subscribe to the newsletter now
Stay up-to-date and benefit from many other advantages.