18650 rechargeable battery
About 18650 batteries
What is an 18650 accumulator?
What is the difference between the 18650 batteries and other lithium-ion batteries?
What are their advantages?
Where are 18650 batteries used?
What is the distinguishing feature of 18650 batteries?
What is an 18650 accumulator?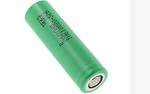 18650 rechargeable batteries - or 18650 rechargeable batteries in short - are the names for a special-size lithium-ion battery. The number 18650 is the name for the dimensions of the battery cell, which generally comprise a diameter of about 18 mm and a length of 65 mm. The batteries of this size have evolved over time into a kind of standard size and are now used in many different devices. If they are not firmly integrated into a facility, they can be charged externally using a special charger.
What is the difference between the 18650 batteries and other lithium-ion batteries?
Just like other lithium-ion batteries, the 18650 batteries use an electrochemical process to store or deliver current. Each cell consists of three main components: A positive and a negative electrode made of reactive materials and an electrolyte. All three components contain different parts of the name-giving lithium ion (LI-ion). The electrodes are separated from each other by a separator, which can be adjusted for the LI ions. The moving ions and the electrochemical process generated by their movement finally enable the charging and discharging of the battery. The charging time depends on different factors: This includes the capacity of the battery, the charging current provided by the charger and, of course, how far the battery is discharged.
What was different from other batteries in the 18650 LI-Ion batteries are their handy dimensions in combination with the high maximum charge quantity: The typical capacity of the 18650 cells is relatively high and is between 0.8-3.5 Ah. On the one hand, they can be used in a wide variety of electrical handheld devices, on the other hand, they can also be a space-saving alternative for larger electrical devices as a combination of several rechargeable batteries. Other features besides the capacity are the different options with regard to the charging voltage and the discharge current, which make the batteries flexible to use.
What are their advantages?
The 18650 LI-Ion batteries have certain advantages over other versions due to their special design. With their dimensions, they are hardly larger than an AA battery and thus still relatively small, but also very light and at the same time high capacity. Their service life is very high - 300 charge cycles are often indicated here, but with proper handling this number can be much higher - they have a low self-discharge and due to the high demand of recent years they are now relatively inexpensive to maintain. The large selection of different materials on the electrodes allows the individual batteries to be adapted to the later use: The memory effect of LI-Ion batteries, which is already low, is completely removed in special versions such as lithium iron phosphate batteries.
Where are 18650 batteries used?

Due to their high energy density and low weight, these batteries are very much used in mobile devices. The manufacturers of notebooks, digital cameras or high-performance torches like to use these batteries as energy dispensers. These rechargeable batteries can also be found more intensively in wireless power tools such as drills, motor lugs or hedge trimmers. And in solar lights, the powerful 18650 batteries are increasingly removing the sensitive NiMH batteries.
The 18650 rechargeable batteries also play a very important role in the ever-increasing electric mobility. In electric scooters, electric bicycles or electrically driven lifts and electric cars they serve as reliable electricity storage. For this, many individual cells are connected together to form a large and powerful battery pack.
But also hobbyists and model makers like to use these cells. Especially in the flight model range, the low weight and the high capacity are an enormous advantage. On the other hand, hobbyists and makers appreciate the low self-discharge. Electronic circuits with low power consumption can thus be operated reliably over a very long period of time.
Rechargeable battery for e-cigarettes
Quality is particularly important for e-cigarettes in the 18650 cell. In addition to a high voltage and a high current, high capacities are required at the same time with a low operating temperature. In addition, the rechargeable batteries must have a reliable protection against short-circuit, overcharging and deep discharge.
What is the distinguishing feature of 18650 batteries?
Due to its wide range of applications, the 18650 batteries offer a wide range of different versions. If you choose, you should take advantage of this diversity to determine the best option for your project. In addition to the mentioned performance data in the form of capacity, voltage and discharge current, aspects such as the available connections, a required protective circuit or special features with regard to high current and high temperature capability must be taken into consideration when purchasing.
Connectivity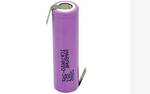 The batteries can be purchased for different applications with different connectors. Thus they are available as a flat-top version, with cable connections or with soldering tags in U and Z-shape. For special uses there are also copies, which have a USB connection like a USB stick.
Protection circuitry
Like other LI-Ion batteries, the 18650 batteries are sensitive to deep discharge or overcharging. For this reason and because of their high capacity, the batteries are produced with integrated protective circuit, which protects against these phenomena and guarantees a safe use. Protection is important, not only because it protects the accumulators from damage, but because otherwise, for example, a fire or even explosion can occur during an overload. Possible protective circuits are Protection Circuit Modules (PCM) or Battery Management Systems (BMS). Protective circuit and heat sensors should also be used with the respective chargers when the batteries are charged externally.
High current capability
If the battery is to be used with high current later on, make sure that the selected model is suitable for this purpose when purchasing. Not every 18650 rechargeable battery can process the high voltages and can thus be used without further ado for operation with them.
High temperature capability
Depending on the application, it is necessary to check the selected battery for high temperature capability. Since the electrochemical process for charging and discharging in the cell is susceptible to extreme temperatures, the available temperature range must be checked. This is usually between -10 and 60° C, but can° also include other ranges such as -20 and 75 C.
The 18650 LI-Ion batteries are the solution for a variety of challenges. On the basis of the criteria presented here, you can find the right battery for every task from the wide variety of our shop.
(This text is machine translated.)
About 18650 batteries What is an 18650 accumulator? What is the difference between the 18650 batteries and other lithium-ion batteries? What are their advantages? Where are 18650 batteries used? What is the distinguishing feature of 18650 batt...