This text is machine translated.
About twin wires/multi-wire strands
What was twin/multi-core strand?

Which twin/multi-core strands are available from Conrad?

FAQ - Frequently Asked Questions about twin/multi-core strands
What was twin/multi-core strand?
In the category twin wires/multi-core strands, Conrad mechanically detects single wires connected to each other at the insulation, the number of wires of which ranges from two to eight. Rigid, insulated, twisted wires can also be found in this category.
Stranded wires are electrical cables consisting of several very fine and twisted wires. The design of stranded wires is described in the standards DIN VDE 0295, IEC 60228 and HD383 respectively (HD stands for harmonization document). It is divided into the following classes:

Class 1: Single-wire conductors for single and multi-wire cables
Class 2: Multi-wire conductors for single and multi-wire cables
Class 5: Fine-wired copper conductor for single and multi-wired cables
Class 6: Extra-fine copper conductors for single and multi-wire cables
These classes can be found in most technical descriptions of the strands.
Stranded wires are suitable for the wiring of moving components with medium mechanical stress, as connecting cables in the measurement and laboratory area as well as for low voltages.
The insulation serves to protect the outside world against the live conductor and has properties such as flame-resistant, self-extinguishing or oil-resistant. The insulation material is available in various color families and combinations, so that the wires can be reliably assigned in one wiring.
The temperature ranges of the twin wires/multi-core strands are differentiated according to rigid or moving laying. Wires with silicone insulation have a much larger temperature range than conventional insulated wires.
Which twin/multi-core strands are available from Conrad?
The following options are available for electrotechnical aspects:
Number of wires: From 2 to 8
Cross-section per core: From 0.04 to 0.6 millimeters
Contents (packaging unit): From 5 to 3,000 meters and availability as a piece of goods
Category
Stranded wire (this is meant in its original form)

Wire which is considered twisted as a special form of stranded wire.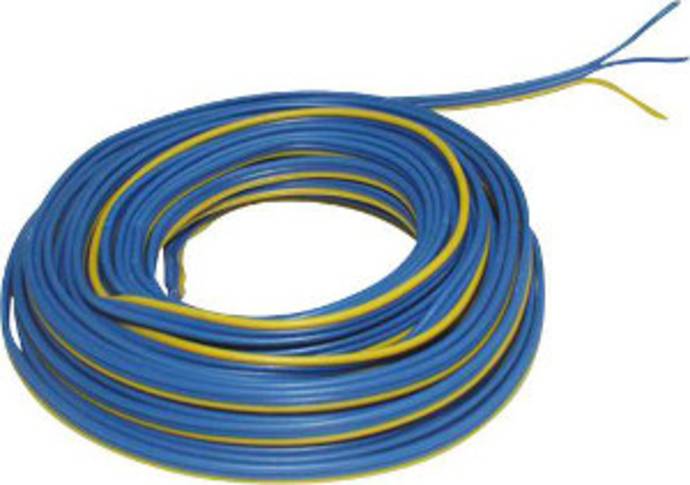 Key features
CCA conductor
This abbreviation stands for Copper Clad Aluminum, in German copper-coated aluminum. These cables were often used in the past because they were cheaper than copper cables. However, they conduct worse, which is why a cable cross-section of approximately 1.6 times larger is to be selected.
Flat design
The individual wires are basically arranged next to each other and connected to separable webs. Flat cables also have the advantage of not being "tangled" as strongly as round cables.
Flame-resistant
Detects lines that produce little corrosive gases and smoke in the event of a fire. This is achieved by a special plastic mixture of the insulation. Oil-resistant pipes (oil flex) are also detected here.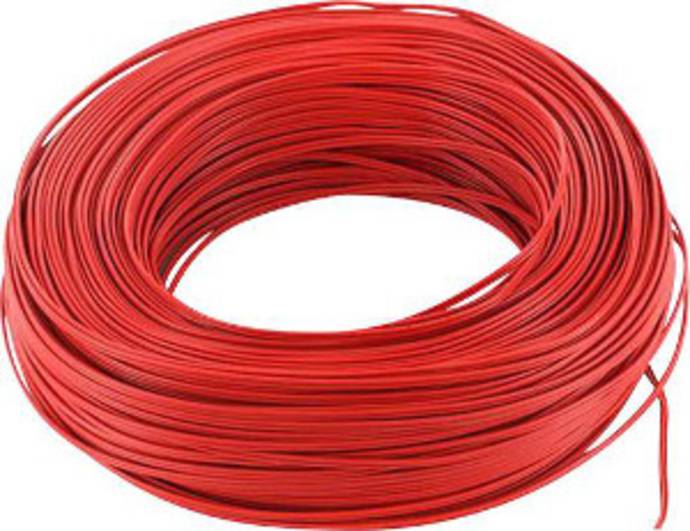 Flexible
Combines all original strands in different wire versions.
Shielded
Rigid cables marked "… (St)… " in the cable type are provided with a shielding that prevents the mutual interference of radiation from or radiation into the cable.
Halogen-free
The insulation of these cables is free of halogens such as bromine, iodine, fluorine and chlorine. This means that in the event of a fire, there are no toxic gases or gases that attack other materials (corrosive).
Fixed
Offers all twisted, rigid wires for routing in pipes, in closed installation channels and for internal wiring of devices.
Cable type: This calls up the internationally used abbreviations, which consist of letter and number combinations. This shows the application possibilities of the twin/multi-core strands.
Important abbreviations
All wires, cables and cables are marked with abbreviations. There is a European standardization. Cables of identical design from other countries can still bear completely different names. Below is a small selection of important abbreviations:
H
stands for wires according to the short-name system harmonized within Europe.
LiY-Z
switching wire self-extinguishing and flame-resistant.
FRNC
"Flame Retardant Non Corrosive" for insulating coats that are flame resistant and do not release corrosive gases in the event of a fire.
LSNH
"Low Smoke - No Halogens" is equivalent to FRNC.
YV
rigid jumper wire with PVC insulation.
FAQ - Frequently Asked Questions about twin/multi-core strands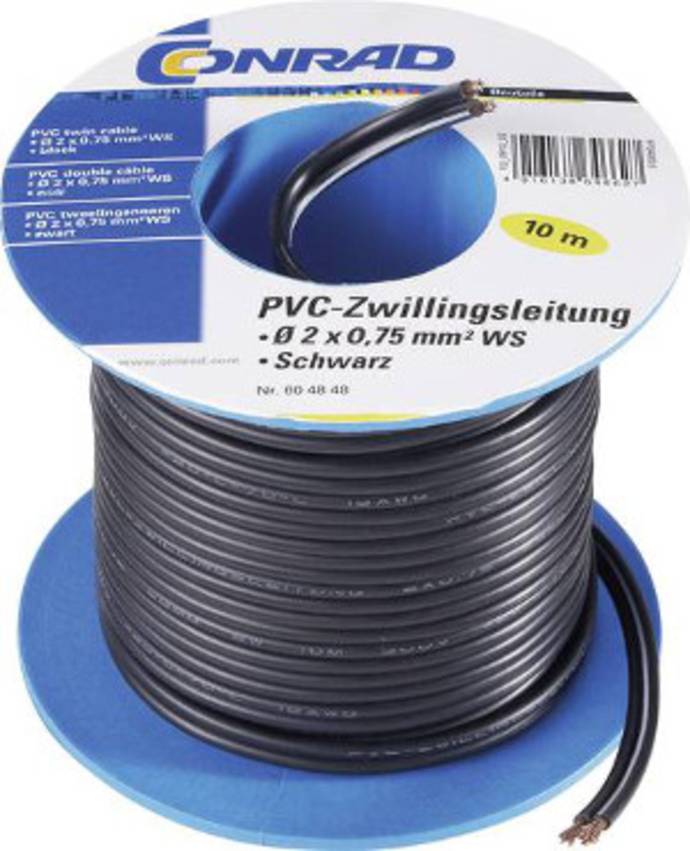 What was to be observed when using twin/multi-core strands?
All cable installations are the property of trained specialists, also in the laying and repair of wires in the low-voltage area. Various regulations must be observed to prevent the danger to persons and objects from electric current.
Always use the wires according to the available voltages and in the prescribed temperature ranges. Keep mechanical loads away from wires.
Adhere to minimum allowable bending radius specifications. These radii are quantified differently, depending on the fixed and movable installation.
Always use wires with the same electrical characteristics and color-identical insulation for repairs.
Special requirements apply to special environments, for example in public buildings, lifts, fire protection and other special doors, as well as safety, fire detection or emergency systems.
Which strand is used for what purpose?
Use the extensive documentation of the respective manufacturers about their products to plan and execute your project according to the regulations. For most of the strands at Conrad, these documents are available for download on the product page.
How long does a cable last?
The service life of cables is indicated with 30 to 50 years, depending on the manufacturer.
How do defective cables become noticeable?
Clearly visible cable and/or insulation breakage or breakdown
A complete failure of the power supply or individual components of an installation
Current fluctuations when individual wires of stranded wires are interrupted
Heating of the cable
Disconnected electrical connections on the connected components
This text is machine translated.      About twin wires/multi-wire strands What was twin/multi-core strand? Which twin/multi-core strands are available from Conrad? Important abbreviations FAQ - Frequently Aske...