This text is machine translated.
About 3D Printer Filament
What is 3D pressure used for?

What are 3D printer filaments?

What 3D printer filaments are available from Conrad?

What must be observed when handling 3D printer filaments?
What is 3D pressure used for?
With 3D printers, it is possible to produce your own three-dimensional objects such as toys, animal figures, jewelry or parts for model construction. Larger, more complex and mechanically resilient objects with perfect surfaces and bends can be produced with professional 3D printers.
The speed and resolution parameters are as important for 3D printers as they are for their 2D siblings. In addition, another factor is essential for the print result: Which materials are used and how can they be processed?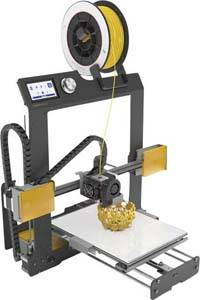 There are currently three 3D printing techniques, which differ in the starting material and modeling technique used:
3D printing with powder
3D pressure with liquid materials
3D printing with fused materials (FFF as abbreviation for fused filament fabrication)
The last mentioned procedure is decisive for the products available from Conrad.
The basic principle is always the same: The data for printing comes from a 3D template, which can be designed with CAD software or created using a 3D scanner. Some of the most common file types are OBJ, PLY, STL, DXF, VLMR, or 3DS. These files contain very extensive information and may be enriched with separate image or vector data. This "feeds" the 3D printer via the interface. The model is then constructed from the above-mentioned media. 3D printers apply thin layers one after the other, which harden individually. The so-called "Fused Deposition Modeling" (abbreviation FDM) is used – the most widely used method with molten materials
What are 3D printer filaments?
Filament materials are used in thread form (filament), which become liquid or formable under heat. This can be thermoplastic plastics such as PVA, PET and nylon, but also metals and wax, for example. The material is heated in the printer nozzle and thus liquefied. Then it is applied to a layer at specific locations according to the specifications of the file – similar to an inkjet printer that sprays color on the paper if an element is to be displayed. When it cools down, the processed filament hardens and merges with the already existing layer. This creates the desired object layer by layer.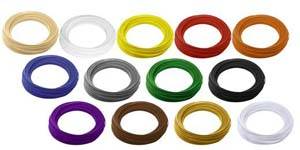 One disadvantage of the process is that the model does not harden completely immediately, depending on the volume. Therefore, support structures may be used. Important indications for the use of 3D printer filaments are low shrinkage upon cooling and good thermal properties, represented by the heat resistance temperature with the abbreviation HDT ("Heat Deflection/Distortion Temperature").
Printers and the material are relatively inexpensive to purchase and are therefore also suitable for private users.
There are a wide range of filaments for 3D printing , for example the versatile synthetic polymer PLA, highly resilient and heat-resistant ABS, special filaments such as Laybrick and Laywood made of sandstone or wood particles, filaments with metal content (such as copper, brass and bronze), resin filaments and thermoplastic elastomer (TPE).
What 3D printer filaments are available from Conrad?
The 3D printing filaments in Conrad's online shop meet European quality standards.
In addition to filter options based on price, new products and offers, store availability and brand, there are selection options based on the following criteria:
Filament material:
Comprises around 20 different plastics and material compounds. Here you will find all common plastics and their combinations, resins, the innovative materials BendLay as well as photo-sensitive materials.
Filament color:
There is a wide variety of applications, including transparent, translucent and fluorescent versions.
Filament diameter:
1.75 and 2.85 and 3 millimeters
Category
Distinguishes not only unspecified filaments by filament with resin (extract from dehydrated natural resins), packages with several filaments and the special variant photopolymer resin.
Weight:
50 to 8,000 grams
Filament properties:
Products with special properties such
as (semi-)flexible, luminescent or water-soluble Use the manufacturer's data sheets to find the right 3D printer filaments for your requirements!
What must be observed when handling 3D printer filaments?
There are a number of things to consider when dealing with 3D printing technologies, including general safety when using 3D printing machines, air emissions and indoor air quality.
The printers must be handled with care because of their high-voltage power supplies, moving components and hot surfaces and should be tested and certified by an external testing center, as with the materials used.
Follow the operating instructions of the printer and the safety precautions described in this manual to use the correct filament, feed it and process it as intended.
The filaments should be stored in a temperature range specified by the manufacturer in order to maintain the desired product characteristics. Also use the filaments within the specified time limits.
If people come into contact with the printer materials or vapors or particles escaping from them, first aid measures must be taken. In case of doubt, also for your own safety, consult an emergency doctor. Key actions include:
In case of inhalation: The person concerned should be taken to fresh air immediately. If necessary, give oxygen or provide artificial ventilation. Fast action is essential.
In case of skin contact: Remove contaminated clothing and wash skin thoroughly with mild soap and water. Rinse with lukewarm water for 15 minutes. If the adhesive is sticky, first use a water-free cleaner. If you feel unwell or if you are irritated by the person concerned, consult a doctor.
In case of eye contact: Rinse immediately with clean water for 20 to 30 minutes in case of eye contact. Withdraw eyelids frequently.
If consumed: If a large amount has been swallowed, give lukewarm water to drink if the person is fully conscious. Do NOT induce vomiting.
 This text is machine translated.     About 3D Printer Filament What is 3D pressure used for? What are 3D printer filaments? What 3D printer filaments are available from Conrad? What...