3D printers: Fast production of prototypes and spare parts
How does a 3D printer work?

About additive printing procedures

What can a 3D printer do?

How to find a good 3D printer?

From the 3D printer template to the print result

Learn in class with 3D printing

Equipment for 3D printers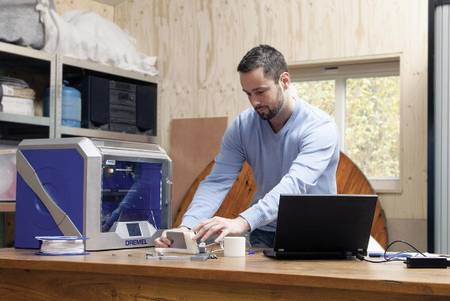 How does a 3D printer work?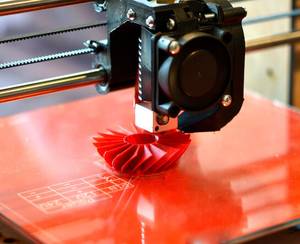 3D printers were a milestone for businesses. The rapid production of prototypes or spare parts are just two examples that significantly accelerate certain processes in companies. Even in private use, the printers are a useful tool . Print your own favorite cup, children's toys, spare parts and individual pieces - almost everything is possible. See our guide to learn how 3D printers and the most common printing techniques work.
With a 3D printer, various three-dimensional objects are produced in layered design, including self-designed objects . The object you want to print must therefore be digital as a three-dimensional model. You can download complete 3D designs from the Internet or create them yourself in a suitable program.
To create a real object from the resulting file in the 3D printer, all devices contain a corresponding software. This calculates the necessary tool paths and commands for the printer.
Printing is done with a nozzle that moves in all directions, i.e. sideways, forwards and backwards as well as up and down. The thick printing material (filament) comes out of the nozzle as a thin thread. The nozzle moves over the print bed in the pre-calculated tracks and applies the thread in several layers one above the other. The 3D object thus grows up from the bottom layer by layer, whereby the applied material quickly hardens again. A closed 3D print object is not completely filled with filament. Inside the parts, the 3D printer creates a grid structure where the material thickness of the grid is individually adjusted. This saves material and the object remains stable.
The technical term additive manufacturing refers to the printing process described above: One layer after the other is added until the printed object is finished. This manufacturing process also results in the grooves on 3D models.

Our practical tip
3D printers are now available in all price categories. However, one should be aware that remarkably low-priced devices do not compete with higher-priced, well-processed devices in terms of precision and quality. This is particularly annoying when printing replacement or components, where accuracy is required. conrad.de therefore offers you 3D printers of high quality, which provide you with the corresponding result.
Our practical tip: Think about calibration!
The basis for a good result is the correct setting of your device. Find out everything about calibrating your 3D printer in our " 3D Printer Calibration " guide.
For the "Calibrate 3D printer" guide
About additive printing procedures
Overview of additive printing procedures
Within the additive printing processes (also called generative production) there are different technologies with individual advantages and disadvantages.
Powder bed processes (powder processes)
In a basin-shaped construction area, powder is applied layer by layer first, then binder . The printer distributes the binding agent where the 3D object is to be created. After each shift, the pressure plate lowers by one slice height and repeats the process. As an alternative to the binder, 3D Printer uses energy. The powder layers are then hardened by heat, for example, and connected to each other.
Powder bed techniques include Selective Laser Melting (SLM), Electron Beam Melting (EBM), Selective Laser Sint (SLS), Digital Light Processing (DLP) and Polyjet Modeling.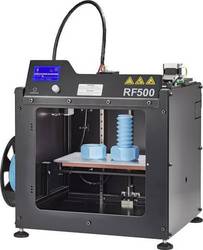 As described at the beginning of the advisory, the model is created in the free-space procedure in layers . The printer places the filament on the construction plate where the 3D printer template provides for this. The filament is usually solid and softens by heat, making it easy to press through the nozzle. If the model contains overhangs or cavities, the device also prints support structures to prevent deformation of the still viscous filament.
The most common method is FDM (Fused Deposition Modeling) , which has experienced enormous growth in recent years. FDM is particularly characterized by simple handling and high cost efficiency. It is also suitable for a wide range of applications as well as for beginners and professionals alike.
To preserve the object, the pan-shaped panel is first filled with liquid photopolymers. Depending on the procedure, laser irradiation hardens the liquid where the mold is to be formed. For example, in Digital Light Processing, lasers treat photopolymers from above in the form of a dot pattern.
The liquid process category includes Stereolithography (SLA), Digital Light Processing (DLP) and Lithography-based Ceramic Manufacturing (LCM).
Popular 3D printing methods: Fused deposition modeling and stereolithography
The 3D printers on conrad.de use either fused deposition modeling or stereolithography. Together with polygraphy, selective laser sintering, 3D printing and selective laser melting, these are among the most common production methods.
The use of the free space method Fused Deposition Modeling , or melting coating process, is suitable where accuracy is required. For example, for precise components that have to withstand complex tests and harsh environments. Hardware, tools and prototypes in the automotive and medical industries are also often produced in this way. In the private environment, all imaginable parts can be printed, for example, spare parts in model construction, figures, cups or toys.
In the case of the FDM, the model is made of plastic layer by layer. As it is pressed by a hot nozzle, it must be able to melt and cool down and harden quickly. Depending on the shape, support structures are also required here.
Thermoplastic materials such as ABS and PLA filaments are suitable. Filaments made of brass, copper or bronze particles are given their true-to-life metallic shine after polishing or grinding.

The liquid process Stereolithography manufactures filigree models and components, cast models, functional components and prototypes in mechanical engineering, in the automotive industry and in medical technology. This process is also well suited for end products such as perfectly fitting hearing aids. The 3D printers can be used universally in the private sector, but the maintenance effort required after printing is a bit more expensive than with FDM printers.
The model is created by sinking layer by layer into a liquid bath of photopolymers. A laser beam cures each layer before the resulting model is immersed in the liquid for another layer. To prevent the object from floating away during printing, support structures are created parallel to the object. These small columns can be mechanically removed at the end. It is important to thoroughly clean the finished model at the end and avoid contact with the skin. The curing takes place in a UV chamber.
3D Printing with Ultimaker 2 model:
Click here for the Youtube video
Stereolithography - Rapid Prototyping:
Click here for the Youtube video
To the stereolithography printers
Advantages of additive manufacturing for companies compared to traditional processes
Faster and more cost-effective production , for example, through lower material costs and error reduction in prototype development
Just-in-time production of 3D objects
Functional and complex as well as filigree printing products
High flexibility in the production process through ad hoc changes and quick implementation of change requests
Lightweight construction : with 3D printing, it is possible to realize shapes that are not possible or difficult to implement with conventional production methods. The 3D designs thus set new standards in terms of weight, design and stability.

Advantages of additive production for private users
Production of required parts in a short time
Individualization : no desire for mass goods? With the 3D printer you can create individual pieces.
Enjoy the puff and design

Our practical tip
Copyright applies to 3D printing . This means that not every template can be changed, distributed or printed at all. The legal regulations concern, for example, works of art or branded products. So before you start, you should just take a look at the provisions in private use.
What can a 3D printer do?
3D printers enable users in the private and commercial sector to produce unique objects with a mouse click. Here is an overview of the possibilities:
Production

Rapid prototyping
Small series production
Individual piece production
Sample production
Model making/railway

Manufacture of parts and conversion
Individualization of standard components
Manufacture of spare parts
Manufacture of true-to-scale miniatures
Craftswork

Low-cost entry into CNC processes
Individual piece production
Scale models
higher education;

Learning 3D designs: Result is immediately tangible
Improvement of spatial thinking
Linking theory & practice
Art and design

Production of scale models and sculptures
Jewelry design, especially prototypes and design patterns
Architecture

Cost-effective, fast designs for customers and competitions
Implementation of floor plans as a miniature model
How to find a good 3D printer?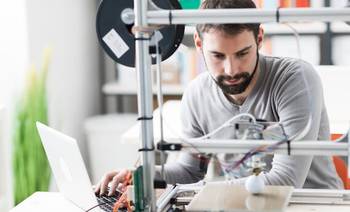 If you want to create complicated shapes and precisely fitting parts with the 3D printer, you need a 3D printer with good print quality. The following factors are decisive here:
Print layer height
The thickness of the printed material applied varies between 0.02 and 0.2 millimeters. The thinner a layer of pressure, the finer and more precise the model becomes at the end . Moreover, the grooves between the individual layers of pressure are less noticeable. This feature makes the difference between high-quality and low-priced 3D printers, among other things.
The hot-end and extruder
of the extruders is the heart of a 3D printer: It and a hot-end nozzle melt and shape the filament and build up the object. 3D printers have either one or two extruders.
A device with two extruders (dual extruders) is particularly recommended for professional use. The pressure of support structures, for example from water-soluble PVA, can achieve better printing results. The filigree supports are easy to remove. In addition, different materials such as soft and hard fabrics or several colors can be processed in one model.
For 3D printers with dual extruders
Pressure space
The size of the pressure space is specified as the X, Y, and Z axes. As a rule, these range from 100 to 250 millimeters per axis. This allows you to produce larger or more objects in one print.
Print bed
here are heated and unheated versions. If you have a high quality standard, you will better reach a heatable print bed that gets at least 100 degrees Celsius hot. This improves the adhesion of the model and it cannot become entreed. This often happens because the freshly printed parts are unevenly warm and thus can be shaped differently.
The material of the print bed has an influence on adhesion and temperature distribution. Glass, ceramic or aluminum cast plates are recommended here. To ensure that the model adheres optimally to the printing plate during printing, appropriate adhesive films or adhesive sprays are suitable. These can be applied to heated and unheated pressure beds.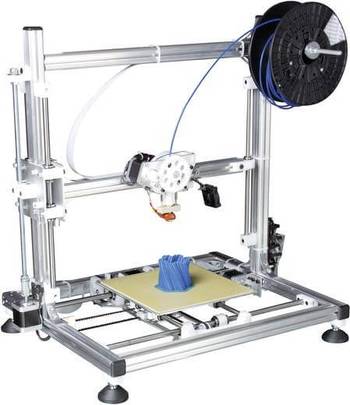 Material
for 3D printers (filament) important criteria for the printing materials are hardness, flexibility and temperature resistance . The printing material for the conventional FDM process is usually made of PLA or ABS filaments. At the same time, almost every plastic is available today for 3D printers, whether high-strength polycarbonate or abrasion-resistant nylon.
PLA is a natural plastic that is biodegradable. It is UV-resistant and easy to process. In addition, it is best to adhere to a glass plate or mirror mounted on the printing plate during printing. A heated plate is not necessary. However, PLA deforms at 60 degrees Celsius . It is therefore not suitable for objects such as cups that heat up during use or come into contact with hot materials.
There are also PLA filaments with wood, bronze, brass or copper components. These are deceptively similar in appearance and feel to the original material. Also available are transparent filaments or filament filament filament that can be illuminated in the dark.
The plastic ABS is made of petroleum , is impact-resistant and less heat-resistant than PLA. Therefore, it is also suitable for post-processing such as polishing or grinding. However, it is more difficult to process and requires a heated print bed .

Other filaments are:
PVA: Water soluble filament used almost exclusively for printing supporting materials. This way you do not need to remove the structures by hand.
HIPS : like PVA, it is mainly used for the printing of support structures, since it is soluble in the chemical limonene.
Laybrick & Laywood : These filaments are mainly made of sandstone or wood particles . For this reason, they are visually and haptically deceptively similar to sandstone or wood.
TPE (thermoplastic elastomers): Even in printed condition, it is flexible and very resilient .
Resin : As resin hardens by irradiation with a laser or light, it is particularly used in stereolithography. Resin also has this feature and is also available in various forms and material properties.
Print speed
even if high-quality devices can print at a speed of about 300 millimeters per second, this is often at the expense of quality . In combination with the right filament, such as high-speed PLA, they deliver good quality even at high speeds. In addition, the printing times are reduced again. 3D printers for beginners, on the other hand, are much slower with values around 60 mm/s.

3D printer kit for self-assembly or finished model?
For all tinkerers and technology enthusiasts, but also for use in educational institutions, there are various 3D printers available as kit to buy. These can be built at home with some patience and time. With regard to the function and print quality, these 3D printers are in no way inferior to the finished devices when installed correctly.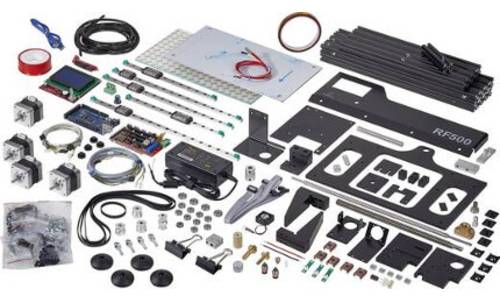 Components of a 3D printer kit for self-assembly.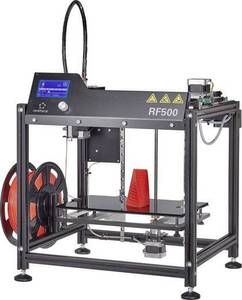 This is what the finished 3D printer looks like after assembly.
From the 3D printer template to the print result
Each 3D printer works computer-controlled. It therefore needs numerical information in the form of a virtual model of the objects to be printed. This print template can be created on two different ways: By 3D Scan or the remodel with the help of CAD software.
3D scanner for faithful reproduction
With the help of a 3D scanner and a 3D printer it is possible: The photo 3.0. Imagine a 3D scanner, which creates a computer model of you – rich in detail up to the folding of the shirt. A 3D printer prints it in almost any scale. A mini-ego for the showcase . For private users, 3D scanners in small formats are of interest, because this also gives rise to a variety of possibilities: The missing screw, the handle for the cabinet, the tooth-cleaning cup and much more can be copied and printed exactly. In addition to the hardware, a powerful scanning software is required, which is usually included in the delivery.
3D printer templates with CAD software
Three-dimensional objects can also be made without a real prototype. CAD software (computer-aided design) allows the creation of any conceivable model . A prerequisite for this is a good knowledge of the software – and the necessary creativity.
Entry-level software for 3D printer templates provides help to get closer to the topic in practice. For all those who want to enter the 3D printing system or do not want to deal too intensively with CAD software, the Internet can help. There, many websites offer ready-made 3D templates for download.
Conrad 3D printing service
If you do not want to buy your own 3D printer, you can send your 3D model to our Conrad 3D printing service. This prints individual parts or small series and offers you the entire spectrum of 3D printing technology.
Learn with 3D pressure in the classroom - promote MINT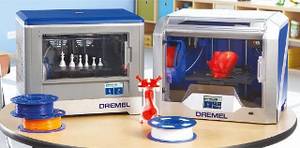 Interactive technology tools, such as digital drawing boards, computers and tablets, are extremely interactive and already work well in the classroom. Students can now design, design and develop their know-how in a practical way – in contrast to purely theoretical learning.

Explore - Create - Learn
Dremel 3D Idea Builder enables students to create a completely new world of learning – problems and tasks can be solved critically and interactively together. Imagination, creativity and mutual motivation are important components of this innovative learning concept. With 3D models, you can make your lessons more vivid.
Current applications and curricula for hands-on teaching with 3D printing
Teachers and professionals have developed interactive 3D curricula for teaching at secondary and higher schools to better understand, engage and learn. Dremel projects start with a task and design phase. Until the complete 3D printing process has been completed and the desired result has been achieved, the students will gain the appropriate experience, correct or perhaps even redraft a design. Students are thus encouraged to think critically, to be creative, to collaborate and to communicate. The learning concept is based on the connection between abstract concepts, practical learning and tangible 3D print models.
Example of secondary schools (grade 6 – 8)
students design sunglasses in 3D and collect information about the eye and the dangerous effects of UV rays.
Example of higher schools (grade 9 – 12)
students design a reusable water filter in 3D and gather information about required drinking water filtration. In this context, the problem of limited drinking water resources on our planet can also be discussed and discussed.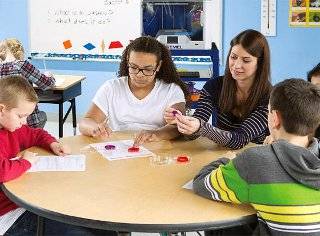 The Dremel Idea Builder 3D40 3D printer including filament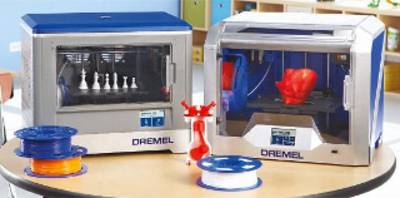 Closed work area & transparent viewing window
Integrated filament holder & exchangeable printing plate
Wi-Fi access
Maintenance-free print head
Semi-automatic leveling
Permanent cooling
Touch screen & LED lighting
Equipment for 3D printers
Of course, Conrad not only has the 3D printers, but also suitable accessories, extensions and spare parts.
 3D printers: Fast production of prototypes and spare parts How does a 3D printer work? About additive printing procedures What can a 3D printer do? How to find a good 3D printer? From the 3D ...