AC & Three Phase Electricity Meters
This text is machine translated.
All you need to know about AC and 3-phase meters
What are AC and three-phase meters?

What is the difference between AC and 3-phase counters?

What to consider when buying?
What are AC and three-phase meters?
Both are used to measure energy consumption as a specific type of electricity meter. The counters sum up the active electrical power over the duration of the installation, from which the amount of flowing electrical energy is counted. This is measured and displayed in kilowatt hours (kWh). For example, consumption is monitored and energy costs are derived. The classic Ferraris alternating current meter is widely used, which is equipped with a distinctive mechanical turntable over which the kWh are displayed (Figure 1).
In addition, so-called smart meters with digital display are now also used. These counters dispense with mechanical functions and work fully electronically . They have been mandatory for new buildings and modernization for several years, as they bring many advantages. The function behind the display does not change: The intelligent electricity meters are either AC or three-phase meters.
All electricity meters must be calibrated to ensure their accuracy. This is done by state-approved testing bodies. In Germany, calibration is mandatory for devices used in business traffic and must be performed every 16 years for mechanical meters such as the Ferraris meter. So-called smart meters must be calibrated every 8 years. The test interval is independant of the actual operating time . This means that a digital counter must be recalibrated even after 8 years, even if it was only used for four years.
What is the difference between AC and 3-phase counters?
The most important difference between the two counters is the amount of measurable phases . Phase is the live conductor. When installing a ceiling lamp, for example, you can recognize the phase by the black or brown cable. The neutral wire (blue or gray wire) is used to return current to the power source. The green-yellow protective earth conductor known by the lamp installation grounds the installation, but is not relevant for the functioning of a meter.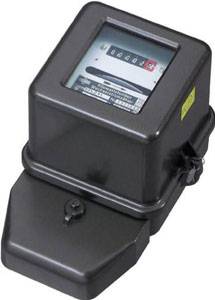 The measuring capacity of the AC meter is limited to one phase . This means that it can only measure the energy at a single two-pole connection of the phase and neutral wire to which it is installed. It measures the so-called "single-phase current" and is suitable for smaller voltages up to 230 volts. For households, AC meters are therefore completely sufficient. (Figure 2)
At higher voltages, the so-called three-phase current is used worldwide, which is also referred to as three-phase alternating current. A three-phase meter measures the energy flow of up to three phases accordingly . During installation, the cables are usually marked in brown, black and gray, in addition to the known protective and neutral conductors. The three-phase meter measures voltages of up to 400 volts, because it measures not only the voltage between phase and neutral, but also the voltage between two phases.
Due to its mechanical design, the Ferraris electricity meter is only available as an AC meter. Digital electricity meters, on the other hand, can be both AC and three-phase meters. They have been used in industry as three-phase meters for about two decades. They have also been used for several years as AC meters for new buildings or modernization in residential buildings – since 2017, these smart meters have been introduced gradually and become mandatory in the long term.
A three-phase meter is thus as powerful as three individual AC meters. However, it is not necessary to make full use of its possibilities when applying it. It can also be used to measure only one phase.
How are they used?
AC meters are often used for energy measurement in private households. They are cheaper than three-phase meters and are sufficient for measuring the existing voltage. If smart meters have to be installed due to the legal regulations, digital AC meters are also legitimate. It is important that the devices are calibrated when used commercially. Otherwise, in an emergency, the measurement has no legal hold.
AC meters can also be used for internal or private purposes. For example, if you want to temporarily measure the consumption of a particular machine or household appliance. Then they do not have to be necessarily calibrated, because they serve only the private information needs. For example, counters with intermediate connectors are used (Figure 2), which is switched in front of a socket. It measures the power consumption of the connected device.
For example, three-phase meters can be switched before three individual AC meters as intermediate counters in order to record the aggregated energy consumption . . In addition, more than one current-carrying cable is often used to supply rented or single-family houses, so that three-phase meters are usually installed here as well.
Three-phase meters are usually used in industry, as three-phase current ensures a more continuous, low-fluctuation supply. This is particularly important when motors, electric ovens or other electronic components are operated that require a constant supply.
What to consider when buying?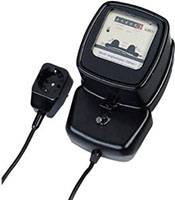 First of all, it is important whether you want to use the device commercially. This is always the case if it is to be used for the billing of energy costs. In this case, you should always use calibrated counters that you can use immediately after purchase. Then the measurements of the device also have legal inventory. Calibrated devices are also referred to as MID compliant , whereby MID is the European Eich standard.
In addition, digital electricity meters offer a variety of functions and features that you can use. In this way, certain devices can be connected to the Internet, which enables consumption to be viewed online. In conjunction with the appropriate analysis tools, power guzzlers can be detected, which can then be switched off to save power. The technical features of the individual electricity meters can be found in the product description for the corresponding device.
Conclusion
With three-phase meters, you are more flexible due to the higher measuring power and the larger number of lines . Especially the digital electricity meters can offer useful additional functions. Since the use of electronic meters is now mandatory in some areas, the use of mechanical AC meters has decreased.
They are being replaced more and more by digital AC meters. Although these must be calibrated every 8 years, they offer more accurate measurement and many other advantages, such as electronic meter reading transmission or real-time analysis of power consumption for certain devices. Whether you need a digital three-phase meter or a digital alternating current meter depends mainly on the respective application area and the required current strength of the devices connected in the circuit.
 This text is machine translated.     All you need to know about AC and 3-phase meters What are AC and three-phase meters? What is the difference between AC and 3-phase counters? How are they used? What to c...