This text is machine translated.
Spectacular shots with the right action cam
The small, robust cameras are an absolute must-have for all sports enthusiasts and outdoor enthusiasts. High-quality action cams conjure up breathtaking photos and video recordings in brilliant professional quality. And this on land, in water and in the air. To help you find the action cam that suits your needs, we have compiled the most important information about the subject.
All about action cams
What was an action cam?
What action cam device types are there?
What was to be considered when purchasing an action cam?
action Cam FAQ
Find the perfect action cam
Motorcycle use
action cams on the motorcycle
A motorcycle camera has to put a lot of things away!
This should bring an action cam for the motorcycle
Different mounting options
Great recordings from the motorcycle tour
What was an action cam?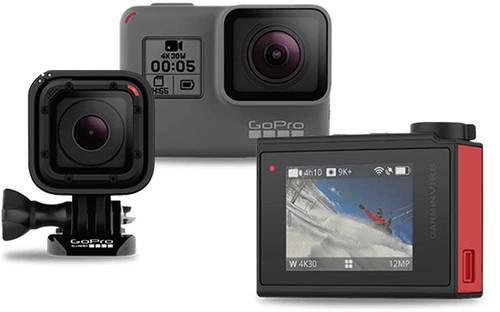 An action cam is a recording device für Photos and videos and is used in sports or leisure activities. The camera's body is designed to withstand harsh weather conditions such as high wind speeds or underwater action cam. Dust, Erschütterungen or high temperatures are no problem für action camcorder.
The pioneer among action cams
, the US company GoPro is considered a pioneer among action cam manufacturers. GoPro stands for für go professional. The success company was founded in 2002 by Nick Woodman. Until then, robust cameras were still very expensive and not suitable for everyday use. Woodman recognized the Marktlücke and launched the first GoPro Hero model in 2004.
What action cam device types are there?
action Cams are available in different resolution from 640 x 480 pixels to 3840 x 2160 pixels. The higher the resolution, the better the image and video quality of the recordings.
Almost all modern camcorders have a resolution of at least 1080 pixels. This is called a Full HD device type. Video recordings in Full HD can be viewed on the TV in good quality. The latest high-tech devices can even produce Ultra HD or 4K recordings. 4K models are available from GoPro, Rollei or Sony.
Pros and cons of an Ultra HD Action Cam
| Advantages: | Disadvantages: | |
| --- | --- | --- |
| Very high resolution and thus excellent image quality | More expensive than a Full HD camcorder | |
| Video recordings in cinema quality | TV should also be able to play Full HD | |
What was to be considered when purchasing an action cam?
The most important thing to buy an action cam
An action cam is small and robust. Therefore, it can be used under extreme weather conditions to take breathtaking photos or videos. It is therefore very popular with sportsmen and especially with extreme athletes. But it also provides excellent services in everyday use, for example as a webcam.
action cams with different resolution are available. Standard models usually have a full HD resolution of at least 1080 px, which already enables very good recordings. Higher-quality video, on the other hand, generates Ultra HD or 4K models.
Depending on the application, different action cams are useful. Therefore, make sure that the camera meets the desired criteria when you buy it, i.e. is waterproof or shockproof and can establish a WLAN connection. Many action cams can also be subsequently made with different accessories aufgerüstet.
In addition to resolution, there are other factors that should be considered when purchasing an Actioncam. Here you can find all the purchase criteria at a glance:
Waterproof
A waterproof action camera is especially interesting for divers für. Thanks to the cam, you can enjoy fascinating pictures of the underwater world long after the diving experience. Many high-quality models can be used up to 55 meters of water depth. Waterproof action cams or action cams in waterproof housings überzeugen even during the next swimming holiday with family or during adventurous rafting with friends.
Wi-Fi capability
WLAN-enabled action cams, such as the GoPro Hero, can be connected to the smartphone using an app. The camcorder is then conveniently and easily controlled via smartphone.
Shock resistance
If you want action cam to record fast sports, it's best to use a device type that's shock-resistant. Mountain biking, skiing or motocross can quickly lead to a fall. An impact-resistant Actioncam can survive the involuntary endurance test without being damaged.
Accessories
In order to perfectly adapt the camcorder to your own needs, you can buy various accessories, for example:
Waterproof case
Bicycle holders
Suction pad holder
Head and helmet holders
Chest straps
Arm brackets
Hand straps
Tripods
Telescopic rods
The selection of the appropriate accessories depends on the purpose für which action cam is to be used primarily.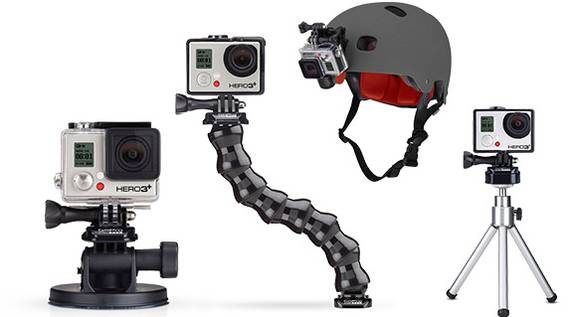 Our practical tip: Use action cam as a webcam
action Cams can act as a webcam. Many models can be connected to the computer via USB or HDMI connection. In many cases, the image quality is much better than with a normal, external or PC-integrated webcam.
action Cam FAQ
Why does action cam have WiFi?
Not every model can establish a WiFi connection, i.e. a wireless Internet connection. WLAN-enabled action cams have the great advantage that they can connect to another terminal, such as the smartphone, via radio connection verknüpfen . This allows the cam to be controlled and triggered from a long distance. Für some action cams without WLAN erfüllt a remote control the same purpose.
How to use an action cam?
The camera can either be held in your hand or attached to your body or tripod. Accessories may need to be purchased to attach the camera to the handlebar, helmet, wrist, or other location. Make sure was already included in the delivery.
Which action cam is best used for diving?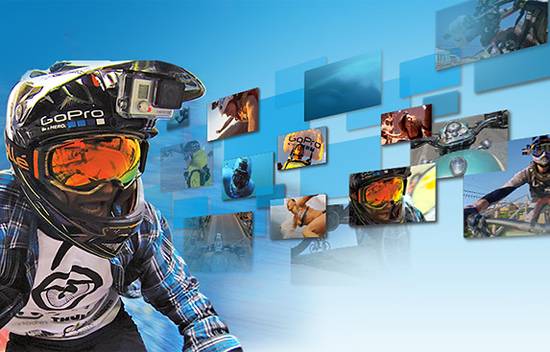 If you want to record your diving experiences with an action camera, it should be waterproof. Alternatively, the package should contain a waterproof housing. When purchasing, make sure that the product can be used to a depth of water. action Cam lets you share the stunning images of your Tauchausflüge with family, friends and work colleagues long after the experience.
Our practical tip: Replacement rechargeable battery
Nothing is worse than an empty battery at the moment of the most spectacular video recording. Therefore, charge your Actioncam regularly. Even better, buy a replacement battery for your product. High-quality models have long battery life of 200 or more hours.
Find the perfect action cam
When looking for the perfect action camera, you should consider several factors berücksichtigen. If you want to record professional pictures and videos, you should grab a little deeper in the bag and treat yourself to an Ultra HD or 4K camera. This device type has an extremely high resolution and conjures up recordings in the best picture and video quality. Depending on the purpose for which the cam is to be used, further purchase criteria play a role. If you like diving, you should buy a waterproof camcorder. For mountain bikers, motocrosser and other extreme athletes, a robust, dust-protected and impact-resistant camera makes sense.
action cams on the motorcycle
Summer time is also motorcycle time. When the first warm rays of the sun appear after the cold and dark winter months, it is high time for bikers to get the machine out of the winter quarters.
In addition, when polishing and setting up the bike for the new season, it is often considered which new equipment makes sense on the motorcycle and should be part of the game on the first exit. So it's no wonder that with more and more motorcyclists an action cam goes on tour.
The advantage of an action camera for the motorcycle is clearly obvious. This way you can see the most beautiful tours and excursions later in peace and show your loved ones at home.
Not a bad idea at all! The cameras are now so mature that they also deliver good films on a motorcycle.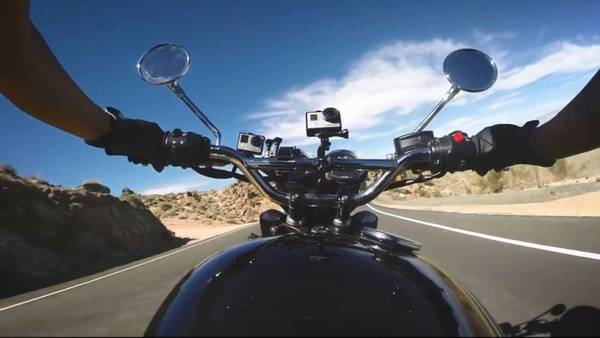 A motorcycle camera has to put a lot of things away!
Motorcycling once again makes very different demands on such a camera than a parachute jump, a dive or a quadrocopter do. The cameras and, above all, the brackets must be secure, even at permanently high speeds. action cams are exposed to enormous pressure from the wind on the bike. There should be no wobbling.
If an attachment does not withstand this pressure, it is about more than the material value of the camera. The safety of the driver and also of other road users also plays an important role here. On the one hand, an unstable bracket deflects the driver. On the other hand, a detached camera can get into the wheels or chain and then it becomes really dangerous. A clattering, non-trusting holder is therefore an absolute no go! Even if the camera was attached to the helmet.
The electronics of the camera and the camera housing are also subjected to vibrations. Bikers should therefore pay attention to a solid processing of the housing. Among the motorcyclists there are also some who like to travel off the road. Enduros are motorcycles specially built for off-road terrain. That the dirt only spits like this is pre-programd. Those who belong to this type of biker need a housing that protects against water and dirt and is easy to clean. Basically, it's better for all bikers to invest in a waterproof case. After all, you are never safe from a sudden rainfall.
This should bring an action cam for the motorcycle
Ease of use
First, you should take a closer look at the action cam's buttons and switches. Can the important switches also be operated with motorcycle gloves? From Cams with small, fiddy switches thus immediately in the truest sense of the word fingers away.
Special features
You should also pay attention to the other options available for controlling the camera. A Bluetooth remote control is particularly suitable for use on the motorcycle. It can be placed where it does not disturb but is still easy to use.
Compatibility with spare batteries
If you are on the move for a longer period of time, you should also look for replacement batteries. After all, a motorcycle ride is not over like a parachute jump after a few minutes. And it would be a shame if the juice runs out before the camera's favorite track is reached. In this case, the empty battery will not recharge quickly. Firstly, you want to drive and secondly, it is rather difficult to get to an outlet on the way. So it's best to pack a replacement battery in the tank backpack. With a tank stop, replace the battery quickly and go on!
Secure and stable attachment
as already said: The holder requires top quality. One should say goodbye to windy adhesive strips very quickly. The best systems are specially designed for mounting on the motorcycle, which are screwed to the handlebar, for example. You should never lightly drill your own helmet to secure a camera. This would change the structure of the helmet. The protection effect of the helmet can then no longer be guaranteed.
Different mounting options
It makes a difference where the camera is mounted while driving. For example, the shots are more shaky with a camera attached to the handlebar than with action cam mounted on the driver's or front-passenger's equipment.
When attaching the camera to a motorcycle, make sure that action cams are exposed to environmental influences during driving. In this respect, it is particularly important to ensure secure fastening and to check it regularly. In addition, ensure that the motorcycle is not affected by road safety when it is fitted. In case of doubt, contact the manufacturer.
Great recordings from the motorcycle tour
In order to make the videos from the first tours correspond to your wishes, you should take a look at the camera performance and the possible settings. Full HD (1920 x 1080 pixels) is now standard in the resolution. In any case, it makes sense to have a freely adjustable recording angle. This is important to avoid distorted recordings. Depending on where the camera is mounted, the appropriate recording angle can be set. The refresh rate is responsible for a smooth image display. Of course, when driving fast, you notice very quickly if the image is not displayed fluently. Motorcyclists should therefore access action cams with a relatively high refresh rate. 60 frames per second, i.e. 60 fps, are definitely a good value.
A GoPro is recommended for use on the motorcycle. Here the image quality and also the processing of the housing is correct. Above all, however, there are a number of brackets that enable a stable attachment to the bike or helmet. The Go Pro is very common among motorcyclists.
Bottom line
It's great that action cams now deliver really great video quality even from the motorcycle. The special challenge here is of course the attachment. Once you have found the right camera, you can experiment with the installation. Your own body and the motorcycle itself offer a wide range of possibilities. The shooting perspective also changes accordingly. When the motorcycle tank and the camera battery are full, great pictures and a beautiful tour are no longer in the way. We wish you a good ride and good film!
This text is machine translated. Spectacular shots with the right action cam The small, robust cameras are an absolute must-have for all sports enthusiasts and outdoor enthusiasts. High-quality action cams conjure up breathtaking photos and video r...