This text is machine translated.
About air coolers
A record summer hunts the next one and we will most likely have to get used to temperatures at the 40 C mark. ° So what was to be done if a fan didn't provide adequate relief on hot summer days and an air conditioning system was not available? Air coolers or air coolers can help in such cases. Please read our guide to learn how the devices work and what was to be observed when purchasing.
This is something you should consider when purchasing air coolers

Our practical tip: Cool water with ice

FAQ – Frequently Asked Questions about Aircoolers
Air cooler at a glance
Air coolers (air coolers) are available in many different designs and sizes, ranging from small, cube-shaped devices that can be comfortably placed on the bedside table or used as mobile air coolers to large standing units. The working principle is identical for all air coolers: Water from a tank is atomized by an air flow generated by an integrated fan. The models available differ in the size of the built-in tank. The larger it is, the longer the cooler can do its job.
In addition, there are differences in the other equipment: Many air coolers can be controlled with a remote control. This allows the device to be controlled comfortably from the sofa or bed. A plus in comfort offers a timer function, which ensures, for example, that the cooler in the bedroom switches off automatically after the sleep phase. This ensures that you are not exposed to cool air for too long overnight. In addition, a timer can help to keep energy consumption within limits. A special night mode, in turn, is useful to reduce the operating noise and thus ensure an undisturbed sleep. Some air coolers can also be used as air humidifiers and thus contribute to a pleasant indoor climate, for example during the heating period. Sometimes you can also use air coolers as conventional fans that produce cool air. Depending on the model, different rotational speeds are available.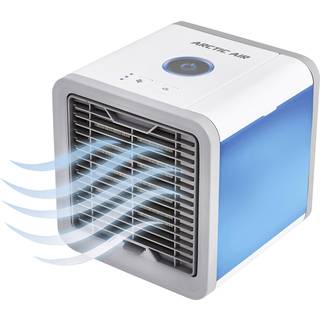 How do Aircoolers work?
The principle of evaporative cooling has been used for some time, for example, to make cooling of modern data centers more effective. Meanwhile, the areas of application are much more diverse. Air coolers basically all work in the same way and are similar in design. Inside there is a water tank that holds the cooling medium. With this liquid, a mat made of textile fabric is either sprayed or the water runs down on it. A strong fan sucks in the warm ambient air and blows it through the damp mat. The physical process that takes place is called evaporation cooling or adiabatic cooling.
When one speaks of adiabatic cooling, it is actually an adiabatic state change. It is a thermodynamic process in which water evaporates through warm air from outside. A so-called phase transition takes place here, at which heat is extracted from the air. The higher the outside temperature, the faster and better the water evaporates. The outside temperature plays an important role in evaporative cooling, because it is a factor that determines how efficient the adiabate process is. The humidity is also relevant, since the ambient air can only bind a certain amount of water until the maximum saturation is reached. When 100 percent saturation is reached, the ambient air cannot absorb any further moisture. For optimal operation of a cooling solution based on evaporative cooling, it is therefore important to keep the humidity as low as possible.
This is something you should consider when purchasing air coolers
If you are thinking about buying an air cooler, you should pay attention to a few points. Choose a device that fits the size of the room you want to cool. A small portable device will only have a relatively small effect in a large living room. Such coolers are suitable for night or desk use and should be placed close to the user. You should use a stand to cool larger rooms. In addition, ensure that the air flow rate is as high as possible. An air cooler with a weak fan provides less cooling than a model with stronger ventilation.
A remote control is especially useful for standing equipment, so that you do not always have to get up to change the intensity of the airflow. Also important is a sufficiently large water tank. The capacity of a large standing device may be 6 liters. The container should be completely removable for cleaning purposes. In addition, make sure that the operating noise is low. This is just as important in offices as in the bedroom, for example, so that the device does not turn out to be an acoustic noise factor. Are you allergic? If so, we recommend a model with an integrated filter that filters out allergens from the recirculated air. The power consumption of the cooler must also be taken into account when purchasing. If the air cooler is to provide refreshment for several hours at a time in summer, a device with comparatively low power consumption has a considerable energy saving potential.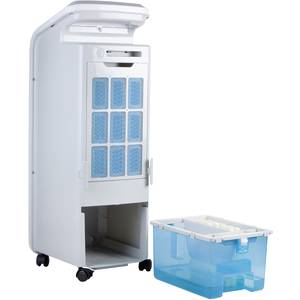 Our practical tip: Cool water with ice
You can increase the cooling performance of your Air Conditioner if you additionally fill the built-in water tank with ice cubes or ice packs. This allows the water temperature to be lowered, was a further step in the cooling effect.
FAQ – Frequently Asked Questions about Aircoolers
What was to ich observe when operating an air cooler?
When using Air Cooling, the air flowing through the humidification mats is enriched with water. If you use such a device for a longer period of time, the humidity in your premises will increase significantly. Therefore, ensure good and regular ventilation to prevent mold formation. In addition, the moistening mats should be regularly cleaned and replaced.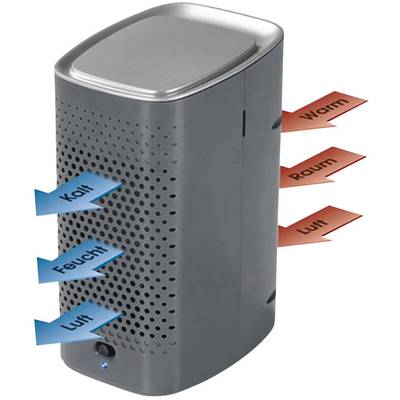 Does my air cooler require an exhaust hose, as it must be used with an air conditioner?
No, you do not need an exhaust hose. An air conditioner (monoblock) sucks in the warm ambient air, directs it through a cooling unit and finally releases it back to the room. During the cooling process, there is no underestimation of waste heat which must be passed through a hose to the outside. An air cooler, on the other hand, works according to the principle of evaporative cooling. This physical process does not generate any waste heat that needs to be dissipated, nor does it require an exhaust hose.
What was the difference between an air cooler and an air humidifier?
An air humidifier atomizes water, for example by means of ultrasound, and blows the moisture into the room air. Cooling is best if you are in the cloud of fine water droplets just in front of the appliance. An air cooler moistens a mat with water and then blows warm room air through it. This causes a phase transition at the wet mat, at which the air flowing through is cooled.
This text is machine translated. About air coolers A record summer hunts the next one and we will most likely have to get used to temperatures at the 40 C mark. ° So what was to be done if a fan didn't provide adequate relief on hot summer days a...