This text is machine translated.
What was to be considered when purchasing?
Crocodile clips have similarities to the elongated muzzle of the name-giving reptile. The clamp consists of two mostly toothed parts , which are opposite each other and press on the conductor like a bite. Both parts are mounted in a movable position. A spring provides the necessary tension to ensure a secure grip. As well as clamp test tips, alligator clips are alligator clips.
They can be attached to test leads and are used for secure connection. This ensures a stable hold between the terminal and the test site. The points to be tested may be wires or component connections to resistors, capacitors and other electrical components. Alligator clips are used not only for measuring electrical values such as voltage, current or resistance, but also for transmitting currents.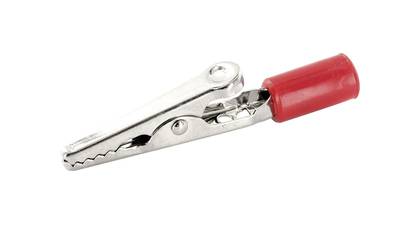 In most cases larger terminals are used, which are also designed for significantly higher currents. On the other hand, smaller alligator clips are used for testing. However, the difference between the testing and transmitting alligator clips is not exactly defined , theoretically both larger and smaller clamps can fulfill both functions.
The connection can be quickly loosened without leaving any residue . Alligator clips are only designed for a short-term connection. For a permanent contact, you should solder the components, but a solder connection cannot be removed without leaving any residue.
Insulated terminals should be used for electrical equipment where voltage is measured. This protects the testing and prevents measuring errors that occur with uninsulated terminals when in contact with surrounding components or connections. The voltage to be measured should not exceed the low voltage class. The limit values for this are 50 V AC voltage and 120 V DC voltage. A qualified electrician should be used for measurements under voltage that exceed the low voltage. Careless handling may cause a fatal injury.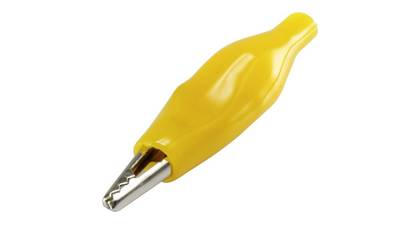 Non-insulated terminals can be used for voltage-free measurements, such as continuity testing or resistance measurement. They are also used for measurements or transmissions where the current is only switched on after the cables have been connected. Ensure a sufficient safety distance and touch protection. zu achten. A well-known application example for non-insulated alligator clips are terminals on jump leads.
Alligator clips connect wires, component connections or metal housing with measuring instruments or other contact points. However, they are not suitable for measurements in the area of microelectronics, as small solder joints on PCBs cannot be fixed with them. The great advantage of the alligator clips is the creation of a fast connection which can also be removed again as quickly.
Probes, on the other hand, also make a quick connection, but the test tool may need to be held by her hand during the entire measurement. In the case of screw connections, a suitable tool is always required. The connection is difficult to release with one hand.
When working with alligator clips, be careful not to reach the gripping area with your hands. This can cause bruising or damage the skin if the springs are particularly strong.
What was to be observed when purchasing?
With alligator clamps without permanently installed measuring leads, there are different ways to connect them to the cable. For example, terminals with screw-in connection are available, in which the cable can be easily changed. For soldering, it is more difficult to replace the soldering connection later or more frequently. Tapping terminals that are already equipped with a cable cannot be adjusted later. However, you do not have to worry about the type of connection with these pre-assembled cables.
The maximum clamping range is usually specified in millimeters and describes the maximum distance of the opening . This should always be larger than the dimensions of the connecting parts to be measured, in order to ensure a secure connection without slipping of the terminal. For example, for a cable with a diameter of two millimeters, a clamping range of four millimeters or more is sufficient for a secure hold.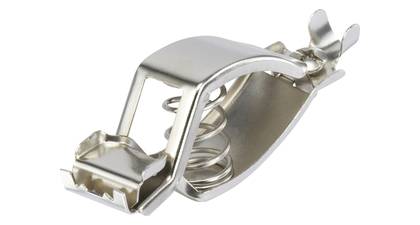 The specified nominal current describes the current for which the alligator clip is designed. This specification is particularly important for high currents from the single-digit ampere range for safe operation. If higher currents flow during use for a longer period of time, the insulation of the terminal could be destroyed by the high heating of the metal parts. In this way, conductive areas are exposed – a source of danger for the users.
An alligator clip set covers many possible uses for which alligator clips are intended. If you access a set, you do not have to obtain a special alligator clip for each individual case.
Alligator clips are versatile tools for connecting leads and component connections for measurements. They can also be used for transferring currents. Make sure that there is sufficient protection, since the contact points are open and there are currents flowing on them that can be dangerous for you.
Use the alligator clips for measurements where the components are live, you should access insulated terminals. To exclude measurement errors and provide her with touch protection. Pay attention to the clamp range and nominal current when purchasing, so that the alligator clamp is suitable for your application.
This text is machine translated. About alligator clips What was alligator Use of alligator clips What was to be considered when purchasing? Conclusion: Versatility What was alligator Crocodile clips h...