Amazon echo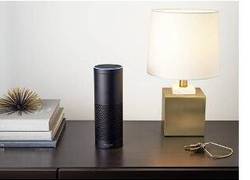 Discover many helpful information, hints and tips about Amazon echo in the guide. Learn more about how it works, the different types of skills, and some Amazon echo skills for your everyday life.
What is the Amazon echo?
How does Amazon echo work?
What are the different types of Amazon echo available?
Which devices are Amazon echo compatible?
Smart networking of Amazon echo with Conrad
Amazon echo skills - popular voice commands
What is the Amazon echo?
Amazon echo is one of the voice-controlled speakers. You can control Amazon echo with your voice to make your daily life easier. Alexa answers questions, provides information on the weather or controls your home automation. In September 2017, the first two devices - Amazon echo and Amazon echo dot - were acquired in Germany.
Since then, the Amazon family has been growing properly and offers some more variants. From the classic voice assistant to the model with integrated display, everyone will find the right device.
How does Amazon echo work?
| | | |
| --- | --- | --- |
| | | |
| 1. Connect your Amazon echo to a power source. | 2. Connect your smartphone to the Alexa app. | 3. Start your setup by connecting Amazon echo to your Wi-Fi network. |
All you need to do is set up and use the Alexa app available for Android and iOS. Once the app is installed, you only need to connect Amazon echo to your WLAN network and you're ready to go.


To enable usage, say the activation word or press the action key on the top of your device. Your Amazon echo recognizes "Alexa", "Echo", "Amazon" and "Computer" as the activation word. Once the colored light ring appears on the top, you can ask your question or issue a command. The data is forwarded to the Alexa Voice Service and within a few seconds the desired response takes place. If you want to silence your Amazon Echo device, simply "Alexa, stop!" is enough. Remote field detection allows Amazon echo to be controlled in noisy environments or from the adjoining room.
Our tip: Name change
By default, your device will stop "Alexa" to start using it. The call name can be changed at any time in the settings. For example, you can name your device Echo, Computer, or Amazon.
What are the different types of Amazon echo available?
The Echo Dot

The most favorable version from the Amazon Echo range is particularly suitable for entering the Alexa world. The loudspeaker is more likely to be classified under "Radio quality" and therefore useful if you want to use the Alexa features in particular. The current variant is Echo Dot 3. Generation

The Echo Show

The latest model shines with a 7-inch display and has an integrated front camera. Do you want to see and hear your news or weather information? Then the Echo Show is your right choice. You can use skill to retrofit functions such as displaying recipes for cooking. The Echo Show is in 2. Generation available.

Amazon Echo 2. Generation

Amazon Echo was launched as the first model in the Alexa range. It has 7 microphones and can be controlled from anywhere in the room. His successor, the 2nd generation, is a little smaller and can be chosen in various chic fabric covers. Audio output and speech recognition have been optimized technically. The AmazonEcho 2nd Generation is also multi-room-enabled for Amazon Music, Tuneln and Spotify.

Amazon Echo Plus 2. Generation

The Amazon Echo Plus looks no different from its predecessor, the first generation echo. It is also available in black and white. The two models differ in technical terms in one feature: Amazon Echo Plus's integrated ZigBee module. Your Echo is therefore part of the ZigBee wireless network and thus facilitates your smart home control. For example, this module eliminates the need for a bridge to integrate Philips Hue lamps, so the lamp can be used directly.

Amazon Echo Spot

Amazon Echo Spot offers you the familiar functions of the Echo world. The integrated screen allows you to watch videos, listen to messages and much more. Echo spot can be used and extended with the integrated or external speakers.

Amazon Echo Input

Connect your Echo Input with an external speaker and experience the music enjoyment in the entire room. Your external speaker can be paired via Bluetooth or the supplied 3.5mm audio cable. Thanks to the Alexa integration, you can use all the usual functions very easily! Note: Currently WLAN speakers are not supported!
Amazon echo skills - popular voice commands
Alexa mobile phone finder

Who doesn't know it - once again the mobile phone is misplaced? Amazon echo helps you find your phone. "Alexa, start Mobile Finder and call me." - Enable the skill via the Alexa app and a phone call at the beginning is enough to register for the service.

Alexa as an alarm clock

Alexa can also be used as an alarm clock. All you need to do is give your Amazon echo the time you want. "Alexa, set alarm for 8 o'clock." You can also activate your usual functions, such as snooze mode, by voice command.

Alexa for music playback

The time of CD players or old-fashioned stereos has been long gone. Use your Amazon echo to listen to your favorite music. "Alexa, play TITLE from ARTIST" starts the music playback of your desired title.

Multitasking with Alexa

A range of comfort functions make your everyday life easier. Stand in front of the wardrobe or want to leave the house - ask Alexa for the weather or the time - and you are on the safe side!
Where does your music come from when you play music?
If Amazon echo is your music player, you can choose from a variety of music sources. If you are a Spotify Premium subscription user or own Amazon Prime, you can easily set it as the default source. Otherwise you can comfortably play all the classical radio stations like Bavaria 3 or Radio Ramasuri.
Amazon Amazon echo's standard commands can be extended via skills without much effort. The Amazon Skill Store offers a variety of categories that Alexa can use to help you in your everyday life. Skills are enabled in the skill store and soon after, Amazon echo recognizes the new skills.
More Alexa Skills
Alexa, play Radio Ramasuri!
Alexa, who is the artist of the song?
Alexa, read my shopping list!
Alexa, what dates do ich have today?

Alexa, start Akinator!
Alexa, what was the news?
Alexa, ask chef about the recipe of the day!
Alexa, switch the light in the living room to 50%
Good to know:
In the morning, you can also wake up with your favorite radio alarm or artist. Tell Amazon echo when and what you want to wake up and you can't sleep!
Which devices are Amazon echo compatible?
You can combine your Amazon echo with a variety of smart systems, such as Innogy, Philips Hue and Tado.
Use Case 1: Philips Hue

Do you want to attach your living room lamp without getting up? You forgot to turn off the light in the bedroom and are already in another room? Then you can control your Philips Hue lighting systems via Amazon echo. "Alexa, turn on the living room light" is enough and your living room is lit up immediately.
Check whether your conventional lamps are compatible with a Philips Hue bulb or redesign your lighting with lamps such as the Philips Hue decorative light or the Philips Hue table light. The Hue starter sets make it easy to get an optimal introduction to the smart home world.
Use Case 2: Tado° wireless heating control

You forgot to turn off the heating overnight? You come home from work and have to switch on your radiators before it gets warm? With the intelligent wireless heating control from Tado° you can control your temperature fully automatically and from anywhere via app. If it's too warm or too cold, your Amazon echo will help. A simple "Alexa, set the temperature to 20 degrees" is enough to set your comfortable temperature. Expand your smart home system or get started with the Tado starter kits in intelligent heating.
Smart networking of Amazon echo with Conrad

Make the most of the functions of your voice assistant and network it with Conrad Connect. The innovative IoT platform offers a wide range of exciting projects for your smart home world. The projects are smart solutions to which devices and services are linked. With a single voice command, you can network and control multiple devices at the same time.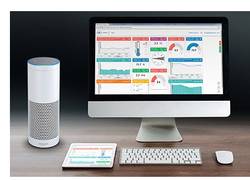 Morning routine
So you can start the day comfortably without having to touch a finger! A single voice command sets your heating to the desired temperature, turns on the lights or your favorite radio station. Your Conrad Connect project enables automatic switching off or recontrolling of your devices after a defined period of time.
Goodbye routine
Do you regularly forget to switch off the light or other devices? Should the heating be automatically regulated according to the presence of the residents? Create your own project at Conrad Connect or use an existing project. This ensures that your devices are switched off when you leave the apartment!
(This text is machine translated.)
Amazon echo Discover many helpful information, hints and tips about Amazon echo in the guide. Learn more about how it works, the different types of skills, and some Amazon echo skills for your everyday life. What is the Amazon echo? How does A...