About Apple Watch 3
What is an Apple Watch
How the Apple Watch 3 communicates
Our practical tip: Connect iPhone to Apple Watch
Apple Watch 3 FAQ - Frequently Asked Questions
What is an Apple Watch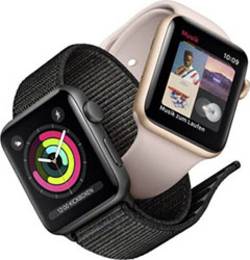 The Apple Watch Series 3 is the latest generation of smartwatches from manufacturer Apple. Like other smart watches, Apple Watch 3 offers a range of features that complement – and sometimes even replace – your smartphone. These devices are designed to make the use of mobile apps even more comfortable. A short wrist vibration alerts you to the receipt of a new message, but appointment reminders are not accidentally overlooked because the smartphone is buried in the pocket. If you want to access Apple Music while playing sports, but also monitor your own pulse rate, you can wear the corresponding sensor directly on your wrist thanks to Apple Watch. The older generations of the Apple Watch series have already been equipped with many features and technologies. The Apple Watch Series 3 is a step further. With watchOS 4, the series offers a new operating system, which is considered the ultimate sports watch thanks to the training app and intelligent activity tracker. The cellular equipment also makes it possible to use the Apple Watch Series 3 without a smartphone.
How the Apple Watch 3 communicates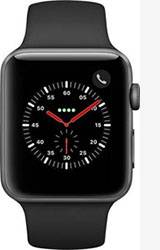 Smartwatches such as the Apple Watch Series 3 communicate with a connected mobile device via a Bluetooth or WLAN connection. Within a few meters, the device always prefers the Bluetooth connection. If the connected device is not accessible via Bluetooth, the WLAN is used. Apple Watch 3 "GPS" continues to do so. The Apple Watch 3 "GPS + Cellular", on the other hand, also has an eSIM card and is therefore not dependant on Bluetooth or WLAN. ESIM is the abbreviation for "embedded SIM" and means that the SIM card is already installed in the model. The clou: The device has an LTE function, it does not need to be connected to a smartphone via Bluetooth or WLAN. You can actually make calls on your wrist using the LTE version or stream music while jogging without having to carry your smartphone with you.
For the GPS + Cellular version of Apple Watch Series 3, the eSIM is enabled by the mobile service provider. Not every wireless service provider has the right contracts on offer. The provider that can use eSIM is listed on Apple's website.
Apple's Watch 3 comes with the watchOS 4 operating system, and offers even more interesting features and applications than previous models, especially for fitness enthusiasts. In addition, the housing is waterproof in flat water and thus ideal for swimmers who do not want to miss out on the control of their pulse frequency or simply want to be always reachable.
Our practical tip: Connect iPhone to Apple Watch
Sometimes there are connection drops between your smartphone and Apple Watch. Typically, restarting both devices with Wi-Fi and Bluetooth enabled will resolve the issue quickly. If partout does not want to establish a connection, the last measure is to uncouple the clock and smartphone. To do this, from the Apple Watch, select Settings > General > Reset > All Content and Settings. Then open the Watch app on iPhone, select Apple Watch from My Watch, and tap the "i" behind it. Then go to Unpair Apple Watch and simply pair the devices again.
Apple Watch Series 3 FAQ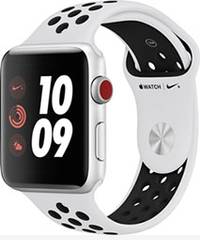 Is Apple Watch 3 compatible with Android smartphones?
No, Apple Watch is still only usable with iPhone and unable to communicate with Android devices. The Apple Watch 3 GPS requires at least one iPhone 5s with iOS 11, the Apple Watch 3 GPS + Cellular requires an iPhone 6 with iOS 11 or later.
Can the Apple Watch 3 GPS + Cellular be used without an iPhone?
Since Apple Watch 3 can connect to the network itself with eSIM, it is assumed that it can be operated completely without iPhone. However, the device is designed in such a way that it is used in combination with an iPhone and only then unfolds its full functionality. LTE operation is only a convenient addition.
(This text is machine translated.)
About Apple Watch 3 What is an Apple Watch How the Apple Watch 3 communicates Our practical tip: Connect iPhone to Apple Watch Apple Watch 3 FAQ - Frequently Asked Questions What is an Apple Watch The Apple Watch Series 3 is the latest gen...