This text is machine translated.
Audio adapter at a glance

Connector types for audio adapters

Special features for audio adapters
Audio adapter at a glance
If the connections between the player and the system do not fit, audio adapters can help. Because of the constant evolution of many interface standards, adapters are a simple solution to most connectivity issues in many areas. Another useful use of audio adapters is the extension of the required slots. If all interfaces are already occupied, there are suitable adapters for expansion.
Audio cables with jack and cinch plugs have been used in the audio sector for years. The interfaces provide for an analogueue signal transmission with a decisive advantage over digital transmission: The analogueue signal can be easily duplicated and projected, without losing in the signal strength and quality. Multiple distributors, so-called Y-adapters, are the most popular expansion modules for the audio signal.
An overview of the most common analogue audio adapters: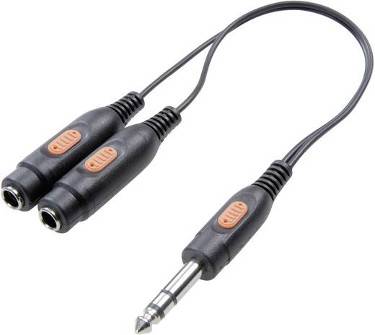 Multiple adapter for jack outputs:
They act as signal distributors and allow the audio source to be output to multiple receivers. A simple example is the use on a media player or a smartphone. The splitter can be used to simultaneously assign and output multiple audio outputs with the same signal.
Companies can use this adapter to play the same source in multiple headphones, TVs, and other systems.
Y-adapter and cable:
This adapter variant is often used to change a mono cinch to stereo plug. It is often required to connect a subwoofer to an amplifier. The Y-cable allows you to connect an amplifier with a mono sub-out output to a subwoofer that has two inputs.
Stereo cinch to 3.5 mm jack:
This adapter allows notebooks, smartphones and other audio sources to be connected to an amplifier or A/V receiver. Measuring equipment and high-end audio sources are not suitable, as interference signals are not suppressed sufficiently by the cinch technology and the contacts of the individual connections are not safe due to dimensional deviations. Cinch plugs are standard for consumer devices, but are not recommended for high-quality studio devices.
USB to jack:
The Universal Serial Bus (USB) is known for ensuring the data transfer of different interfaces. The adapter options for USB ports are almost limitless. USB plugs will replace the jack plugs sooner or later in the consumer sector, as is already evident on current smartphones and laptops. Modern mobile phones use USB-C technology, for example. The matching adapter allows the use of commercially available output devices with jack plugs.
Connector types for audio adapters
RCA plug
They are considered standard for households and small to medium-sized enterprises. Due to the coaxial design, low and high frequency transmission is possible. Most cinch adapters are used to use a jack plug with 3.5 mm. The T-adapter is suitable for extending the slots on two couplings.
DIN-connection
DIN plugs are outdated and are only used in MIDI applications in private households. In industry, DIN plugs are used for microphones. Sometimes the XLR interface replaces the plug.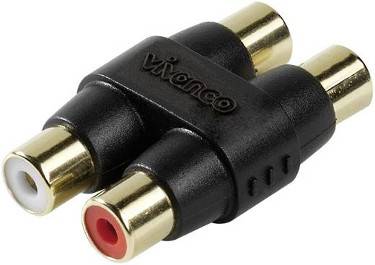 Jack plug
Jack adapters have the task of connecting all jack interfaces by increasing or decreasing the diameter.
2.5 mm plugs are found in small devices such as headsets and mobile phones, but are no longer standard. Some calculators and camera cable triggers use these "micro-jacks". In sound studios, they are used to synchronize stereo systems with the tape deck and CD players.
3.5 mm jacks are standard for all commercial entertainment media such as smartphones, sound cards and headphones.
The 6.35 mm variants are the large caliber and are used in all devices in music production. Mixers, effect devices, synthesizers, keyboards and other devices are equipped with this plug. This version has a high mechanical load capacity and a large contact surface.
USB port
Headsets, headphones, microphones and other playback devices can be operated on a USB port, if the connection is available. Jack plugs transmit less voltage than USB hubs. High-quality studio headphones with high resistance values are insulated during normal use and not fully utilized. Therefore, an amplifier is required. Compared to the jack, the USB hub transfers more voltage and gives the headphones more power.
Special features for audio adapters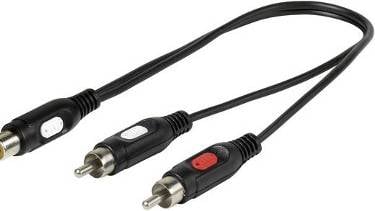 Shields:
All cables and wires have shielding for interference signals. If required, audio adapters also have a protection mechanism against interference signals. A distinction must be made between foil shields, braided shields and the combination of both.
Foil shields are more efficient than braided shields at high frequencies. At low frequencies it is the other way around. Shielding makes sense in a bale of cables and accompanying interference signals. High-quality audio and studio applications must be protected from interference signals.
Plug contacts and SuperSoft sheath:
A SuperSoft sheath promises more flexibility. Because of this capability, adapters with this sheath type are longer than wireless adapters. On the positive side, the sheath avoids unwanted cable winding.
Gold-plated contacts increase conductivity and give the adapter a high-quality look.
Bottom line
Audio adapters can multiply analogue signal sources without loss of quality. Y adapters connect devices that operate with two interfaces. The greater the interference signals around the adapter, the better the shielding should be. For optimum shielding, the transmitted frequencies must be included.
This text is machine translated. About audio adapters  Audio adapter at a glance Connector types for audio adapters Special features for audio adapters Bottom line Audio adapter at a glance If the connections betw...