Useful information about automotive relays
Operation of automotive relays

Our practical tip: Assembly
Selection criteria for auto relays

What must be observed when using automotive relays?
The vehicle electrical system supplies all components of a vehicle with voltage supplied by the car battery or alternator. Electrical or electronic components are located between the power source and the respective consumer, which switch the desired component on or off
This is done either manually by the car user via switch, but can also be linked to pre-defined conditions, such as outdoor temperature or rain. This also includes the detection of a passenger seat occupied in order to trigger (or not) the airbag in the event of a fault.
Although many innovative components in the car have a high degree of efficiency with a significantly reduced power consumption, as is the case with LED lights, a lot of consumers with high power consumption must be supplied. In addition to the starter, these include glow plugs for diesel engines, window heaters, hi-fi systems, seat heaters and heated exterior mirrors. So-called flashing relays are installed for the flashing, also for trailer operation. When using several on-board car batteries, isolating relays ensure their coordinated operation.
Due to the relatively low on-board voltage of usually 12 volts, high currents occur in the motor vehicle. This requires cables with larger cross-sections in order to supply the corresponding consumers as low-loss as possible. In order to keep the length of cables with a large cross-section from the power supply of the car to the consumer as low as possible, the consumers are controlled with relays – i.e. without a spatial "detour" via the switch. These remote switches are particularly robust in order to meet the special operating conditions in vehicles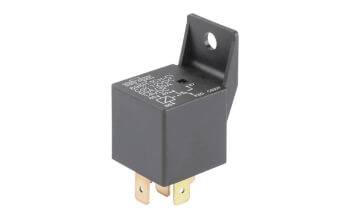 High-power relays are designed for the 12 V/DC on-board power supply in the car
Operation of automotive relays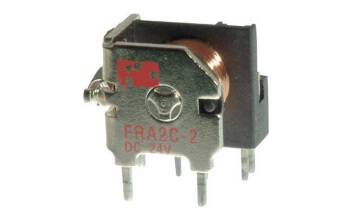 Open automotive relay with visible coil through which control current flows
In terms of design and function, automotive relays do not differ from "normal" relays: A coil fed through from the activated control current magnetizes the coil core . The in turn attracts a magnetically effective metal plate, which closes, opens or changes a contact via a mechanism.
These are normally monostable relays whose solenoid coil must be permanently powered to maintain contact status. This creates functional reliability with vibrations occurring in the car. Bistable relays require only one switching pulse to maintain the captured state, which is provided by a permanent magnet. Modern automotive relays of this type are now in no way inferior to the monostable relays and relieve the on-board power supply of a car
The relay contacts are designed for use in vehicles thanks to highly refined surfaces so that they can easily switch high currents without wear-out due to contact erosion. High-current automotive relays can handle up to 500 ampere switch-on current.
Relays for vehicles are very compact in design and are encapsulated in such a way that they are adequately protected against vibrations and environmental influences such as heat, moisture or aggressive media such as oils or fuels. Accordingly, the working temperature range is also large. Glass-fiber reinforced polyamides are often used for the relay housing, so that manufacturers can secure working temperatures from approx. -40 to 85 °C.
For a secure installation, many car relays are simply plugged into suitable relay sockets. They are protected against accidental release by retaining lugs or spring force. Thanks to this base mounting, it is hardly possible to insert defective relays incorrectly.
The electrical connections are often designed differently to prevent incorrect connection of the control and power circuit. In addition, the wiring and a numbering of the connections are usually printed on the housing according to a key common in the automotive industry.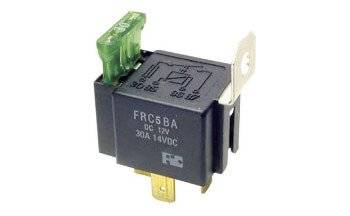 30 A relay with integrated fuse holder and special mounting
Our practical tip: Mount automotive relays
When attaching relays in the car with plastic or metal clips, always use new (disposable) clips. When using metal drive screws, ensure that the screws are screwed in place to maintain intact rust protection. This can be of interest, for example, when retrofitting high-performance hi-fi components.
Selection criteria for auto relays
The auto relays in our online shop can be selected according to various criteria.
Depending on the vehicle, the on-board voltage of 6, 12 or 24 volts must be selected. The (max.) Switching voltage varies between 12 and 75 volts. The high voltages are due, for example, to the use of control units for xenon vehicle lighting. From the (max.) Switching current up to 150 ampere and the switching voltage are calculated the switching capacity.

You can also filter by port type:
Solder pins that can be soldered into system modules
Print connections for soldering on system boards of control units in cars
Flat plug with the usual 4.8 and 6.3 and 9.5 mm width. These plugs are usually arranged in such a way that they fit in the sockets of the relay contacts. Freely mounted relays are connected to the female spade connectors of the control and switching cables.
The contact type describes the type of switching contacts as NO or CO contacts and their available number.

In addition, we have automotive relays with special features, such as:
With mounting bracket for fixing the relay with screws on body parts or directly on the car components to be controlled
With resistance to the defined removal of the induction after switching off the automotive relay, in order to protect other components from harmful voltage peaks
Without mounting bracket for plugging in relay sockets or for soldering in systemic environments
Without casing These car relays are located in the housings of control electronics units of the car, so that they do not need to be protected with a housing.
The automotive relays are ISO certified and are in large part RoHS compliant.
What must be observed when using automotive relays?
If an electric consumer does not work in the car, the first look of the corresponding car fuse should apply. If this is intact, a defective relay can also be considered as the cause of the error.
A separate voltage source with the on-board voltage should be used to test a removed relay. 12 volt relays can be tested with a 9 volt block. A multimeter should be used to test the function of switch contacts of a relay.
Plugged relays can be very tight due to contamination or wear on the plug contacts. Therefore, care should be taken when changing. Use of force can destroy the assembly unit or relay base , which leads to a greater repair effort.
Connecting or disconnecting plug connections under load causes wear of the contacts, increased contact resistances and can also lead to the destruction of devices. Therefore, the vehicle battery should always be disconnected before working on the car's on-board power supply.
Make sure that any codes required to restart car radios are available.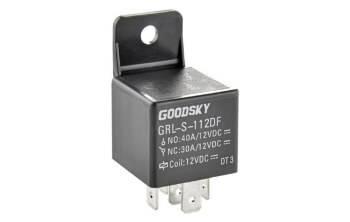 Car relay with 6.3 mm flat plug for easy installation
Useful information about automotive relays What is a car relay? Operation of automotive relays Our practical tip: Assembly Selection criteria for auto relays What must be observed when using automotive rel...