This text is machine translated.
What areas of application do car switches in the Conrad range cover?

What types of car switches are available at Conrad?

FAQ – frequently asked questions about car switches
What was a car
Switches in cars are used to establish or disconnect electrical connections between the power source of the on-board power supply in cars and consumers in cars. These switches take on a permanent switching state until the next switching process. The live, actual switching contacts are disconnected from the surface operating elements and the vehicle earth.
Switches are used in vehicles for a large number of switching tasks, in various designs and uses for safety and comfort.
The switching process itself can be triggered by the driver of the car or other occupants, i.e. by man's hand, but also by mechanical solutions such as contacts on motor hoods and doors.
What areas of application do car switches in the Conrad range cover?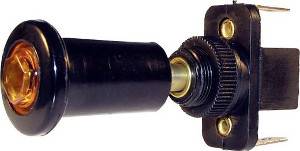 For use in vehicles, many types of switches are designed to meet the strong mechanical and thermal requirements such as vibration and heat in the vehicle. The availability under certain thermal conditions is listed in the data sheet and can range from -40 to +85 degrees Celsius. Special models meet the requirements for very harsh use, for example in agricultural and construction machinery, but also in boats and recreational vehicles. In addition, car switches are used to retrofit individual components such as fog and search headlights, rotating beacons and illuminated warning signs. The current carrying capacity of the car switches is comparatively high and ranges up to 200 ampere.
Some switch models are equipped with printed motifs for specially limited purposes. This includes vehicle-specific symbols such as battery, engine start, window, lamp and headlight symbols as well as off/on printing.
75 percent of the car switches are illuminated. Depending on the environment, lighting is either designed as a surface, as a point or as a symbol or with LED. Some switches have additional features such as locks to protect them from accidental operation.
What types of car switches are available at Conrad?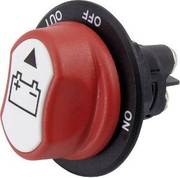 Actuators & Buttons
A special type of car switch, designed as a self-resetting button.
Car battery switch
Designed for switching particularly high current loads from the on-board battery to the car on-board power supply. In some cases, multi-stage switching processes are possible and the actual control element can be removed.
Car control panel
A panel comprises various car switches and buttons, in part, together with separate or integrated signal lights. The panel is designed as a complete assembly unit.
Car pressure switch
For use as motor starter switch with current carrying capacities of up to 30 ampere.
Car pushbutton
Versions with and without illumination of the keypad for different applications with current carrying capacities of up to 25 ampere.
Car safety switch
On/off switch up to currents of 50 ampere with removable key.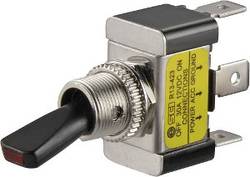 Car toggle switch
Use as variants with illuminated and non-illuminated levers. Some toggle switches are equipped with switch-on fuses. The switching process can only be carried out once it has been removed. When the switch is returned, it returns to its initial position.
Car uniselector
Switch with integrated microprocessor, which in the type of a step controller with each push of a button gives rise or descending output voltages. For example, for seat heating controls.
Car door contact switch
These buttons are installed in the car body in such a way that they evaluate the status of a closed car door as a switching state.
Car rocker switch
Are partly available with a fixed center position in various illuminated and printed versions.
Car pull switch
For use in lighting systems, partly multi-stage, for example for parking lights in the first stage and dipped headlights in the second stage.
FAQ – frequently asked questions about car switches
What is the service life of car switches?
The number of switching cycles is up to 500,000 if the application criteria are met. For example, if a car is used on a daily basis for 10 years, the driver's door switch will reach approximately 10,000 shifts (twice a day, one-off and one-off at 49 weeks a year).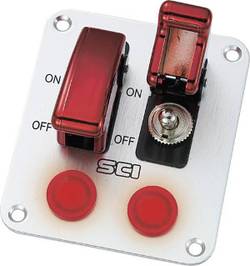 What safety instructions must be observed?
Maintenance work on the vehicle electrical system must only be carried out by qualified personnel. It may be necessary to provide additional training for the maintenance personnel.
Improper repairs to car switches can lead to considerable risks for the repair engineer and the user. In addition, warranty claims may be void.
Some components have very high currents that can pose a hazard to humans. Therefore, measures must be taken to protect persons against the effects of dangerous body currents.
Special measures must be taken when testing live vehicles: For example, setting up special working areas, protection by distance, emergency control devices or optical or acoustic signaling of the switching state.
Especially the release of the switch housing in the car area should only be carried out with suitable tools, in order not to damage the fastening elements and housing.
For car switches, data sheets from the manufacturers are available for download. These are particularly relevant with regard to the current carrying capacity and the temperature range at the place of use in vehicles.
In the event of faults or faults, immediately disconnect the power supply from the switch and secure it against further use.
Defective switches must not be disposed of with the household waste, but must be disposed of in public collection points.

How can ich detect defects in car switches?
Wear or overload can cause an arc when the switch contacts are opened, which causes the contacts in the switch to burn off one by one. This contact burn may be noticeable due to odor and leads to increasing contact resistance up to complete failure.
The wear of the tilt, rocker or locking mechanisms leads to an unreliable hold of the switching positions. If the shift position is no longer possible, the switch must be replaced.
In highly vibrating technical environments, such as in cars or machines with an imbalance (floor compressor), the cable and connector mountings may come loose, was the result of the failure of the electrical components behind the respective switch.
Plastic levers on rocker switches in particular are exposed to the risk of breaking off in the event of excessive mechanical stress.
This text is machine translated. About car switches What was a car What areas of application do car switches in the Conrad range cover? What types of car switches are available at Conrad? FAQ – frequently asked questions about c...