Useful information about emergency power units
What is an emergency power generator?
Purchase Questions: How to find the right unit
Diesel or petrol engine?
Set up the unit
Maintenance and Care
Questions and answers
What is an emergency power generator?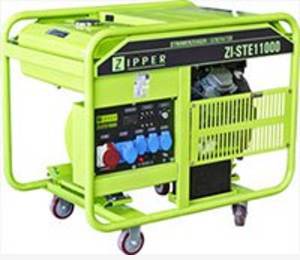 The generator provides power. Whether this is done in a location that would otherwise be completely cut off from the power supply or as a replacement in the event of a power failure is irrelevant. Both areas of application are basically conceivable. Because the power unit ensures that companies can provide electrical energy without any gaps. It protects against financial losses or loss of production equipment that relies on electricity. Even if the power supply from the public power supply is not sufficient, an additional device may be useful.
A distinction must generally be made between mobile and stationary devices:
Stationary
The units will be permanently installed at one location. This makes them inflexible, but the engines are often more powerful than mobile versions. They are ideal for ensuring supply in individual areas.
Portable
On the other hand, the mobile units can be quickly installed at a location that is no longer supplied with electricity.
Purchase Questions: How to find the right unit
When selecting the appropriate power generator for the emergency power supply, ask yourself the following questions:
What use is the device intended for, which connected consumers are relevant?
How much power should be achieved, how much watts must be available?
Can the generator be noisy or should it have sound insulation?
How large should the tank be at least so that it does not have to be refilled all too often?
Should the generator be particularly robust and/or weather-proof, as it is used as an emergency power supply on the construction site, for example?
Tip: The power of the generator is important. If you operate several devices at the same time, the device should provide at least five kilowatt hours of power. Calculate the total power of all devices to be operated and you will receive the possible power (in watts or full-amperes) that your emergency power unit should provide at least.
Diesel or petrol engine?
Diesel or petrol – that is the starting point when choosing a power generator:
Diesel products
Internal diesel products are mandatory, as the risk of explosion is lower than that of petrol products. Diesel fuel is also cheaper and offers a longer service life with the same consumption. The performance proves to be practical especially when operating several or power intensive outdoor devices as in the photo. Furthermore, a generator operated with diesel is considered to be more durable. However, it also has a higher net weight and is often more difficult to handle.
Petrol products
As you will notice in our online shop, gasoline products are much more common in the emergency power sector. Mobile devices in particular use this operation.
Petrol generators are quieter than diesel products, but also lighter and more compact.
Special feature: The inverter generator
A special feature of the emergency power units is the inverter generator. This converts DC voltage into AC voltage and ensures a minimum supply of sensitive electrical devices. In companies with high-quality IT equipment and other sensitive consumers, inverter generators are a good choice.
Set up the unit
When you purchase a power generator, location selection is important. Note the following features: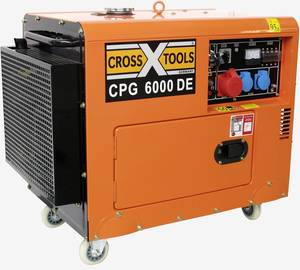 1. Good access
The generator should always be easily accessible to provide optimum maintenance, care and fuel refilling.
2. Secure stand
In the case of mobile producers or stationary equipment which is placed on the ground, a level surface is important as a base. If necessary, we install the generator here with vibration dampers.
3. Protection against external influences and noise
In addition, the generator should be protected from strong weather influences. If this is not possible due to the location selection alone, it can be protected by weatherproof housings, for example. Do not place loud devices in the vicinity of persons working or provide additional sound protection to reduce the noise pollution.
4. Adequate cooling and ventilation
Another important aspect is adequate cooling or ventilation. This ensures that the generator cannot overheat. In addition, the generated exhaust gases are safely discharged.
Maintenance and Care
Well maintained from the start, the current generator ensures long and satisfactory performance. Maintenance and care includes:
Checking the spark plugs
A check of the air filters
Cleaning the generator of too much dirt and dust
And a look at the oil level.
Good to know
We want to prevent you from making a typical initial start-up error so that you can avoid it. This is to start the engine without oil at the first start. The oil level should be checked in advance.
In general, emergency power units should be stored dry. The individual components can be damaged by penetrating moisture.
Questions and answers
What power is provided by a generator?
You can find the power information in the product description, in which it is specified in watts or also in full amperes. When selecting the device, follow the product you want to use. For so-called inductive consumers, which need a lot of energy at the start, the producer should be able to provide a little more than six to eight times the output of the end user.
How is the generator operated?
An emergency generator is operated with a powerful motor. This means that petrol or diesel are required for operation. You can fill the devices with pumps or automatic systems.
Can I operate a UPS with the emergency power unit?
Due to the often highly fluctuating output voltage of a generator, an uninterruptible power supply ("UPS") should not be connected. If the voltage decreases, it would switch to battery operation. This causes the battery to discharge too quickly.
Can the generator be used in closed rooms?
For mobile devices, the following applies clearly: No! The risk of carbon monoxide poisoning – poisoning by a colorless and odorless gas – increases with operation in rooms that do not reach fresh air. The hot air generated by the unit and all exhaust gases should be routed professionally to the outside during the emergency power supply. Stationary equipment inside a building is possible if installation and installation is carried out by an expert and adequate ventilation is provided.
(This text is machine translated.)
Useful information about emergency power units What is an emergency power generator? Purchase Questions: How to find the right unit Diesel or petrol engine? Set up the unit Maintenance and Care Questions and answers What is an emergency pow...