This text is machine translated.
Series transformers: Convert mains voltage into operating voltage
Ballast transformers are used to convert the mains voltage into the required operating voltage so that devices that are not designed for the available mains voltage can be operated. For details on the operation and different types of ballast transformers and useful buying tips, please refer to our guide.
What was a series transformer?

What types and types of ballast transformers are available?

Purchase criteria for ballast transformers – what is important?

Conclusion: How to buy the right ballast transformer

FAQ – Frequently Asked Questions about ballast transformers
What was a series transformer?
Ballast transformers are electrotechnical components used for voltage adjustment. As a rule, they are used for the operation of electrical and electronic consumers, who are not designed for the available country-specific mains voltage, but require a different mains voltage.
In Germany and many European countries, a mains voltage of 230 V at 50 Hz is predominant, while in the USA, Canada, Mexico and some South American countries, for example, 120 V mains voltage at 60 Hz are common. In other countries, there are other mains voltages that deviate from this.
Accordingly, foreign devices, power tools and controls cannot be operated if their operating voltage according to the rating plate is not compatible with the locally available voltage. The same applies, conversely, if an existing 230 V consumer is to be used temporarily or permanently abroad and its operating voltage differs from that in the target country.
Ballast transformers solve this problem by converting the existing mains voltage into the required operating voltage of the consumer, which was either transformed by a down or up-forming process, depending on the requirement.
What types and types of ballast transformers are available?
Depending on the power class, ballast transformers are available in different housing designs. Smaller models, which allow the operation of consumers up to approx. 100 watts of electrical power, usually have a compact plastic housing. They are ideal for operating smaller consumers and can be taken along well while traveling.
From about 200 watts of power, ballast transformers are usually installed in a robust steel sheet or insulating housing. The larger models up to approx. 1,500 W/VA have a carrying handle for better transport and handling due to their higher weight.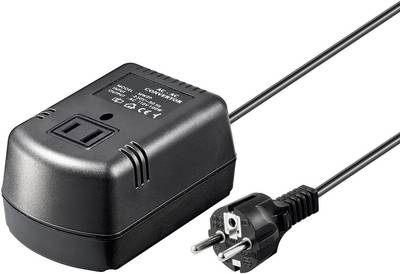 In principle, a distinction is made functionally by their properties regarding the possible voltage adaptation(s):
Step-up converters convert a low input voltage into a higher one.
Step-down converters reduce the input voltage to a lower value.
Universal series transformers enable a voltage adjustment in both directions, in addition they have frequently switchable transformer taps, which permit a universal adaptation to common mains voltages.
Purchase criteria for ballast transformers – what is important?
Good ballast transformers have a high electrical efficiency and have low no-load losses. The more powerful a ballast transformer is, the more important these aspects become, if not just short-term operation. Poor efficiency results in considerable additional costs over the course of the years and in longer operation. Energy is converted into usually unwanted heat loss.
For ballast transformers, the power specified in the data sheet° generally refers to operation at 40 C ambient temperature and free-standing. If operation is planned at higher temperatures or if the ballast transformer is not adequately ventilated and cooled, the usable power is reduced. In these cases, an adequate power reserve must be planned for the selection.
Depending on the intended use, the degree of protection of the ballast transformer must be selected accordingly. If more difficult ambient conditions are to be expected, for example in the form of dust or moisture, ballast transformers are suitable for use in a closed housing on all sides. Fully encapsulated cast resin transformers offer further protection against adverse ambient conditions and tend to produce less disturbing noise (mains hum).
If the ballast transformer is to be used as universally as possible, models that function in both directions are recommended, i.e. the respective input voltages can be both transformed down and down. Even more flexible are series transformers, which have a switch for voltage adjustment.
Conclusion: How to buy the right one
Ballast transformer
In addition to the purely electrical data, i.e. input and output voltage, output current and power, the series transformer must meet all safety requirements in its design. Her design is identical to that of the series transformer. If galvanic isolation is required for the intended application, only an isolating transformer may be used. Important in this context: Most ballast transformers are so-called autotransformers and are therefore not suitable if galvanic isolation between the primary and secondary sides is required. There is danger to life from dangerous contact voltages and an isolating transformer must be used instead!
The maximum permissible connected load is not specified in W (Watt = electric effective power) for series transformers but in VA (full-amperes = electric apparent power). When dimensioning the series transformer, it is essential to pay attention to this difference and the maximum power consumption in VA of all connected consumers must never exceed the permissible connected load of the series transformer.
If necessary, consider a corresponding power reserve of the ballast transformer if consumers are to be operated with an increased inrush current. These include, but are not limited to, electromotor-driven appliances such as refrigerators, freezers, air compressors, power tools and pumps. An excessively economical design of the ballast transformer can lead to start-up difficulties, because the output voltage drops too much at the moment of switch-on. It is also possible to trigger the device fuse repeatedly, even if the permissible output power is only briefly exceeded.
Make sure that the mains transformer has the required test marks and conforms to the applicable standards.
Our practical tip: Detection of connection errors
High-quality series transformers have a protection function for detecting connection errors. They signal an incorrect connection via indicator lights or only switch the output voltage on the input when the phase is correct. This protection function offers a higher level of safety against accidentally wrong connections or in the event of faulty sockets.
FAQ – Frequently Asked Questions about ballast transformers
The ballast transformer is humming or humming quietly, is there a defect?
Electromagnetic forces may cause windings and iron core to vibrate, which can be perceived as humming noises. In very sensitive applications, fully encapsulated series transformers can be used; they tend less to hum.
What is the advantage of ballast transformers in an autotransformer version?
Autotransformers offer advantages in terms of weight, size and material. Since they share a single, common winding for the primary and secondary sides, the material use is correspondingly lower. They do not provide galvanic isolation between the input and output side, but this was not relevant for general applications.
What advantage do ballasts with galvanic isolation offer
the so-called isolating transformers have two separate and electrically isolated windings. This means that there is no potential difference to ground on the output side, was this an additional safety aspect in the event of accidental contact with a live component or conductor.

Can consumers be operated on a ballast transformer if the mains frequencies of the mains supply and rating plate on the load do not match?
Ballast transformers do not perform frequency conversion or adjustment. However, many devices are designed for operation at the two most common network frequencies of 50 and 60 Hertz. The information given on the type plate or operating instructions of the device to be connected is authoritative and must be observed at all times to avoid damage. For example, operating a 50 Hertz electric motor in a 60 Hertz grid results in an idle overspeed of 20 percent, although its performance is reduced overall due to the increased inductive resistance of the motor winding.
This text is machine translated. Series transformers: Convert mains voltage into operating voltage Ballast transformers are used to convert the mains voltage into the required operating voltage so that devices that are not designed for the ava...