This text is machine translated.
What are battery testers?

How do battery testers work?

What does a battery tester measure?

Which batteries can be tested?
What are battery testers?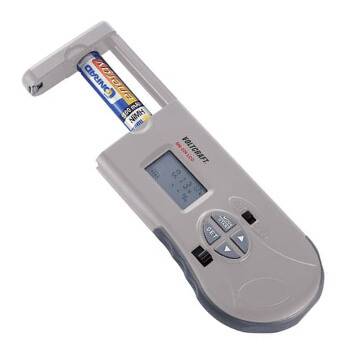 A battery tester is used to check the charge status of a battery or accumulator . This means, first of all, all batteries and accumulators, from AA and AAA batteries to the car starter battery.
All batteries have a nominal capacity . It is usually indicated in milliampere hours (mAh). This is not a unit of the SI international unit system, but it is approved for use with the SI. In order to prevent errors: The word component "capacity" has nothing to do with the electrical capacity, the unit Farad. The nominal capacity describes the memory capacity of a battery . If this capacity of a battery is too low, it can no longer fulfill its supply task. A battery is considered to be usable if it still has a capacity of 60 percent of the nominal value. The available capacity depends on the usage (discharge), age and quality of the battery.
With a battery tester, you can see whether the battery can still be used or – in the case of a rechargeable battery – a charge is required. Ultimately, each battery tester carries out a measurement process that determines and displays the current battery voltage. There are qualitative differences in the measurement method.
The display of the measurement result can be analogue or digital , as a detailed display with exact voltage value or as a quality display, for example with bar charts or different colored LEDs. The main focus is on common battery sizes in the home or office.
Measuring instruments are also available for starter batteries (lead-acid batteries), which immediately indicate the available starting power. This makes it possible to detect defective batteries even before a total failure . These higher-quality and more expensive battery testers also offer further evaluations with specially developed software for the PC or apps for mobile devices and usually have additional measurement accessories .
In our online shop you will find battery testers of different types and can filter the products according to "category", in order to find suitable devices for your purposes.
How do battery testers work?
The battery to be tested is connected to the connections of the battery tester. This can be done by terminals, test probes or contact contacts. A distinction is made between battery testers with their own and without their own power supply .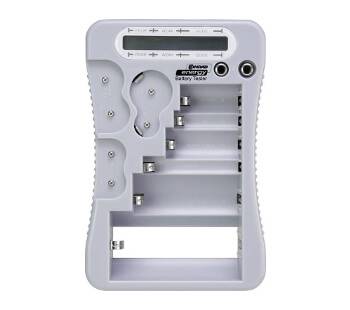 Power supply with own battery
Battery measuring devices with their own power supply (by means of a battery) often offer a greater range of functions . Of course, the internal battery should also be checked to ensure that correct measurement results are always displayed.
Power supply via the battery to be tested
Cheaper battery testers are usually handy test devices supplied by the battery to be tested. The mechanical solutions are different:
There are handy battery testers, which can test different battery types with a sliding mechanism, as well as battery testers, in which there are recesses for various battery types , for example for AA or AAA.
If a battery tester does not produce results during a test, it does not necessarily have to be due to a malfunction. The battery that you want to test with your device may already be empty enough to no longer supply the battery tester with the necessary energy.
What does a battery tester measure?
Use a battery tester to measure the battery voltage . The result will show you how much energy is contained in the tested battery. Depending on the device selected, the electrical capacity of the battery is tested either with or without resistance . The latter may in some cases lead to a false measurement result, since the voltage of a battery remains unchanged without resistance. If, for example, a AA battery with resistance is tested, the battery tester detects the internal resistance of the battery, from which the remaining electrical capacity can be derived. However, not all available battery testers are able to do this.
Our practical tip: Selection of the right battery tester
Select a battery tester according to which batteries are most common in your home or work environment. If you choose a battery tester with a built-in battery, you will benefit from some other features that these devices offer. On the other hand, models without their own power supply are not only always ready to use, but are usually also cheaper.
Which batteries can be measured?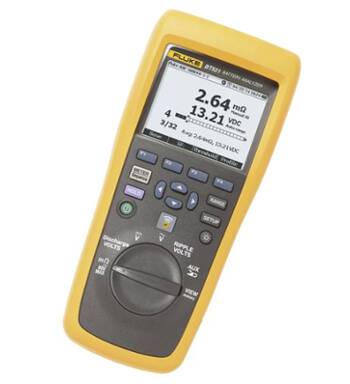 The simple answer is: All, at least almost all. With more than 60%, the battery format AA or LR6 is the most commonly used in Germany. The micro battery (AAA or LR03) follows with about 20%.
Simple battery testers can test all common household sizes of universal batteries, including various button cells and 9-volt blocks.
Buy a battery tester for thousands of euros to check the batteries in the remote control – no one would be able to do that. However, the use of high-quality and correspondingly expensive battery testers is quite common and sensible in some areas.
In car or motorcycle workshops, for example, car battery testers with detailed displays for lead-acid batteries are used, which are well worth purchasing due to the regularly necessary measuring and testing procedures.
This is also useful in the service for storage battery systems in connection with photovoltaics or wind and water energy.
There are battery testers here that can actually record, log and export or save many parameters as analysis, partly with automated test procedures.
 This text is machine translated.     About battery testers What are battery testers? How do battery testers work? What does a battery tester measure? Our practical tip Which batteries can be tested? ...