This text is machine translated.
With the senior mobile phone simply while traveling
When mobile phones became affordable to the masses in the 90er, many people in young and middle-aged age age learned to appreciate the then rather clumsy devices. To this day, technology has naturally improved, smartphones are true all-rounders and help to organize the various tasks in everyday life.
But many who have had a cell phone from the start are now at an age when one is struggling with the complex, modern devices and touch screen. This is due to various physical limitations. But they don't want to do without it, because this technology simplifies life for the older generation and brings additional security. Senior mobile phones that are characterized by simple operation with large keys and a large display as well as by few, selected functions provide a remedy.
What was a senior mobile phone?

Which phones are available for seniors?

Functions of senior mobile phones

FAQs: Important questions about senior mobile phones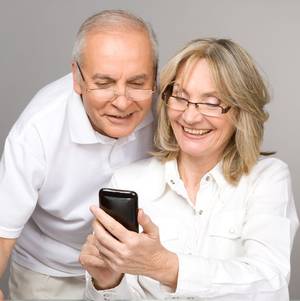 What was a senior phone?
The current models on mobile phones and smartphones are often models that cannot be used easily by older people or people with disabilities for various reasons.
For this reason, a number of manufacturers produce mobile phones for people with health or age-specific restrictions, such as vision weakness, a declining hearing or limited motor skills. The focus is always on ease of use and ease of use. For example, the senior mobile phones have a large color display, large keys and a simple menu navigation. In this way, the mobile phones are helpful in everyday life as well as in hot situations. For example, you can get help quickly after a fall using the SOS button.
Which phones are available for seniors?
There are three types of models that seniors can choose from.
Big button mobile phone
With these mobile phones, you have buttons like a desk phone and usually an illuminated color display. There are all relevant functions such as the possibility to telephone, write SMS as well as direct dial keys, alarm clock, an emergency call function and often a camera. However, you can't access the Internet with these devices, which also means apps don't work. Due to the buttons lying freely, it is recommended to buy a suitable protective cover for the mobile phone, so that it is not damaged, for example, when it falls down.
Big button flip-up mobile phone
Folding phones have the same functions and properties as the key phones, so they are also not Internet-enabled. The only difference is the opening. This protects the display from scratches. In addition, the keyboard can be locked/unlocked and calls can be answered/ended by itself by folding it up and down. Some folding mobile phones even have a small display on the outside, on which the time or the name of the caller can be seen.
To the senior folding mobile phones
Big button smartphone
As with normal smartphones, there is a large screen with touch function and two or three buttons. The device is Internet-enabled, so that all apps can also be downloaded and used. At the same time, the senior smartphones have a clear design. Screen brightness, contrast as well as the size of the font and icons can be adjusted to your own requirements.
To the senior smartphones
Our practical tip: Senior smartphone software for Android devices
Those who can use the current smartphones well, but sometimes lose the overview of the many installed apps, can use a special senior smartphone software. This makes any compatible Android smartphone, such as Samsung, an easy-to-use, clear mobile phone.
The manufacturers of mobile phones for seniors differ from the well-known smartphone manufacturers. For this reason, the larger suppliers are listed here:
Doro
Doro is a Swedish company with headquarters in Germany. The first devices with special features for seniors brought the company to the market in 2007. Today, it is one of the market leaders in the field of senior mobile phones and offers a wide variety from the senior key phone, flip-up phone to the senior smartphone.
Emporia
Emporia Telecom GmbH & Co. KG, headquartered in Austria, develops its products according to its own specifications in close cooperation with the target group, for example through the evaluation of product tests and workshops. This means that the senior mobile phones are particularly well suited to the needs of older people. The selection is large. There are mobile phones for folding and closing as well as with buttons and smartphones.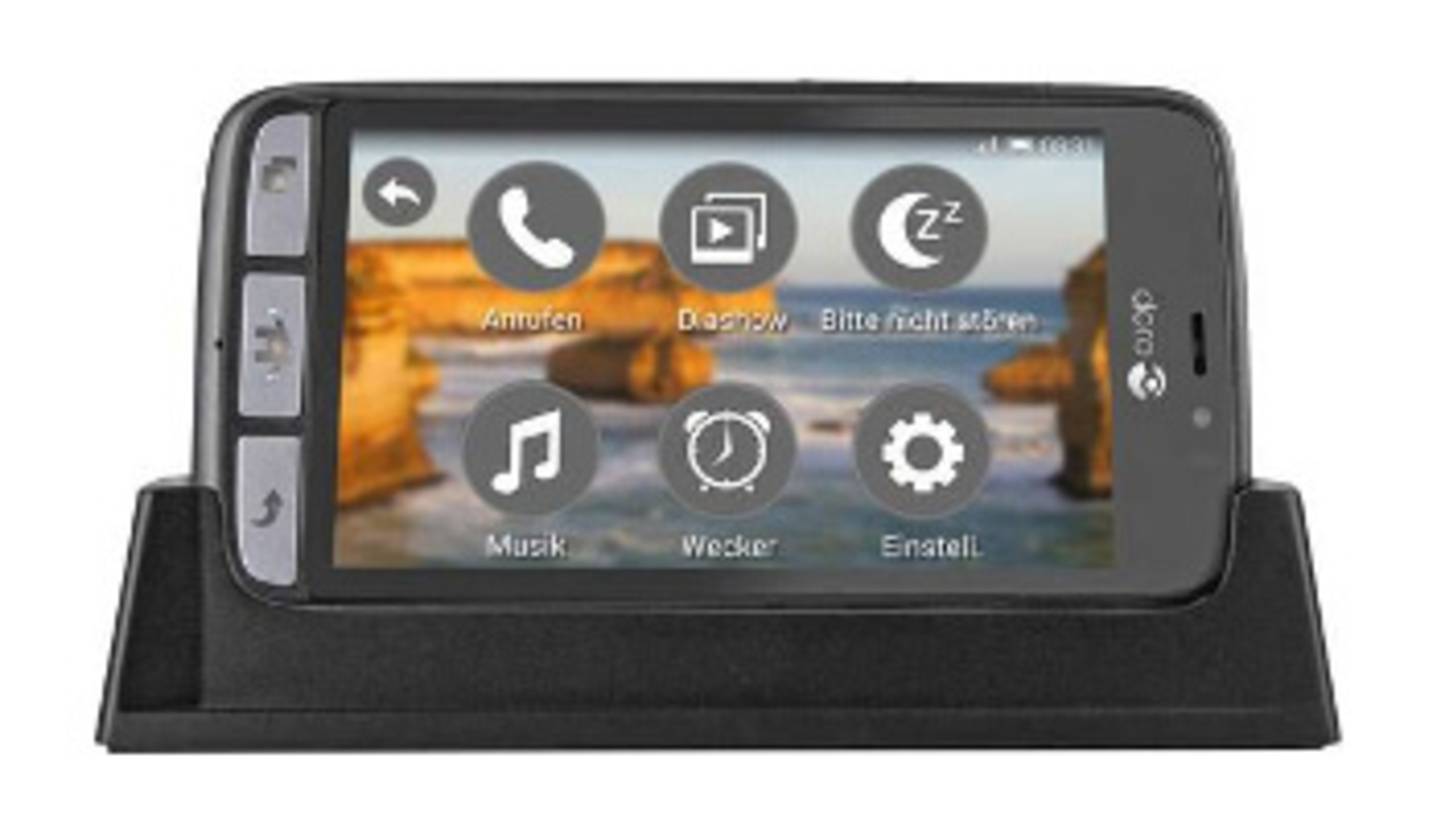 BEA-phone
The Austrian company Bea-fon mobile GmbH aims to produce easy-to-use, robust mobile phones. It sells them in three product lines: Classic, Active and Silver Line. While the Active Line is aimed at extreme athletes, the other two lines meet the demands of users with handicaps.
Telme
Telme is a cooperation partner of Emporia Telecom GmbH & Co. KG The company specializes in low-cost mobile phones for seniors and beginners, which are characterized by convenient operation and good performance.
swisstone
swisstone is a trademark of the German company IVS GmbH, which belongs to Doro AG. According to company specifications, the Swisstone models are intended to give their users a daily joy through simple handling, reliable function and a good price-performance ratio.
Functions of senior mobile phones
Compared to current smartphones, senior mobile phones lack a variety of features that many older people don't miss. More important are simple operation with a simple menu navigation and a permanent battery.
In addition, the following aspects play a major role for many senior citizens:
Large keys with easy-to-read labeling
High-contrast, bright and large display
Non-slip surface to keep the device in your hand
Program memory for telephone numbers
SOS emergency call button, which triggers emergency calls or emergency SMS when pressed for a longer period of time
Direct function keys
Clear and easy-to-read operating instructions
Simple charging option for the mobile phone, ideally with a charging station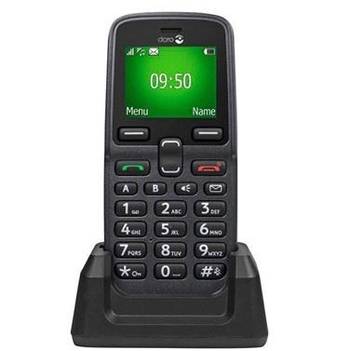 Depending on the individual needs of the mobile phone user, mobile phones are available for seniors with additional features:
Suitable for the hard of hearing
Braille-labeled keys
Backlit keyboard
Voice output, for example, with announcement of the dialed digits
Voice control
Camera to share pictures or videos with friends and family
Bluetooth®function to connect your phone to other devices, such as the car kit or Bluetooth®-enabled hearing aid
FM radio
Telemedical enhancements, such as the creation of an ECG or the GPS location, which in case of an emergency enables the mobile user to be located by means of a tracking procedure
Our practical tip: Relaxed telephone calls despite hearing aid
All mobile phone users with hearing aids should make sure that their future mobile phone is compatible, otherwise background noise makes it difficult to make calls. Hearing aid compatible models use various techniques. For example, an induction coil does not transmit the telephone signals via the mobile phone speakers, but by means of electromagnetic induction. Prerequisite: The hearing aid is also set for inductive listening.
Another option is to transmit via Bluetooth®if the hearing aid and the mobile phone have this function. In both methods, disturbing background noise is largely eliminated.
FAQs: Important questions about senior mobile phones
How does the emergency call button work on a mobile phone for seniors?
On many mobile phones, the emergency call button, also called the SOS button or panic button, is located on the back of the device. If this button is pressed for a few seconds, the phone automatically dials several previously saved phone numbers or sends SMS messages to these contacts. For models with a GPS module, the location data of the mobile phone user is also transmitted.
How do ich get my phone number out of a senior phone?
The long mobile phone number is often hard to remember and the note on which you recorded it is not there. Then there are two ways to find your own number.
Option 1: Go to the settings in the menu of the mobile phone and select the menu item "via the telephone" or "Device information". The term used depends on the version of the operating system. Then select "Status" or "Status of the SIM card", then the item "My telephone number" appears. Below you will find the phone number of the senior mobile phone.
Option 2: You can also find the phone number of the mobile phone using the MMI code. To do this, select the call option on the mobile phone and enter *#62# in the numeric blog, as telecom customer *135#. Then press the call key and a window with the number will appear on the display.
Is there an alternative to senior mobile phones?
Many people of higher age do not want to be part of the "old iron" and are disturbed by the name "senior mobile phone". Finding alternatives to the practical devices is not easy, however, as traditional mobile phones and smartphones often have different priorities. For example, the software for senior mobile phones mentioned in our practical tip could provide a remedy. In addition, the well-known manufacturers are also developing simplified models of their mobile phones and smartphones. However, some research or good advice is necessary here to find the right device.
This text is machine translated.       With the senior mobile phone simply while traveling When mobile phones became affordable to the masses in the 90er, many people in young and middle-aged age age learned to appreciate t...