Build-Your-Own Robot Kits
This text is machine translated.
Useful information about robot kits
Types and types of robot kits
You should pay attention to this when buying robots

Our practical tip: Kit or finished robot?

FAQ – Frequently Asked Questions
Types and types of robot kits
At this point, it is not intended to be human-like robots or massive industrial robots, which require six- or even seven-digit budgets to be purchased. We are talking about different types of small autonomous robots and robot kits that are capable of practical work and affordable.
Small industrial robots are the classics in automated production: Controlled over several axes and equipped with various effectors such as grippers or tools, they can perform uniform movements repeatedly and again precisely. The instructions are usually obtained either by means of a so-called teach-in or by alphanumeric programming. Teach-in means that the robot is placed in a kind of "acquisition mode" and stores manually set positions. The continues until the desired duty cycle is complete.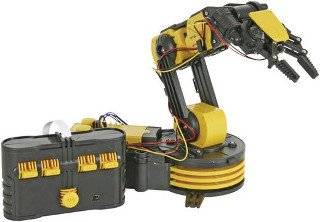 Small industrial robots can usually be programd using specially developed and easy-to-learn high-level languages, as well as versions that can be controlled using the programming language "C". Advantage of programming: The code can be easily changed and documented. For example, the program can be imported using an integrated USB programr.
Both methods require a connection to a computer, in this case a normal PC. The connection can be made via a USB cable or wirelessly via WLAN or Bluetooth.
Like their large relatives, small industrial robots are essentially made up of a gripper arm controlled over several axes. Different effectors can be installed on this, including those that work with negative pressure. Thus objects with smooth surfaces can be sucked in and moved without any problem. Another similarity: Small industrial robots must also be installed in a fixed location during operation. Only in this way is it possible to carry out programd or programd motion sequences continuously and precisely.

Apart from typical toy robots that can crawl over the table top and make noises, powerful yet inexpensive mobile robots exist. They are used, for example, for routine inspection of cable ducts or as small industrial trucks. All of them share their anatomy and great mobility, regardless of the remote control they normally use. In order to fulfill their diverse tasks, mobile robots require three basic technical requirements: Motors, sensors and a "local intelligence". The latter can already be installed, but is usually installed separately, for example via development boards such as Arduino or Raspberry Pi. These boards have their own freely programmable processor, RAM and connection options for the power supply as well as a display.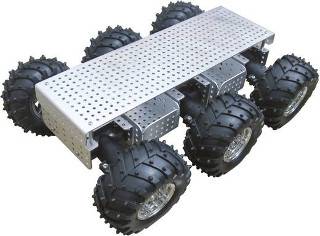 However, the most important interfaces are used to connect sensors or buttons. For example, it is possible to program a mobile robot so that it always steers to a light source in motion. It can automatically follow a marking on the ground or an acoustic signal, drive in the opposite direction when touched and even contact it. There are virtually no limits to the imagination.
In addition to a microcontroller for control, mobile robots for professional use must have strong and reliable motors. The chain drive has established itself as a method of transport. The advantages are obvious: This type of drive is much more off-road than a four-wheel drive, and can take excavators, pistes or snowmobiles almost anywhere. As an alternative to the chain drive, a six-wheel version is available. Here, each wheel is installed individually and widely spring-loaded and also has its own electric motor. As a rule, such chassis are sold without any additional accessories and consist only of the drive platform on which different sensors and controllers can be attached.
You should pay attention to this when buying robots
The most important questions are, of course: What was your own robot? Do you want to use it only as a demonstration or study object or do you want to keep it productive? If the latter is the case, only the two types mentioned above can be considered. On the one hand, mechanical stability must be guaranteed, on the other hand, flexibility in the equipment and programming plays an important role.
Our practical tip: Kit or finished robot?
Many of the robots offered by us are available as a kit, which means that the individual components have to be assembled first. In order to avoid disappointment, technical basic knowledge and knowledge of electronics are required in addition to technical skills. If you do not trust the assembly of a robot kit, it is better to leave the assembly to an employee of your confidence. Alternatively, you can opt for a finished robot, for example a programmable gripper arm that is ready for immediate use. This version is well suited for beginners.
If you want to take your first steps in robotics and are interested in a robot kit, you will find a large selection of different designs in our shop. Depending on the project you are following, kits with different modules are available. Some models can be programd with a USB interface, others can be extended with special programming support, for example for Arduino. Most kits are powered by batteries or micro-batteries.

FAQ – Frequently Asked Questions
Are there small industrial robots that can do more than manipulate objects?
Yes, there is indeed. This is simply because the gripper arm of an industrial robot is usually controlled by two or more axes. This axis control can be converted on some models or is already designed ready for operation. There is a robot kit on which a 3D print module or a writing device can be attached.

Ich am interested in a six-wheel mobile robot. Are there any ready-made control boards available for purchase?
A corresponding control module is recommended at this point. It contains all the necessary components for the control of the wheel motors and for the sensors. For example, a touch switch, a USB/radio adapter, light and infrared sensors as well as the software for programming are components of such sets.
This text is machine translated. Useful information about robot kits Types and types of robot kits Small industrial robots Mobile robot You should pay attention to this when buying robots Our practical tip: Kit ...