This text is machine translated.
What variants are available and how do cable detectors work?

Our practical tip: Find other materials

Where are cable detectors used?

What must be observed when using cable detection devices?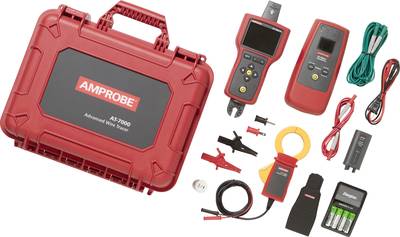 Electrical cables are surrounded by electrical fields when there is a current flow. These fields can be "captured" quite easily, i.e. with technical aids places. A coil is used to capture the field. The voltage induced in it is evaluated and output as the location result. Cable finders are location devices.
The location result is output on LC displays. Depending on the configuration of the cable finder, the result of the cable search appears as a quantitative size numerically or graphically (as bar or position diagram) and partly as an acoustic signal . Simple detectors come with signal LEDs.
In addition to live cables, other objects and materials can be found in walls. For this purpose, there are devices with extensive search and location functions. High-quality locating devices for professional use are equipped with intelligent sensors, which enable a very precise detection of live and de-energized lines, fuses and switches. In some cases, cable detectors provide the voltage level in volts in an active conductor as a measurement result.
Cable detectors are usually multi-functional devices. For example, individual cable viewfinders are designed to work with voice or data networks and have specific internal filters to "hide" the interference from other live lines.
In addition, data logger functionality is also available to store and read test results reliably.
The intelligent line measuring devices are designed as a single device or in several components – depending on the equipment and scope of services.
For the most exact location of cables and other objects, the calibration of the cable locator is the key to this. Many devices now do this automatically. For some cable detection devices, the procedure is described in the operating instructions.
What variants are available and how do cable detectors work?
Modern cable searchers have a far greater range of functions and enable, among other things, the detection of cable breaks, metals or even wooden beams . How does this work in detail?
Passive cable locating uses the magnetic field of current-carrying cables, which causes a current flow through induction in a (locating) coil.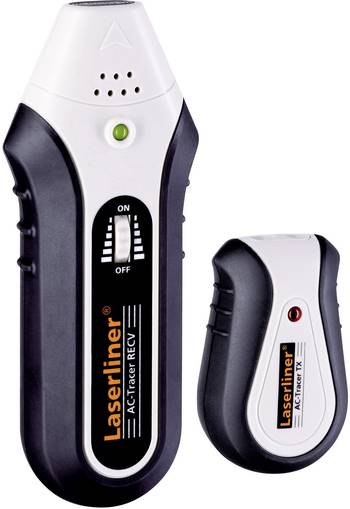 When the cable is actively located, a signal with a defined frequency is fed into a cable. The detector of the line meter responds to this frequency, so that the position of the cable can be monitored very closely. Such cable detectors are well suited to determine which cable leads to which connection if no colors or numbers can be identified. Disadvantage: Power-free neighboring cables are not determined.
Well-equipped cable finder has a mode for general testing and detecting interruptions, bruises or short circuits in electrical lines. This also enables the cable length to be determined . Two metrological methods are used for this:
The capacitive measurement for entry-level and mid-range cable testers is comparable to charging a capacitor. The insulation of the conductor pairs forms the dielectric. The capacitance coefficient for a cable is specified by the manufacturer in Pico-Farad per meter (pF/m). For example, a network cable has a value of 4.6 pF/m. The Finder first measures the total capacity of the cable under investigation and uses the coefficient to calculate the length of the cable. The measurement accuracy is approximately 5 percent. If the capacity coefficient is not known, the measuring instrument can be calibrated with an identical cable of known length.
The method of the runtime reflection measurement determines how long a emitted pulse will take until it hits again after reflection at the end of the cable or at the crimping. The propagation speed is lower than the speed of light, for example for copper cables at 299,792,458 kilometers per second. The NVP value specific to each cable is expressed as a percentage of the speed of light (nominal velocity of propagation, in German: Nominal velocity of propagation). Test devices equipped with this function then use this value for length calculation. This is also known as time domain reflectometry (TDR) technology, and offers a measurement accuracy of 1 to 3 percent – even for long cable lengths.
The principle is similar in the case of magnetically reactive substances in walls: An electromagnetic field is built up in the detection device by a processor-controlled detection coil . If this field is disturbed by a metallic object , a signal is output. The processors used today can roughly calculate the spatial position (for example, how deep in the wall) of a metal object and in some cases indicate the type of metal or exclude metals from the measurement.
Our practical tip: Find other materials
Other materials can also be located using a special location device. For example, for the detection of wooden beams in walls, the fact that the phases of oscillating frequencies change when objects with different physical density penetrate. You can find devices specially designed for this function in our online shop.
Where are cable detectors used?
In the industry and trade sector, cable detectors have a wide range of applications. A few examples:
In (old) building renovation and repair for locating cables under plaster, line breaks or short circuits
Repair and maintenance of telephone and data networks
Cable tracking in the ground
Locating fuses and assigning them to circuits
Locate plug and distribution boxes that are accidentally covered by dry construction
Locate interruptions and short-circuits in floor heating systems
Tracking of metallic water and heating pipes
Repair of parking and airport lighting
Determine the available cable length, for example, on cable drums
For private users, there are also some applications, for example for securing against drilling in walls or penetrations in dry or brickwork, for locating and assigning fuses to the live circuits or for locating fuses, circuits in distributors and junction boxes when isolating faults, If devices do not work in the home.
What must be observed when using cable detection devices?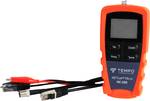 The function of the cable viewfinders can be limited or not possible with metal-containing wall coverings such as panels or wallpaper. Plastic cables can only be located with specially equipped measuring devices.
The depth to which line locator locations can be located depends on the type of material and the size of the object. Larger objects can be located at greater depths.
Despite sophisticated technology, there is always a residual risk when working with cable detectors. The planning documents of the home technology companies, which were entrusted with the equipment of the respective property, offer the greatest security. However, these are not always available for the renovation of old buildings.
 This text is machine translated.     About cable locator What is a cable locator? What variants are available and how do cable detectors work? Our practical tip: Find other materials Where are cable detec...